"Awesome is for everyone" pushes into 2023 with the Galaxy A54 5G. It promises a bevy of changes and features that are "awesome" enough to fight in the under RM 2000 category, but does it?
Here's our usual quick look before our full review!
---
The Galaxy A54 5G costs RM 1899, which is a sweetspot for mid-rangers. It comes in only one variant, which offers users 8GB of RAM and a 256GB capacity, which can be expanded with a microSD card.
It uses Samsung's own Exynos 1380 chipset and will come with One UI 5.1 (Android 13) out of the box.
1. A Unified Design
The Galaxy A54 5G isn't like any of the A series we've seen so far. It looks and feels way moer premium, with a metal frame and a glossy plastic back. I would say the back is unique, as it almost felt like glass and it has glass-like properties. It's actually hard to notice fingerprints on it. It really feels great on hand and you'd never imagine phones under RM 2000 to get this kind of look and feel.
Following the rest of the back you'll see that the camera arrangement is now more unified with the rest of the brand, taking a vertical alignment with each sensor having a little shiny ring on them to protect them from scuffs. It doesn't protrude out the the A53's, where you'll get a little mole hill to over the rest of the system. It's now all part of the back case itself and this is a design shift I can really get behind.
The Galaxy A54 5G comes in 4 colors, ranging from your usual Black and White, followed by the bolder Lime and Violet. We got the lime, and it's not in a striking hue, which definitely takes after the S series and their subtle coloring queues.
2. 120Hz Super AMOLED
Even though it's no suprise that we're seeing Samsung putting yet another Super AMOLED panel on their phones with a high refresh rate, the main difference here is the aspect ratio. It's gotten a tad smaller, from 20:9 to 19.5:9. It's not going to be really noticeable, as you'll still get your usual FHD+ resolution with a semi-adaptive 120Hz refresh rate.
The brightness game has also been increased to 1000 nits under the right conditions, 200 nits more than last year's 800 nits on the Galaxy A53. As for colors, there a new Vision Booster algorithm which is a different approach to color toning to tackle difficulties in legibility under very bright conditions such as an overly sunny day.
3. Quad Camera System
The A54 5G comes equipped with a triple-camera arrangement.
It starts off with a new 50MP main sensor, followed by a 12MP ultrawide and 5MP macro-shooter.
The main sensor looks pretty credible on paper, sharing the same 23mm focal length as the Galaxy S23 with an f/1.8 aperture. It outputs to 12.5MP by default. As usual, you'll have the AI scene optimizer along with auto HDR.
The ultra wide is 12MP f/2.2 . We expect it to perform on par with its mid-range competitors with a slight edge as Samsung usually nails it with excellent distortion correction and dynamic range.
There's a macro camera on board too, and it's a 5MP sensor, a good move compared to following other brands in this price range that offer sub-par 2MP ones instead.
The Quick Take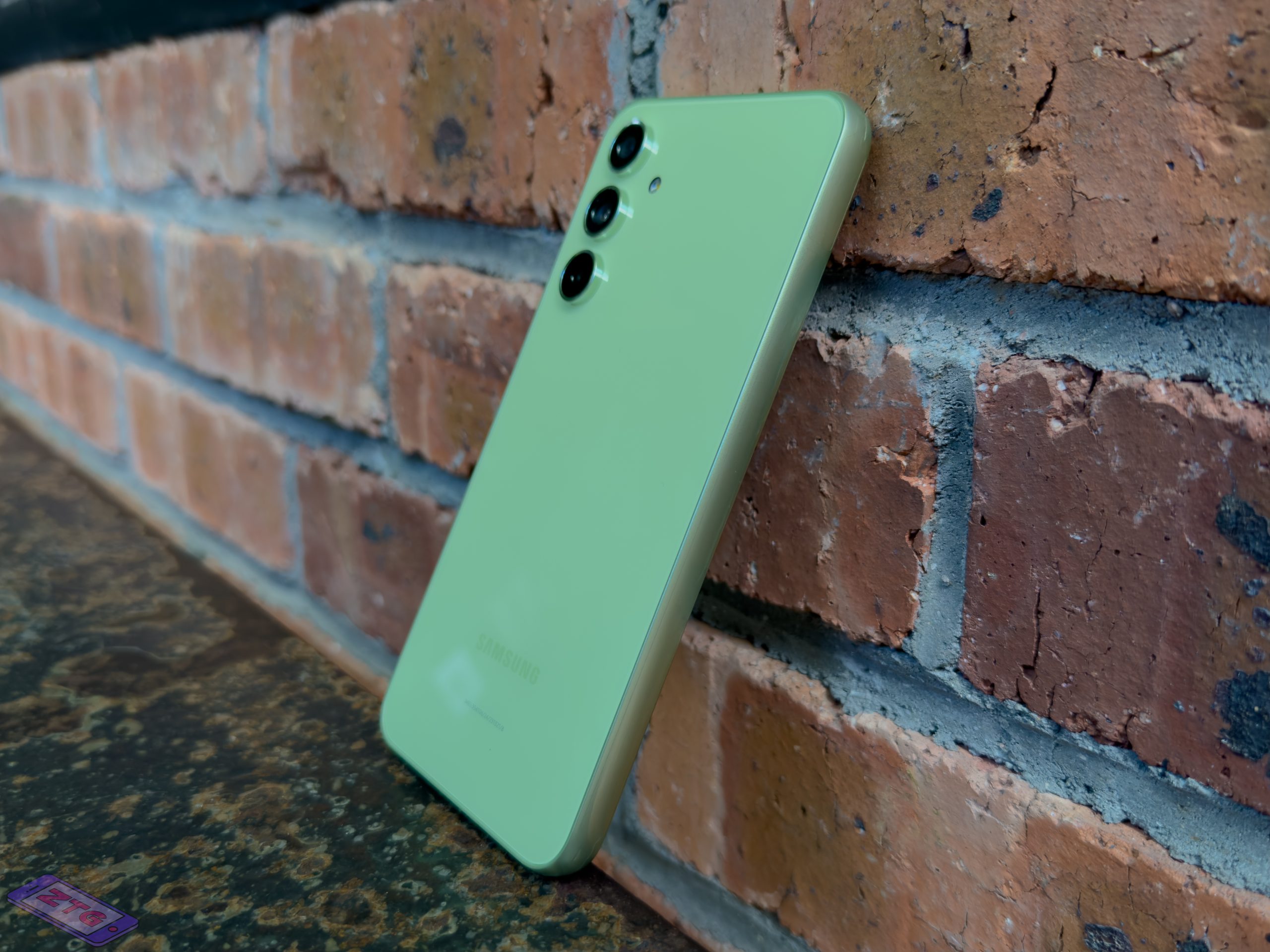 At RM 1899, it's a simple midranger that's aesthetically likable at first glance and touch. Though we see it more as just a model update, we believe Samsung's software side will create a different experience for this A series, as the price it commands demand as such. It needs to impress enough to as the competition is getting tighter by the quarter this year.
---
Review is underway!
We're currently in the middle of testing, so we will be publishing our review by next week. Do stay tuned for our upcoming videos and the written review itself!