oneplus 10 pro
Although a lot better off than the 9 Pro, the OnePlus 10 Pro wants to be a premium flagship offering a great display, good performance and fast charging but it's going to take a lot more than that to part with RM 4199 for it.
Good
Premium Display
Very Fast Charging
Snappy Performance
Workable Battery Life
Good Wide and Telephoto Cameras
Ungood
Very Pricey In Malaysia
Weak Ultrawide
No laser autofocus
So-so selfies
Recycling too many parts from last year
---
Specs
---
CPU
Qualcomm Snapdragon 8 Gen 1 (4nm)
Memory
12GB / 256GB
Display
6.7'' 1440P 120Hz LTPO2 Fluid AMOLED
Camera
48 MP, f/1.8, 23mm (wide), 1/1.43″
8 MP, f/2.4, 77mm (telephoto), 3.3x optical zoom
50 MP, f/2.2, 14mm, 150˚ (ultrawide), AF
32 MP, f/2.2, (wide)
Connectivity
Bluetooth 5.2 ,USB Type-C 3.1,
Wi-Fi 6, Dual nano-sim standby, 5G
OS
Android 12, OxygenOS 12.1
Battery
5000 mAh with 80W fast charging
50W Fast Wireless Charging
Available Colors
Volcanic Black, Emerald Forest
Retail Price
12GB/256GB – RM 4,199
Design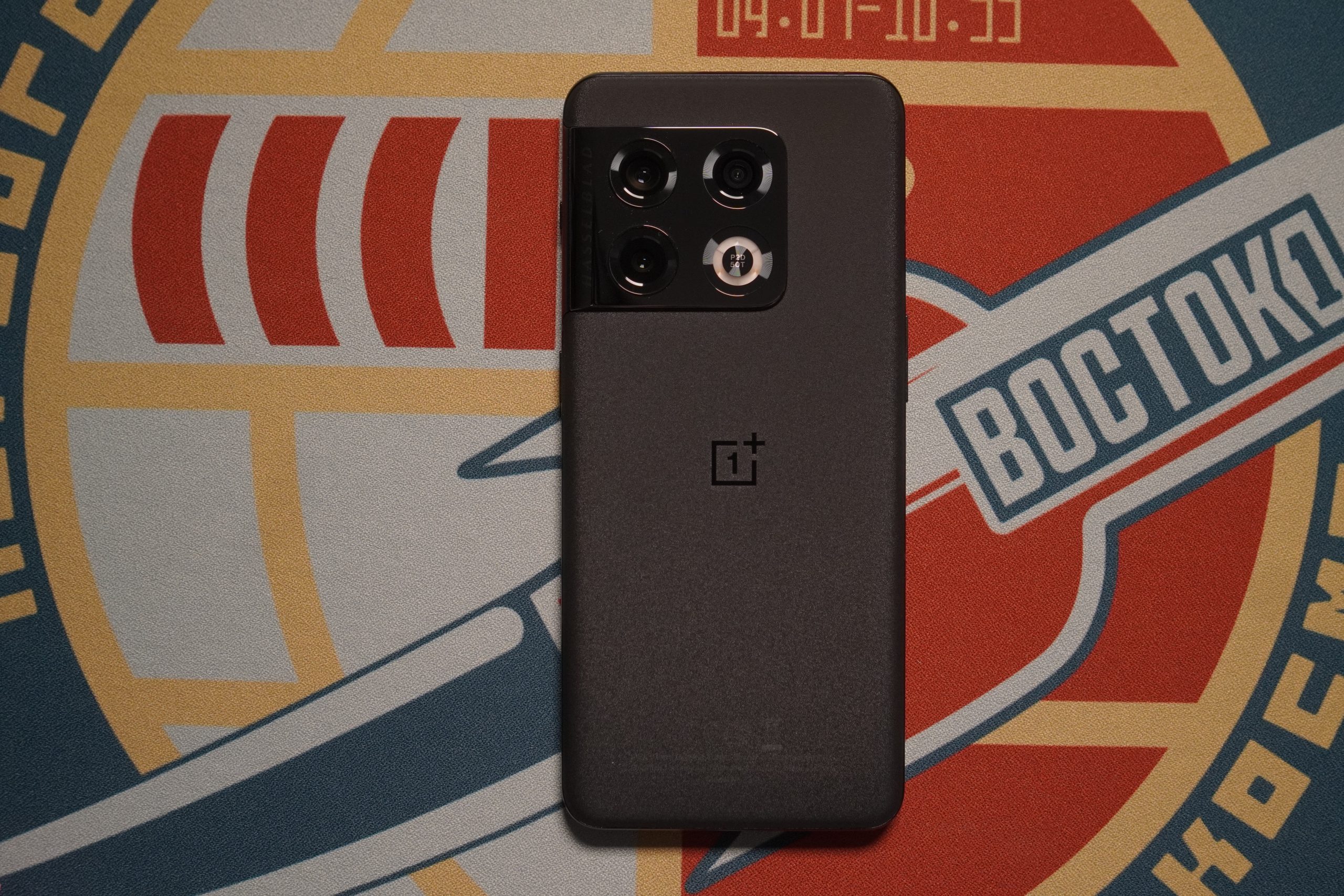 A Standout Design
Shimmering Matte Glass Back
Okay, I was impressed at first glance. Getting the volcanic black version, it has a shimmery finish that instantly took me back to the OnePlus One days where we loved the sandstone black. It was so iconic back then and I see this move to not only be a nostalgia trigger but also a statement of evolution without forgetting where it all started.
After all, we're kind of 10 generations in already, so this was a nice design touch that really walks off the beaten generic path.
The camera module is unique too, taking a large piece of the back real estate with a stand-out style. This bump houses 3 big camera sensors and the duo tone flash. It's probably the shiniest part of the phone, which contrasts its matte finish.
On the left side is your volume rocker, and all the action's on the right side. As usual you'll have your signature OnePlus alert slider, letting you slide between ringer (down), vibrate (middle) and silent (top).
---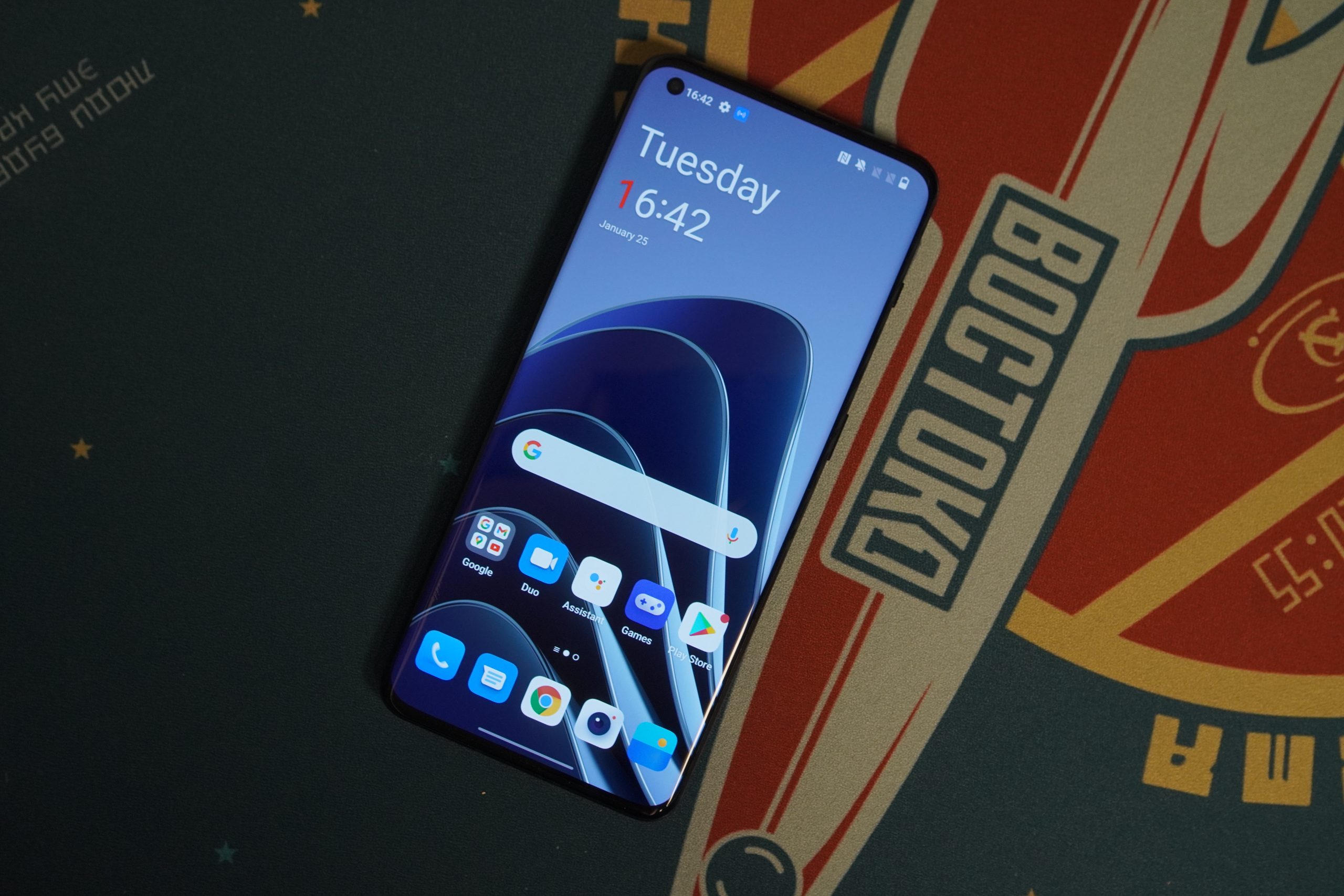 Display
6.7″ 120Hz QHD+ LTPO2 Fluid AMOLED Panel
Corning Gorilla Glass 5 protects the screen
The OnePlus 10 Pro pretty much has the OnePlus 9 Pro's screen, coming in at 6.7″ with 120Hz in refresh rate. It uses the latest LTPO2 Fluid tech, so your refresh rate dynamically switches to adapt to whatever you're doing up to 120Hz. The screen is pretty well covered in terms of spectrum, pushing 100% for both sRGB and DCI-P3 spaces.
The only thing that makes it different from the 9 Pro is "Dual Calibration", where it's been color-calibrated for both 500 nits and 100 nits for color-consistency when you're on different brightness levels.
There's also a Pro Mode, which gives you access to Brilliant and Cinematic settings. From here, you can choose between setting the panel to show P3 colors (cinematic) or the widest possible native colors (brilliant). We prefer sticking to either Natural or Cinematic.
Work & Play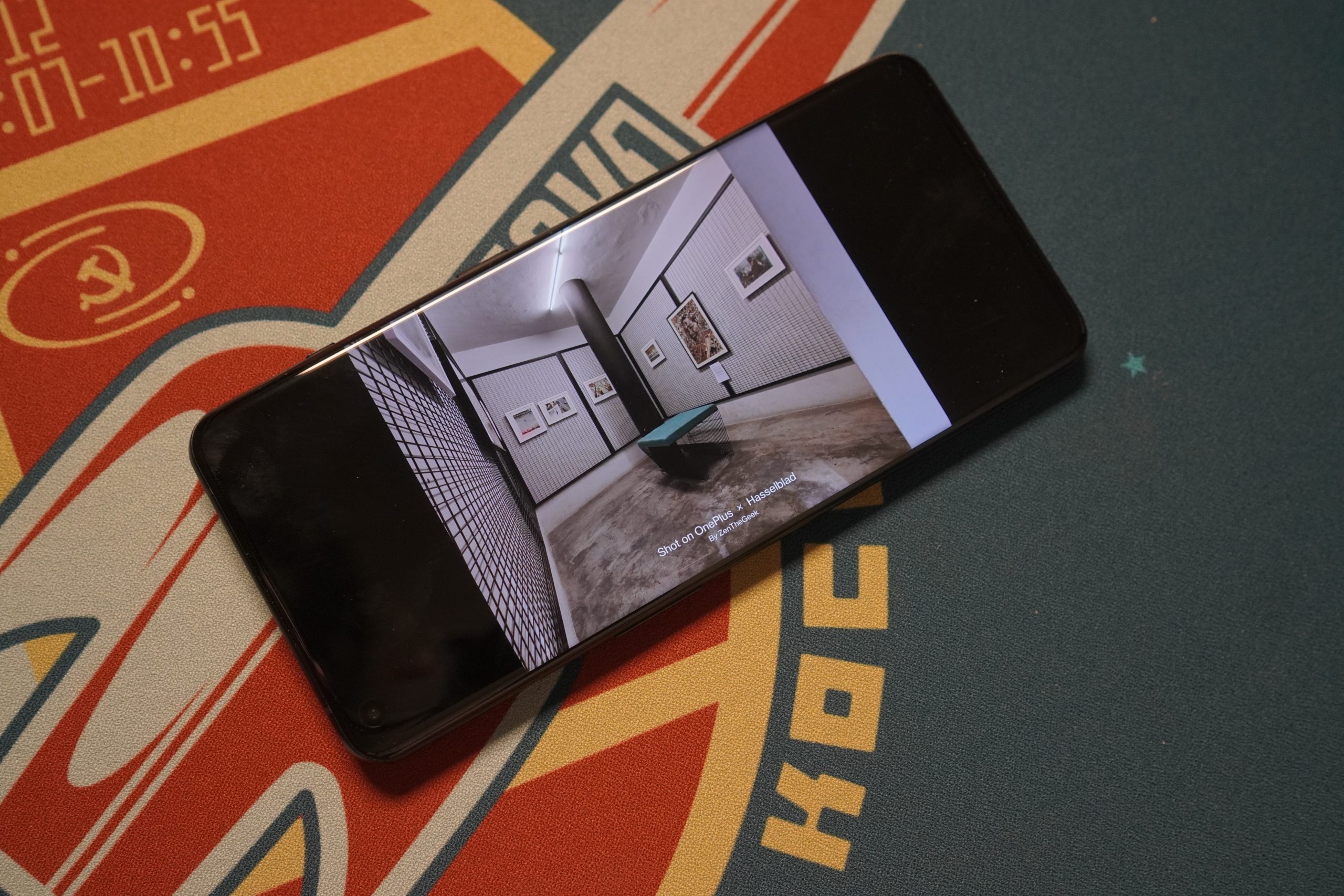 Qualcomm Snapdragon 8 gen 1
12GB RAM & 256GB internal storage
5000 mAh dual-cell battery capacity
80W SuperVOOC charging
As a work phone, the OnePlus 10 Pro would be overkill for work level needs. You can pretty much get any piece of work done on this phone, from collaborative office, Zoom calls and media editing. Lightroom was thundering fast, with almost no delays nor heat when it came to editing RAW files. 12GB of RAM is generous here, and we expected nothing less if it's going to be OnePlus' flagship.
If you intend to use this OnePlus 10 Pro for gaming, then you can rest easy. Not only does it play well, but cools well as well. It uses a "3D Passive cooling system", a sandwich of copper foils, carbon and graphene cooling film. OnePlus put all this together in a custom vapor chamber and managed to keep a power hungry Snapdragon 8 Gen 1 chipset at bay.
AAA titles like Genshin Impact on the highest settings suprisingly bagged about over 40 median FPS, whereas faster titles like COD Mobile obtained nearly 60 FPS consistently throughout sessions.
Seeing OnePlus perform for gaming was impressive, combining everything from hardware performance, clean UI and display quality. It does however suffer from high drain so at this moment even if the OnePlus 10 Pro performs well it might not have the legs to last that long
Nearly Day's Work Under Load
This year's trend are 5000 mAh batteries and the OnePlus 10 Pro was definitely not left out. Although a tad bigger than even the Xiaomi 12 Pro's 4600 mAh battery pack, a full days use of gaming, social media and streaming left the OnePlus 10 Pro dry by the early evening and that was not great.
We are however fortunate to get the 80W SuperVOOC charger that the US isn't able to, and we were able to bring outselves back up from under 5% to full in about 30-ish minutes. This is important for us as we see this as a compensation for a less than stellar battery life that even the more affordable realme GT 2 Pro could easily beat on the same busy day.
---
Camera System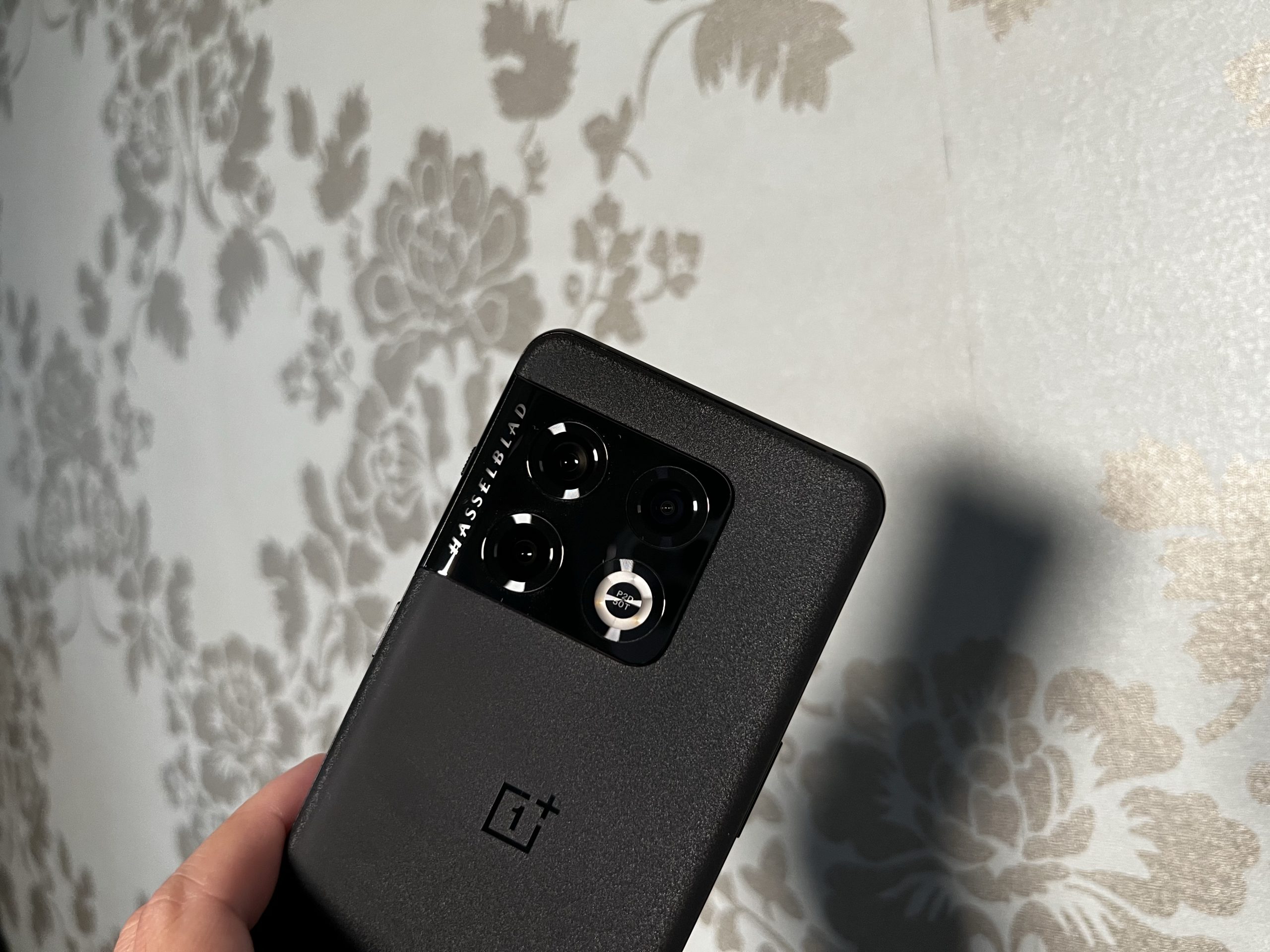 48MP f/1.8 main sensor w/ OIS
50MP f/2.2 ultrawide sensor 150˚
8MP f/2.4 telephoto
32MP f/2.2 selfie camera
You know the drill. It's OnePlus and Hasselblad amirite? It has to be a good camera system. Well, this time around, we found the OnePlus 10 Pro to be decent at best when it comes to camera. When we say decent, we mean good, but will be easily outpaced by competitors.
First off, I'm happy with their sensor choices, retaining the Sony IMX789 from last year's model. What makes me sad is that laser autofocus was removed. Why?
Standard Wide Angle
The main camera in daylight shoots at its best, with a good amount of detail and colors. We see a lot of post-processing at work and the end result would be strong sharpening. It also tries to give a bit of subtle contrast by having the white balance be more on the warmer side, and this would be a tasteful choice to some.
The subtle contrast only goes so far, because that won't be the only contrast you'll be getting. The dynamic range is strange, and not as wide as I'd expected. Images might end up looking already edited thanks to such aggressive post processing, so you'll notice it when you take shots with a lot of shadow, because more will be artificially added in.
Do note that, like the OnePlus 9 Pro, the 48MP element of it is an upscaling, so images here are at default 12MP output.
Because the aperture is so wide, it is not recommended to take shots that are macro if not too up close. A saving grace however, came in lowlight, as the OnePlus 10 Pro was able to surprise me when it came to taking photos at night. Even without enabling Night Mode, you'll be pleased to know that you'll be getting plenty of detail with fairer color rendering since the main sensor does lean on a warmer white balance.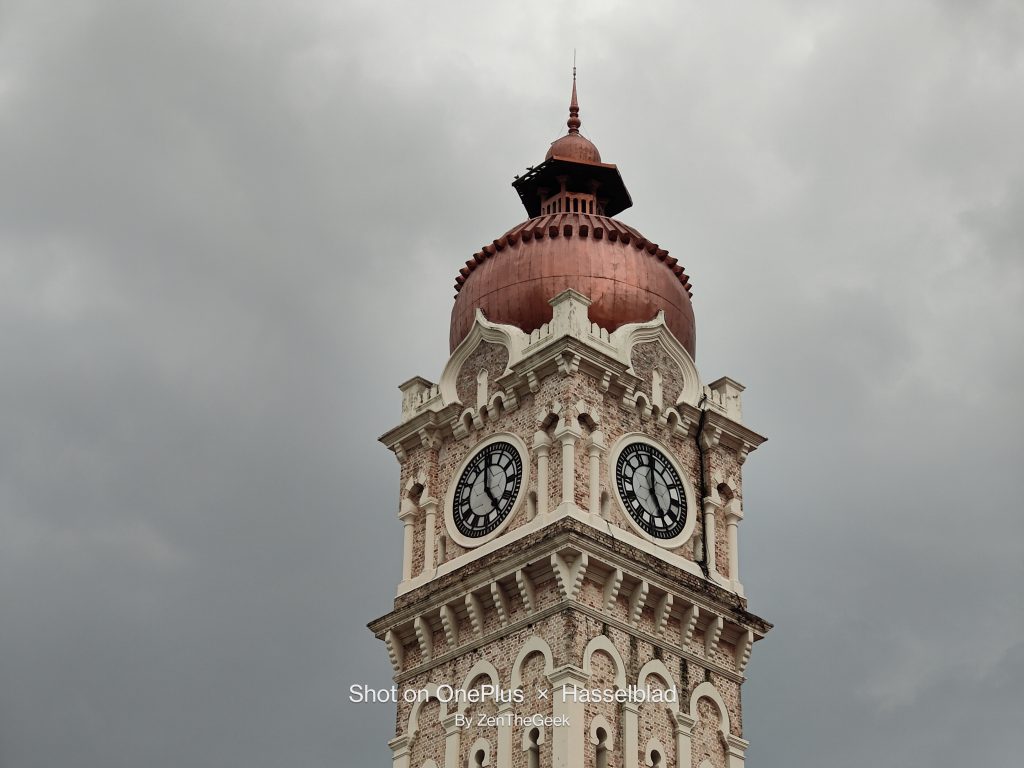 Telephoto quality was suprisingly good, offering impressive detail and image quality. For some reason, shots didn't look as overly processed as the main's. It's simply better all across the board. Even at 8MP, you'll still get rich imagery with a healthy speed when it comes to focus locking.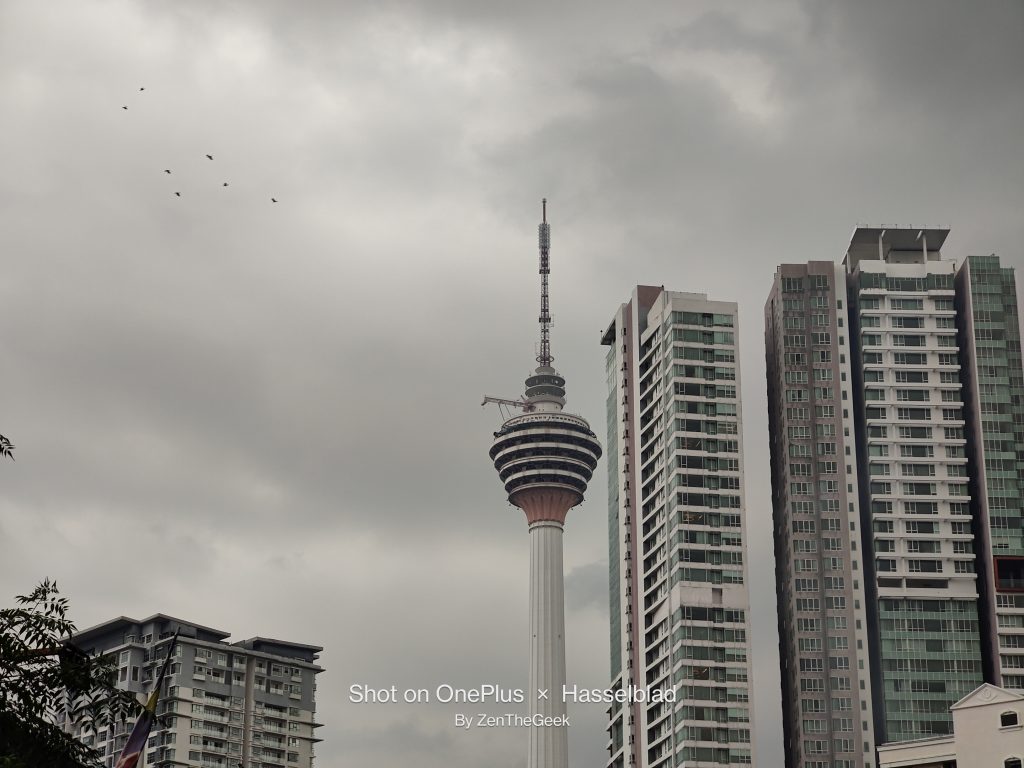 Ultrawide Angle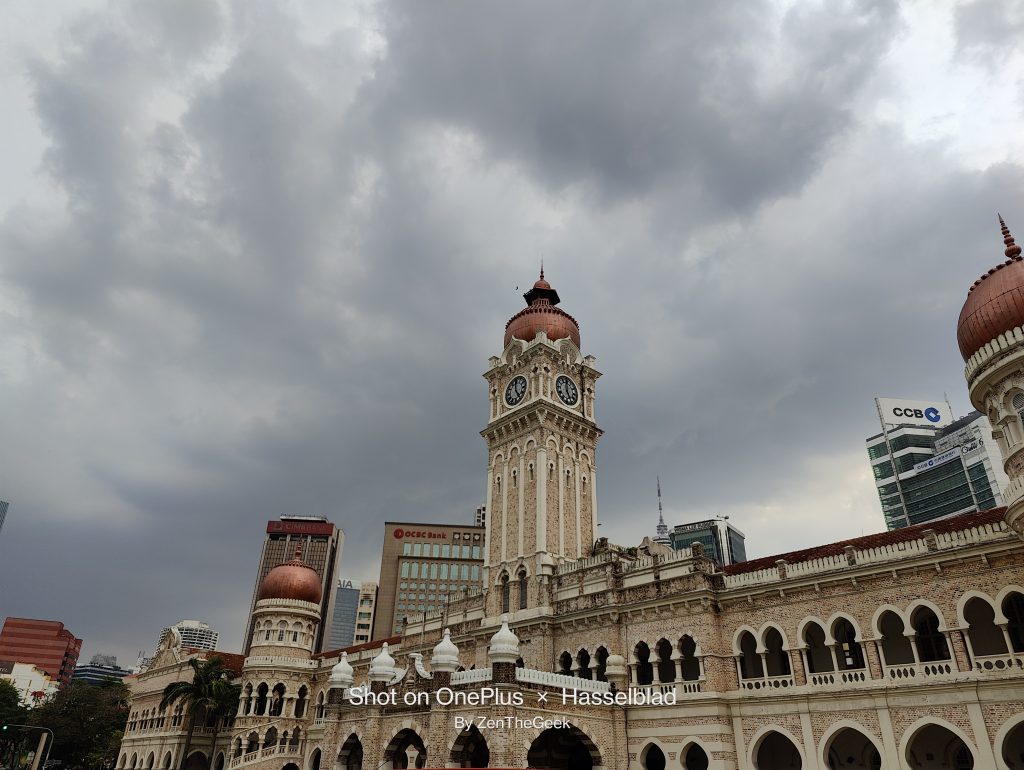 The OnePlus 10 Pro gets a new ultrawide sensor, courtesy of Samsung. Sadly, even with the new hardware, images looked soft and misses a lot when it comes to detail. White balance is on the cool side and for the most part look more natural than the main sensor. This immediately breed inconsistency when it comes to taking photos on any of the 3 sensors. Hopefully a software update will fix this in the future.
The step down also comes in the lack of autofocus, which is a poor move by OnePlus considering the 9 Pro had it. It's already lacking in detail, and you had to take away the autofocus. Is this perhaps the sensor that OnePlus really cut corners on to keep costs "lower"? The 9 Pro's IMX766 definitely creams the Samsung JN1 here.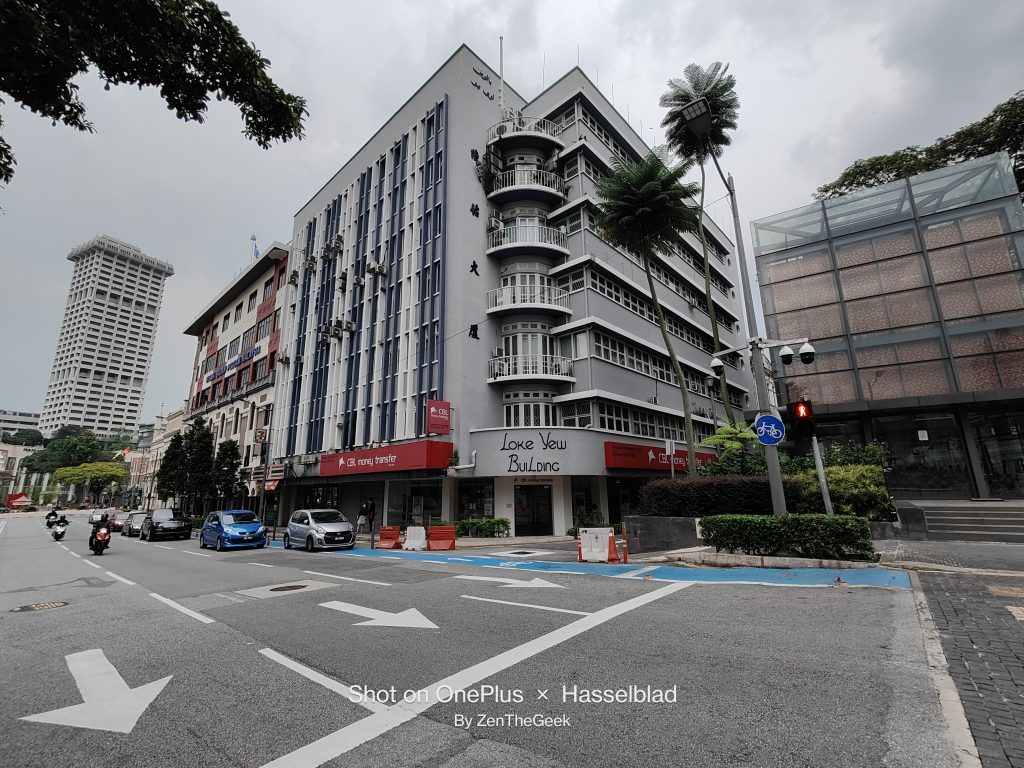 ---
Mediocre Selfies But Decent Portraits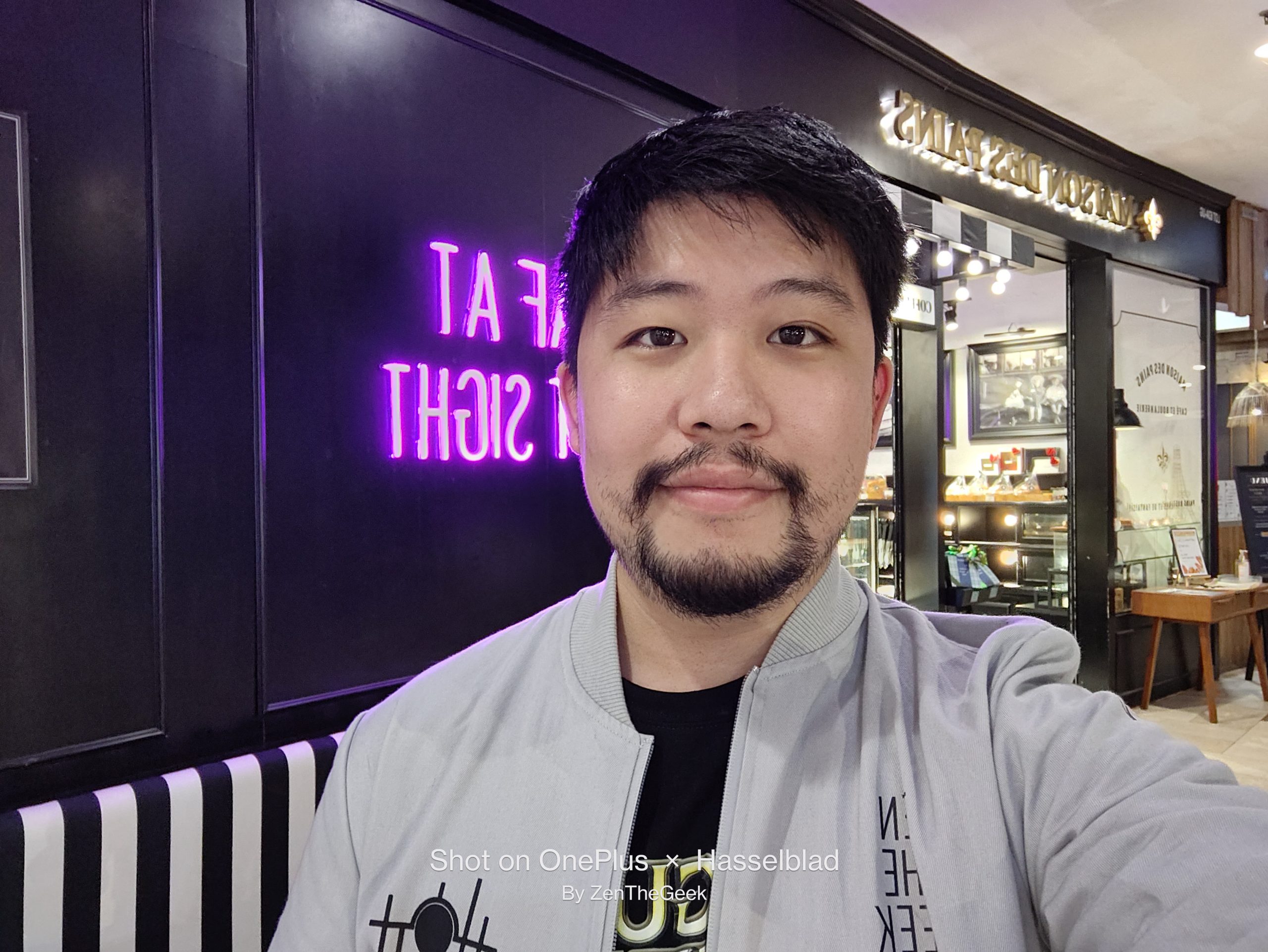 For selfies, the OnePlus 10 Pro employs a 32MP front-facing shooter that outputs to 8MP (Quad-Bayer sensor). It may look a little on the soft side but that's mostly a good thing because we've been dealing with way too much sharpening so far. The softness we suspect comes from the upscaling from 8MP to 32MP.
Dynamic range was pleasant and white balance is, well, balanced.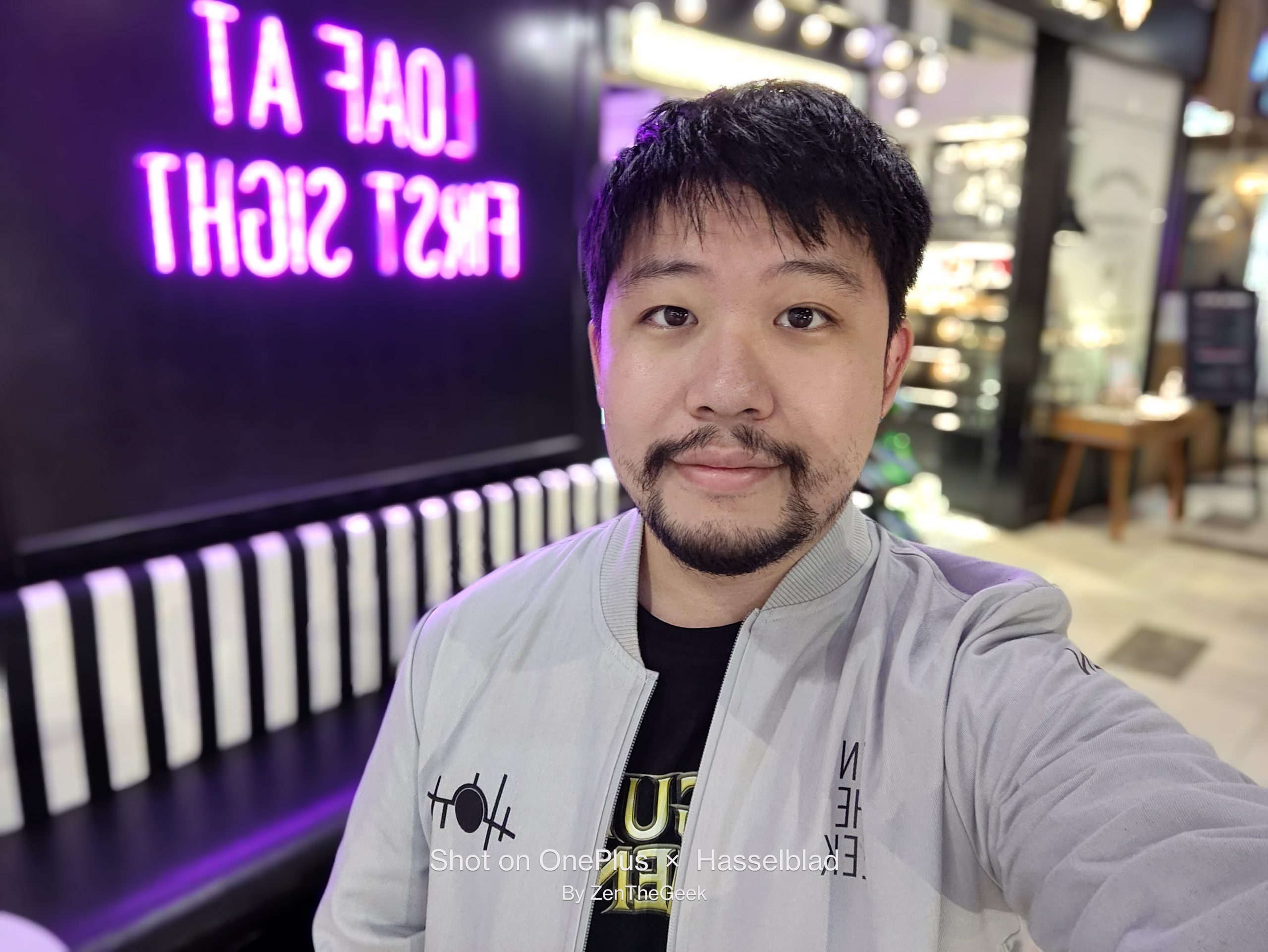 Portraits did well too, except for some clipping when it came to my facial hair. The focus on the face was done quite well and colors were neutral for the most part. Definitely not the best portrait mode we've seen but it's earned some respect from us.
---
The Verdict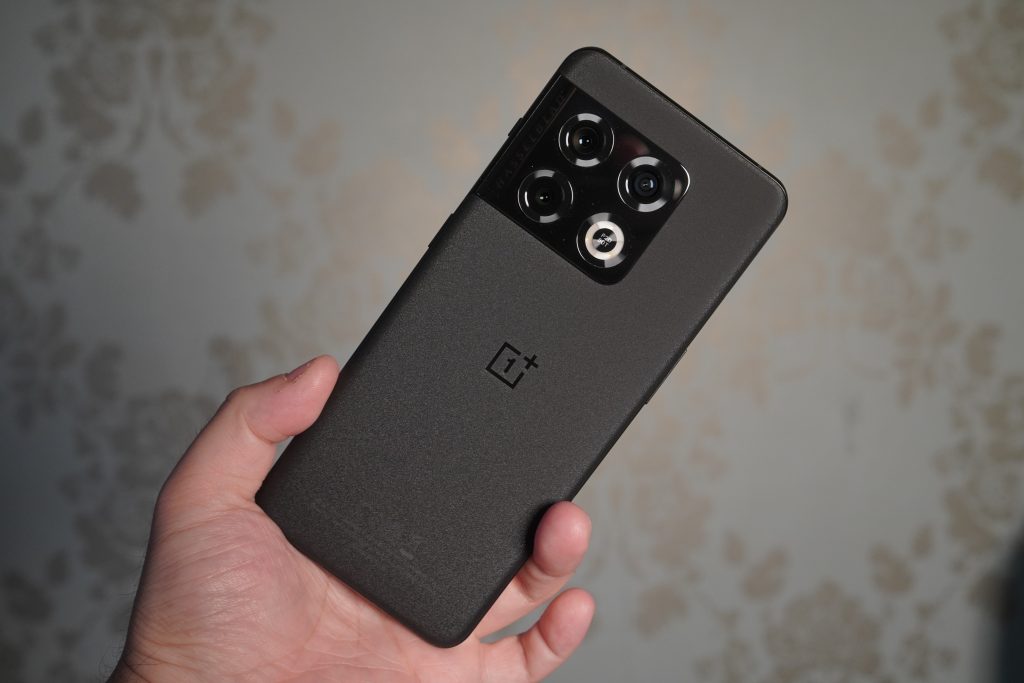 The OnePlus 10 Pro is proof that the OPPO-tied company wants to get things back on track with its own identify and direction. It managed to be a phone that looks, feels and runs good, but it is far from being excellent.
For starters, the cameras, the one thing that's supposed to be a great experience, was simply not. It was such a mixed bag of results that I could only realistically say that it's just a rank above mediocre with some extra change.
Next would be the price it commands. RM 4199 for a sub RM 3000 experience is not the way to go, and no amount of "local taxing", "Branding" and "Quality Hardware" can dissuade my statement. Let me say that it's NOT a bad phone, but the OnePlus 10 Pro is in a place that only few fans are willing to continue being in.