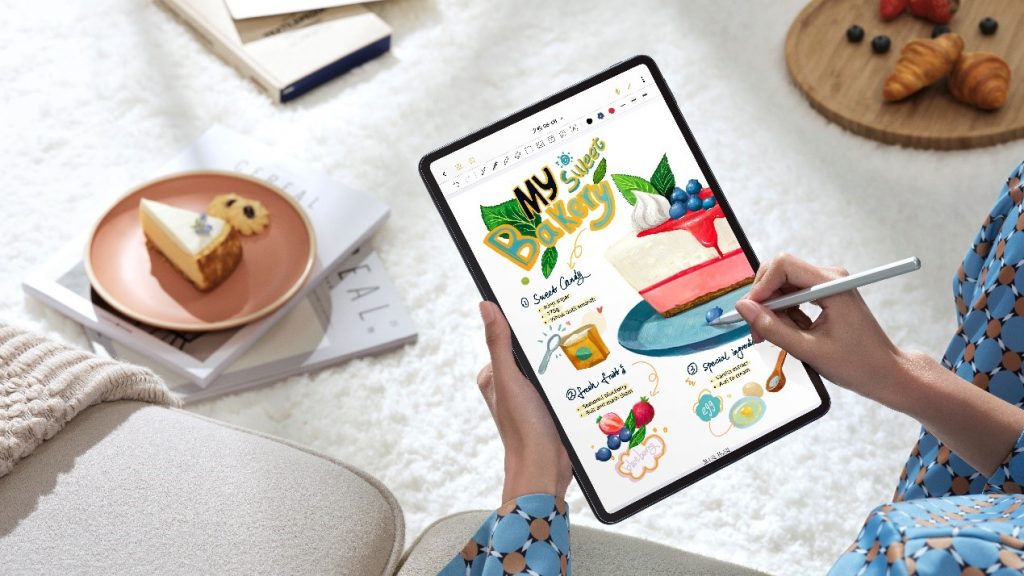 Say hello to Huawei's new tablet aimed at creative professionals by empowering them with a productivity focused tool. It's the MatePad Pro (2021). It's runs the latest HarmonyOS 2 paired with the Kirin 9000E. The screen is said to rival Pro-Grade monitor. The display is 12.6″ with OLED tech and is capable of the DCI-P3 color range with an accuracy of ∆E < 0.5. If you're a creator like myself you should be drooling at the capability to create content confidently with the color accuracy it is capable of.
The tablet also has a fancy mirror and collaborate to pair with your computer to sign documents or act as a drawing tablet, speaking of which it also works with the Huawei M-Pencil (second generation) that offers a even closer pencil-like experience. It's got a platinum coated tip, and capable of over 4000 levels of pressure all at a low latency. Oh and it can turn handwriting in to digital text too. Neat!
The tablet sports an 8-speaker system, including tweeters and woofers, so we should be prepared for one hell of an audio-visual experience if all that hardware can be put to good use. The MatePad Pro comes in 12.6 and 10.8 inch variants, with midnight grey as the base color with Olive Green being only available for the 12.6″

For more information, click here to visit the Huawei website and here to visit the Huawei Malaysia Facebook.