HONOR Malaysia has made an exciting announcement today with the launch of their dual flagship devices, the HONOR Magic5 Series and HONOR Magic Vs. The HONOR Magic Vs is priced at RM5,999 (12+512GB) and will spearhead the brand's first-ever foldable smartphone to be launch abroad, making it a highly anticipated device for tech enthusiasts everywhere. The HONOR Magic Vs promises to deliver a unique user experience that sets it apart from other smartphones on the market.
HONOR Magic Vs open to pre-orders with free gifts worth over RM 2,200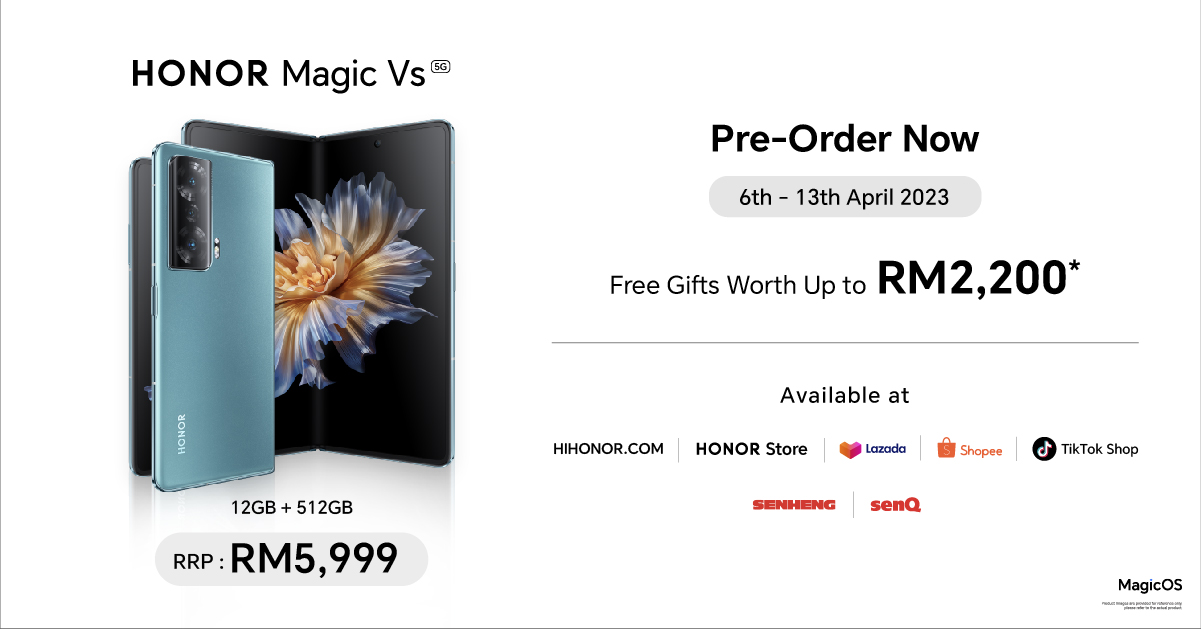 The pre-order launch of the highly anticipated HONOR Magic Vs is up for grabs, starting from 5 pm onwards on April 6th until April 13th from HONOR Official Website, HONOR Experience Store, Shopee, Lazada, TikTok Shop and authorized dealers Senheng and SenQ. Early buyers will receive a gift bundle worth over RM 2,200, which includes a NESCAFÉ Genio S Touch Coffee Machine, an HONOR Magic Vs Phone Case, a 1-year extended warranty, and 180-day screen crack protection. For the first time ever in the industry, HONOR is going extra mile by providing 180 days FREE Dual Screen Crack Replacement Service to give more assurance to the users. The sale launch and phone collection will begin from 28th April, be sure to take advantage of this exclusive pre-order offer and get your hands on the one and only HONOR Magic Vs.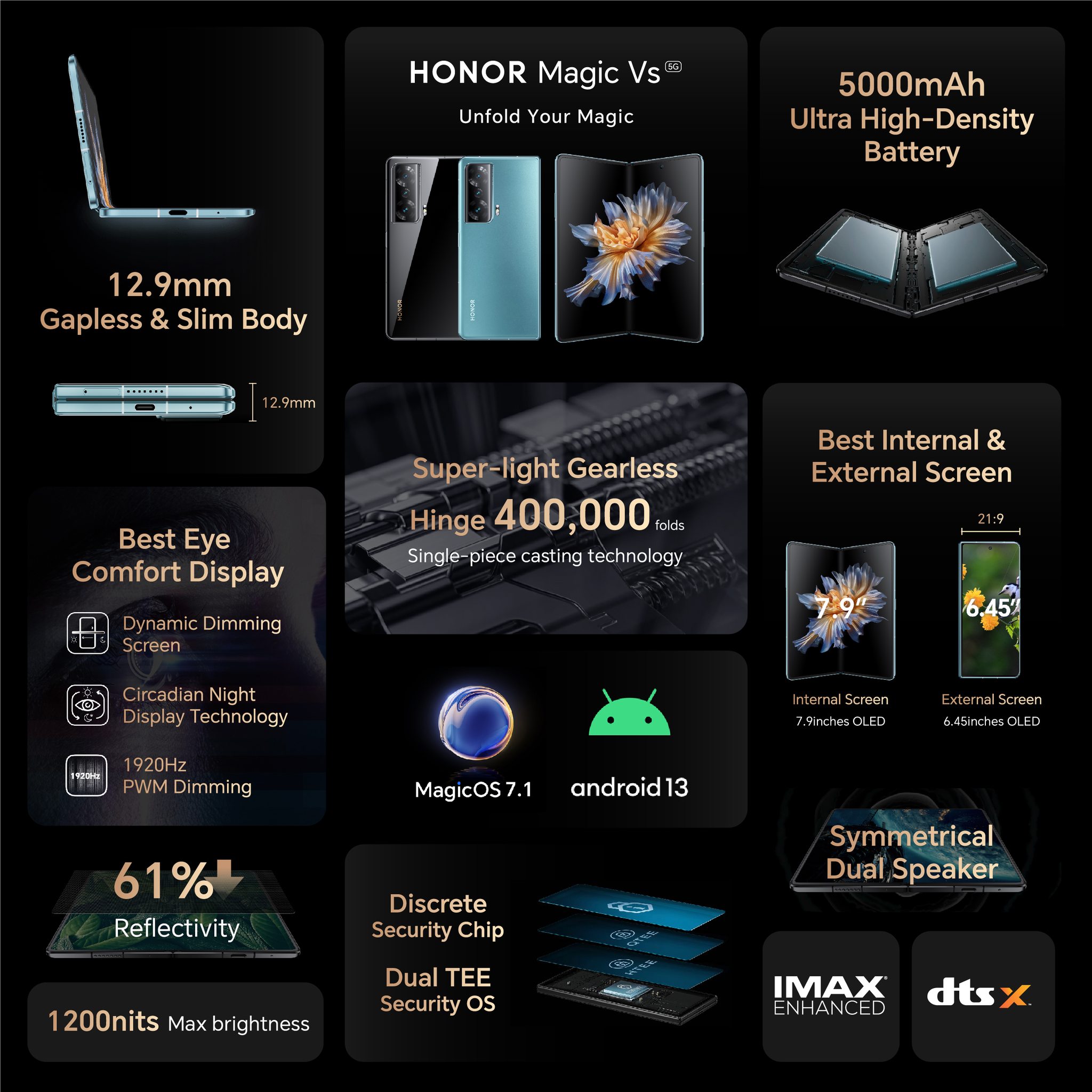 HONOR Magic Vs – Fold your worries away
The HONOR Magic Vs is set to revolutionize the foldable smartphone industry by addressing common problems faced by users. With its larger external display, users will be able to enjoy a more productive and efficient experience. Thanks to a gapless foldable design – this eliminates the gap between screens, preventing stone chips and other debris from getting stuck in between – a common theme among foldable smartphone users. The screen display is built with durability in mind, avoiding cracks or dents that often require costly repairs or replacements. Additionally, the HONOR Magic Vs boasts impressive battery endurance despite its complex structure with multiple components.
Packed with innovative technology and problem-solving features, here is 3 ways how the HONOR Magic Vs is set to change the game for foldable smartphones.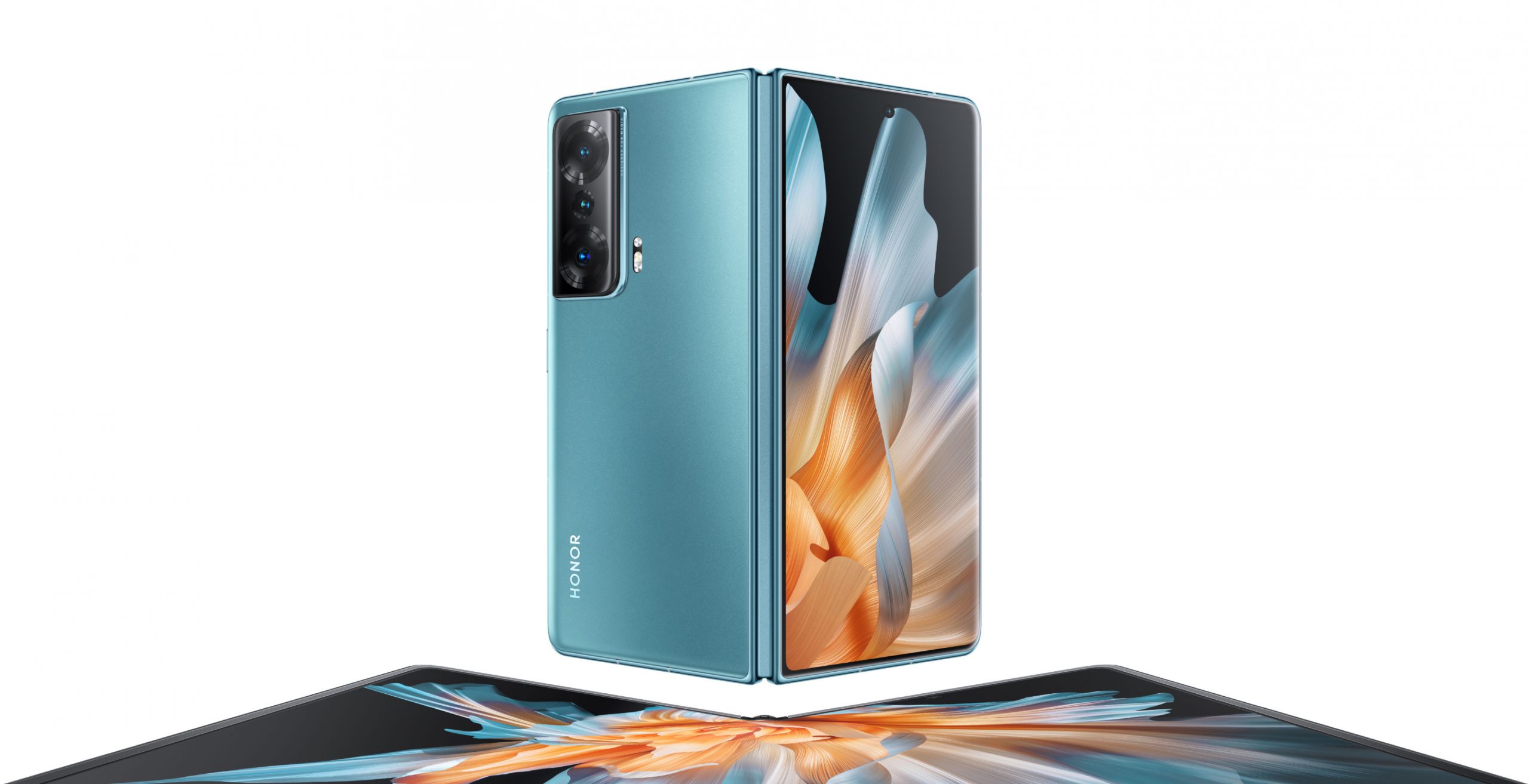 Practical Internal and External Screens
Boasting a 6.45-inch user-friendly external display with a 21:9 aspect ratio and a 90% screen-to-body ratio, the HONOR Magic Vs provides users with an immersive viewing experience. Compared to its competitors, the HONOR Magic Vs offers a larger and wider external display that is more convenient for users to view and input text. With an extra-wide 7.9-inch internal display, the device provides a tablet-like experience when unfolded, perfect for efficient multi-tasking and enjoying all your favorite content with ease. This is just the beginning steps on how HONOR develops the ultimate solution for users looking for a seamless and intuitive experience when it comes to foldable smartphone.
Slimmer, gapless and durable hinge design that can slipped in your pocket easily
The HONOR Magic Vs boasts a sleek and gapless design that sets a new benchmark for foldable smartphone designs. Measuring at just 12.9mm thin when folded and weighing only 267g, the device is exceptionally slim and lightweight for a foldable smartphone. Its revolutionary Super-light Gearless Hinge is carefully crafted with single-piece casting processing technology, streamlining the number of components in the hinge's supporting structure from 92 to just 4. The hinge has been tested by TÜV Rheinland and is able to withstand up to 400,000 folds, equivalent to above ten years of use based on 100 folds per day. Altogether, the HONOR Magic Vs is designed to last, providing users with a seamless and a unique smartphone experience.
Ultra Long Battery Life for foldable smartphone users
The HONOR Magic Vs provides users with the ultra-long battery life they need on a foldable smartphone. With its 5000mAh Ultra High-Density battery, it boasts the largest battery capacity among foldable smartphones under 270g currently available on the market. Its 66W Wired HONOR SuperCharge technology ensures that the battery can be fully charged in just 46 minutes, sparing users the worry of low battery. With its powerful battery and fast-charging capabilities, the HONOR Magic Vs is the solution for users who need a reliable and long-lasting mobile device that can keep up with their busy lifestyles.
A Truly Personalized Experience with MagicOS 7.1
HONOR has always been known with innovative features that are designed to enhance productivity and provide users with an easy connect seamless experience across devices. The HONOR Magic Vs is the key to a personalized experience in keeping up with anyone's fast-paced lifestyles in the world of digital growth.
With the Magic Ring, devices connected to the same HONOR account can be controlled via cross-device, making it easy to receive and reply to messages on a laptop. All users need to do is hover their mouse to take control of the HONOR Magic Vs.
The Magic Text feature with a built-in text recognition, allows users to maximize their productivity by automatically detecting numbers from images and other documents.
Workload gets better with the Smart Multi-window feature, opening the possibilities of multitasking with up to four applications, boosting efficiency whether working, casual movies, gaming, or reading. The APP Extender feature enables users to show two windows for an app, allowing them to run two separate tasks on the app simultaneously, providing an enhanced experience to run multiple tasks independently.
HONOR partners with Enrich by Malaysia Airlines to giveaway KLIA Golden Lounge
HONOR has recently announced a partnership with Enrich by Malaysia Airlines to offer its customers who purchased any HONOR Magic Series a chance to get 7,000 Enrich points. These points can be redeem for the luxurious Malaysia Airlines Golden Lounge access or fly domestic with Malaysia Airlines. A total of 320 winners will be selected, providing them with the opportunity to experience Malaysian Hospitality and a premium travel experience in the Golden Lounge before departure or during a transfer at KLIA.
To participate, customers can capture an image or video on their HONOR Magic Series, including HONOR Magic5 Pro, HONOR Magic5 or HONOR Magic Vs, share what they love about the device, tag two friends on Facebook, and share the post publicly with the hashtag #HONORMagicSeriesEnrich. For all the info on this exciting promo, fans are free to check out HONOR Malaysia on Facebook for more information on this exciting promotion.
For the latest news and updates about the HONOR Magic Series head on over to https://bit.ly/HONORMagicDualFlagship .