more micro, less macro
The Galaxy Z Fold5 is Samsung's 2023 productivity foldable that works on improving quality of life, durability with very little in the innovation department. Does it still stand strong as the best foldable that's available in Malaysia?
Good
Better multitasking
Stronger hinge, less parts
No longer has a gap
Strong performance for gaming
Ungood
Still 25W charging
Not a strong Z Fold4 successor
No hardware camera improvements
---
Specs
---
CPU
Qualcomm Snapdragon 8 Gen 2 For Galaxy
Memory
12+256GB
12+512GB
12+1TB
UFS 4.0
Display
Cover Screen
6.2″ Dynamic AMOLED 2x, 120Hz, 904 x 2316
Main Screen
7.6″ Foldable Dynamic AMOLED 2X, 1812 x 2176 pixels 120Hz refresh rate, HDR10+
Camera
50 MP, f/1.8, 23mm (wide)
10 MP, f/2.4, (telephoto), PDAF, OIS, 3x optical zoom
12 MP, f/2.2, 123˚, 12mm (ultrawide)
Cover camera:
10 MP, f/2.2, 24mm (wide)
4 MP, f/1.8, 26mm (wide),under display
Connectivity
Bluetooth 5.3 ,USB Type-C 3.2, 5G, Up to WiFi 6, NFC, Nano-SIM + eSIM
OS
One UI 5.1.1 (Android 13)
Battery
4400 mAh, 25W Fast Charging
Available Colors
Icy Blue, Phantom Black, Cream
Gray, Blue (Online exclusive)
Retail Price
12GB/256GB – RM 6,799
12GB/512GB – RM 7,299
12GB/512GB – RM 7,799
Design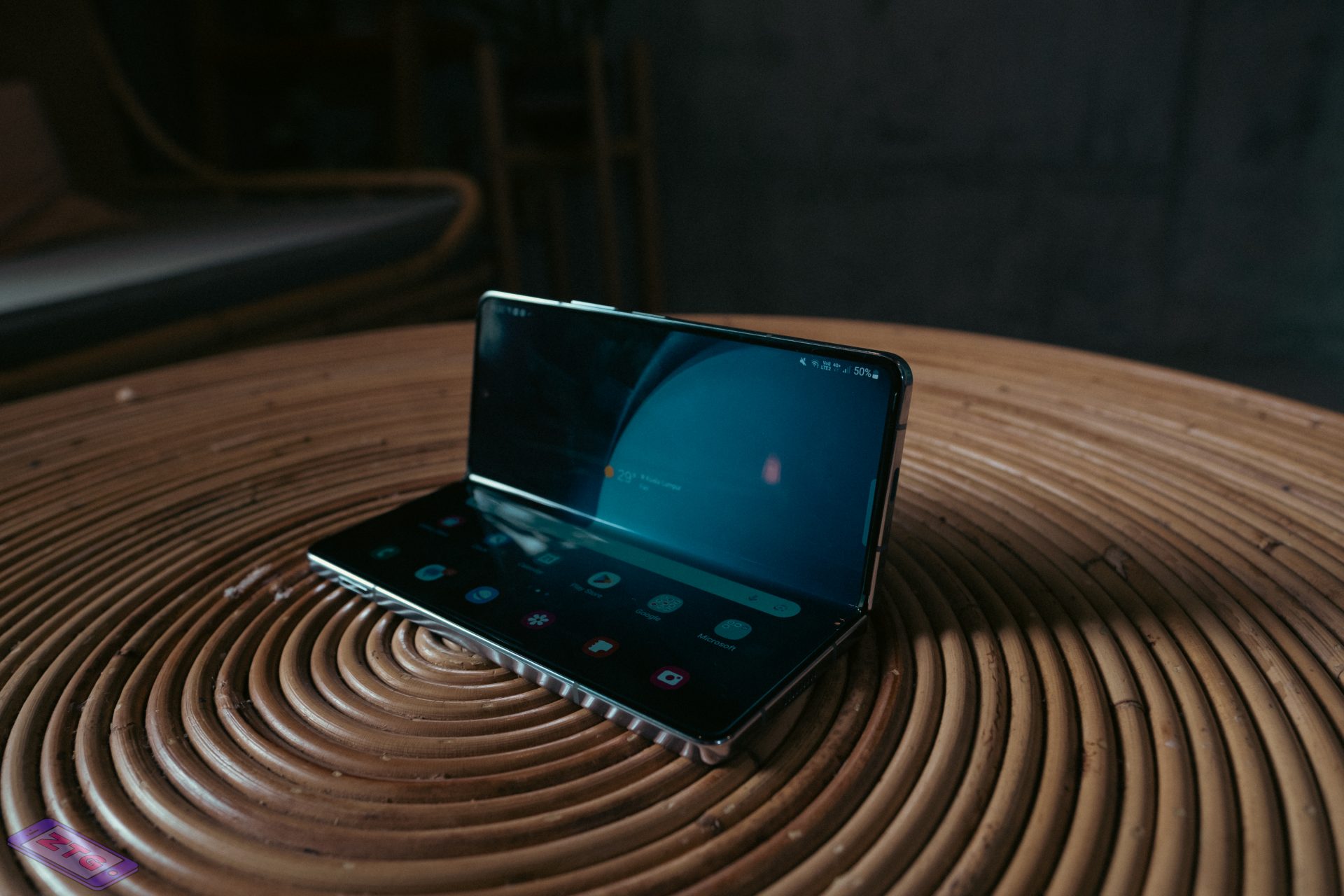 "The Hinge Gets Less Unhinged"
The Z Fold5 is doesn't define itself by major innovations in design. This time around, Samsung's focused on the micro part of things over the macro. There are only really 2 improvements to the hardware recipe, namely the new hinge and the protective glass.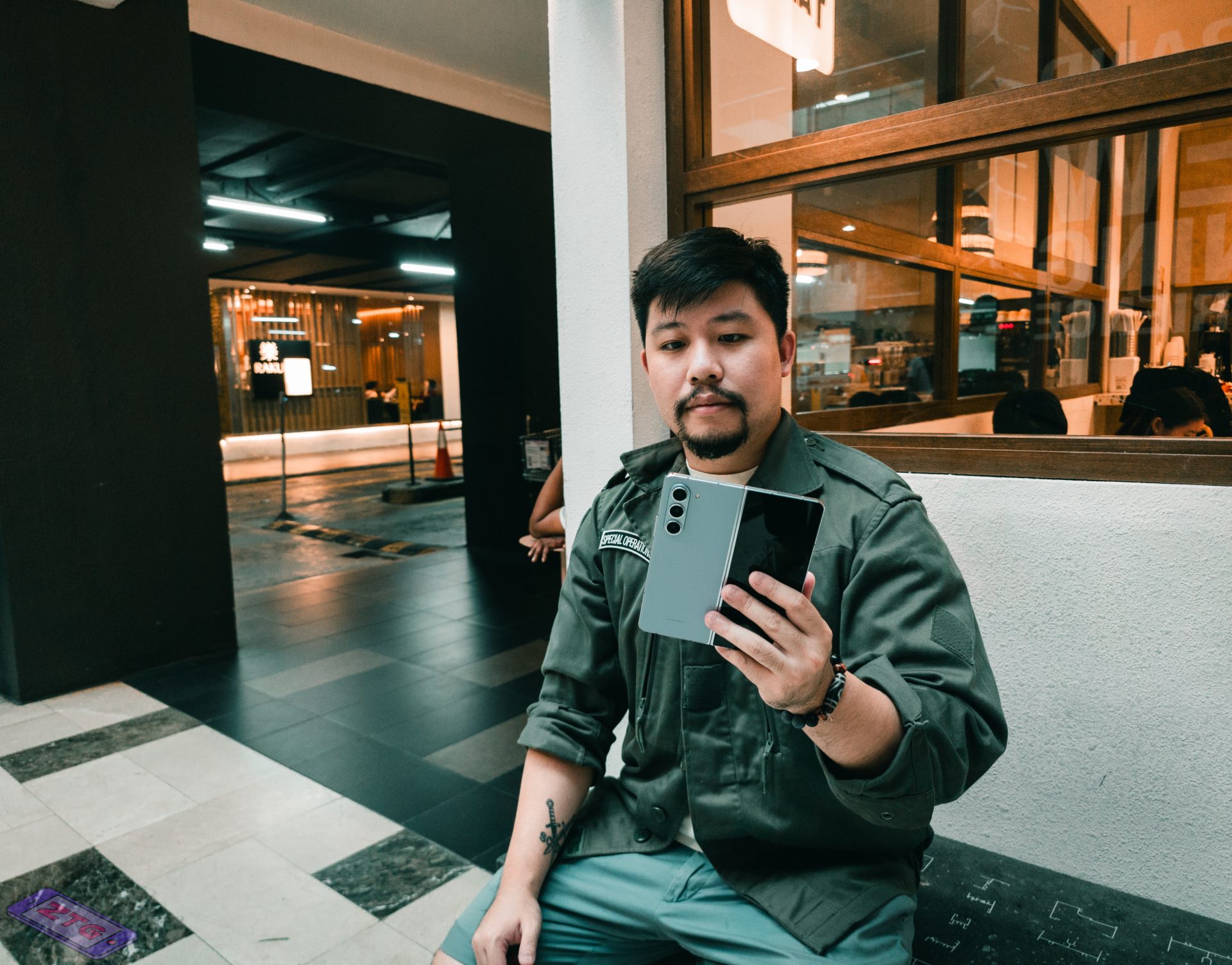 The new hinge allows the Fold 5 to be gapless, and gives off a more sturdy folding experience, like for real. This new Flex Hinge is made of less parts, and has enough tension to fold out into any variable degree you see fit. I've used the likes of the Mi Mix Fold 2, Oppo Find N2 and all generations of Galaxy Folds, and none of them folded with the same efficiency and high tension that this Fold5 has. Take note that the hinge is still made of Samsung's Armor Aluminum, with just less moving parts. It still has an IPX8 water resistance rating just like the Fold4. There's still no way to make foldables dustproof, but the fact that the Fold5 now has no gap would do away with worries about sand and other foreign particles getting onto that preciously filmed inner screen.
Speaking of screens, the Galaxy Fold5 gets the Gorilla Glass Victus 2 for the cover screen as well as the back. The inner screen still uses the same ultra-thin flexible glass we all know and love, with the same protective plastic film that we're constantly warned not to remove on our own (and yes, you still shouldn't).
I could literally fold the Fold5 out between 90-130 degrees and it'll feel like a little laptop with absolutely NO swivelling or hinge flexing. Solid is solid, and I encourage you to try it out at the showroom.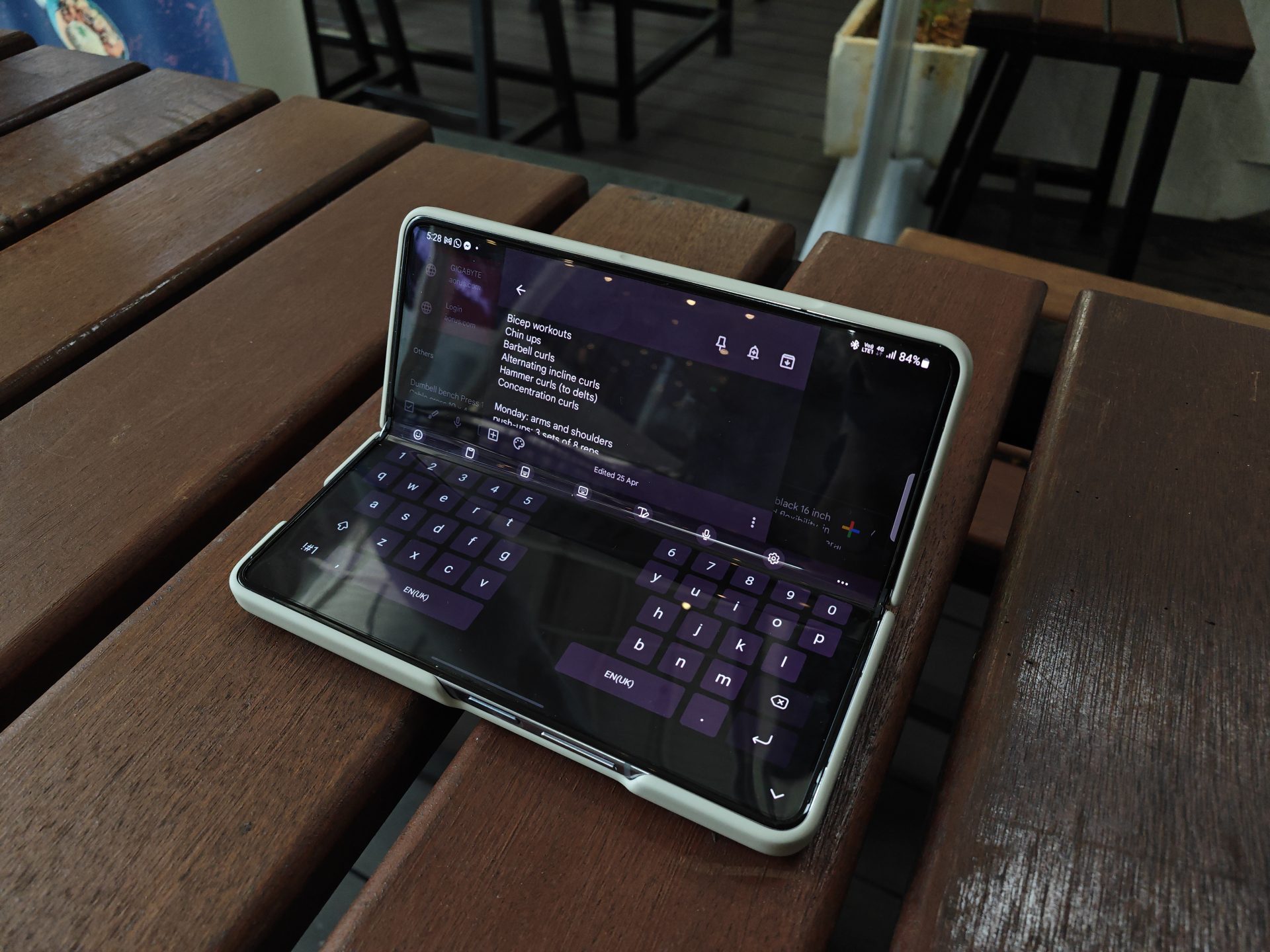 Anyways, I also find that software plays a critical role for an unfolding experience like this. You can see, just how aligned is the keyboard towards the crease, and it just looked like it fits there. I can type my comment on Facebook, reply my messages on WhatsApp, and even emails while still being able to see its contents. This is the work of Samsung keyboard, and I strangely like it. If the height is undesirable for your hands, you can adjust the height and width of the keyboard in the settings.
Is there a difference between the Z Fold4 and ZFold5 Physically?
Yes. Starting with the most minute would be that the Z Fold5 is 2.4mm thinner, thanks to the gap closing and the improved hinge. It's also 10 grams light which is negligible. This makes it Samsung's thinnest foldable to date.
The more obvious difference would be the LED flash placement. The LED flash used to be part of the camera module plate, and is now moved to the outside, drilled into the back cover itself.
Display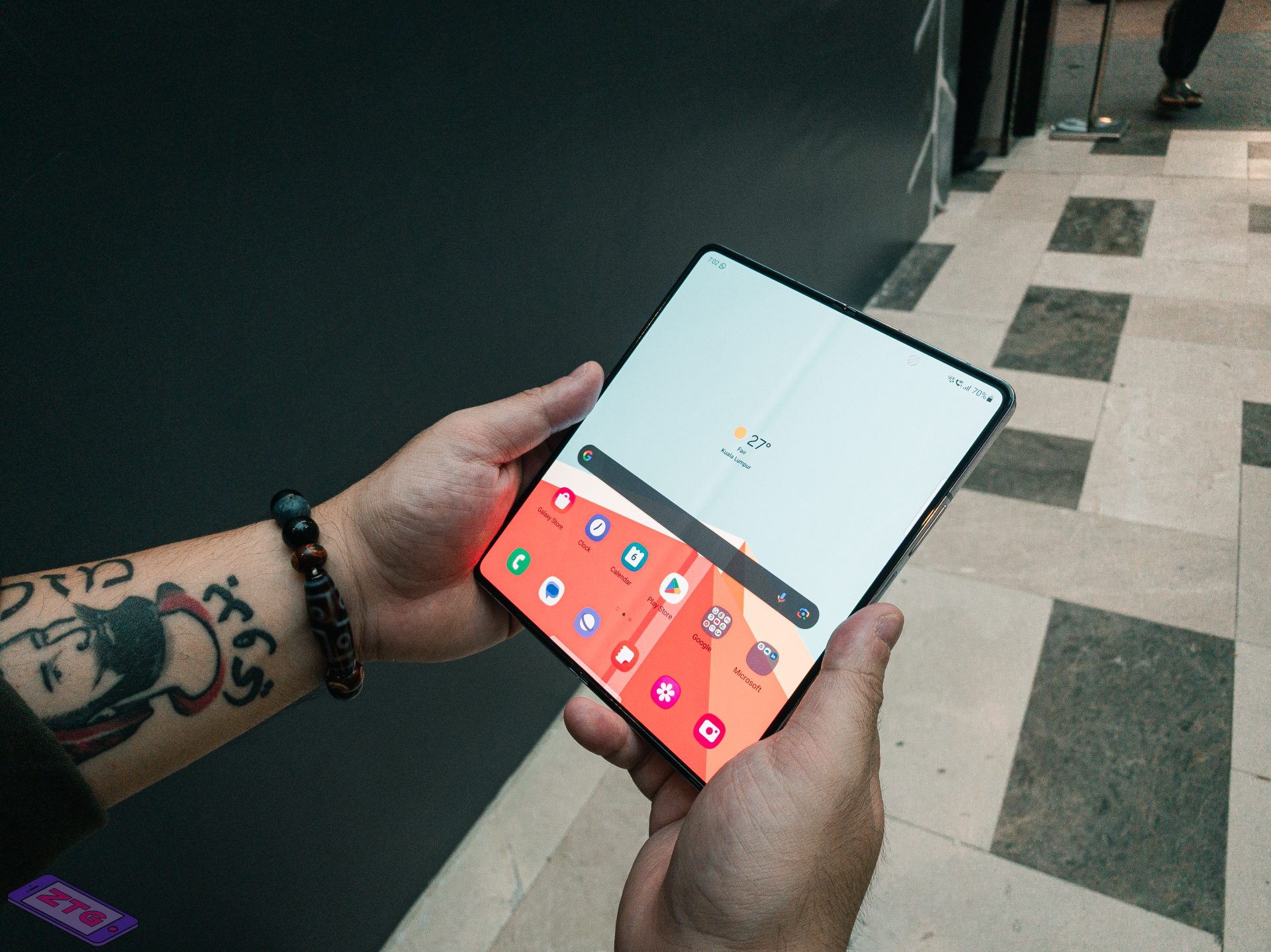 Under direct comparison to the Fold4, the Fold5 has identical display tech . The cover screen measures up to 6.2″, and is uses the same Dynamic AMODEL 2x panel goes up to 120Hz since the refresh rate is variable.
As for the inner scree, it's 7.6″ of the same panel type with a familiar foldable 5:6 aspect ratio. Both displays support HDR10+ streaming with WideVine L1 certification for HD Netflix streaming.
The 2 screens are very consistent with one another in terms of colors and even brightness, making you think that these panels were literally cut from the same cloth. As usual, you can calibrate your display colors to your liking, either choosing from Vivid or Natural. There's a dedicated slider for you to tune hues to your preference.
Natural targets flatter, more neutral tones that hits the sRGB nicely, whereas Vivid has more saturation with a cool bias, targetting to hit good DCI-P3 ranges (which it did).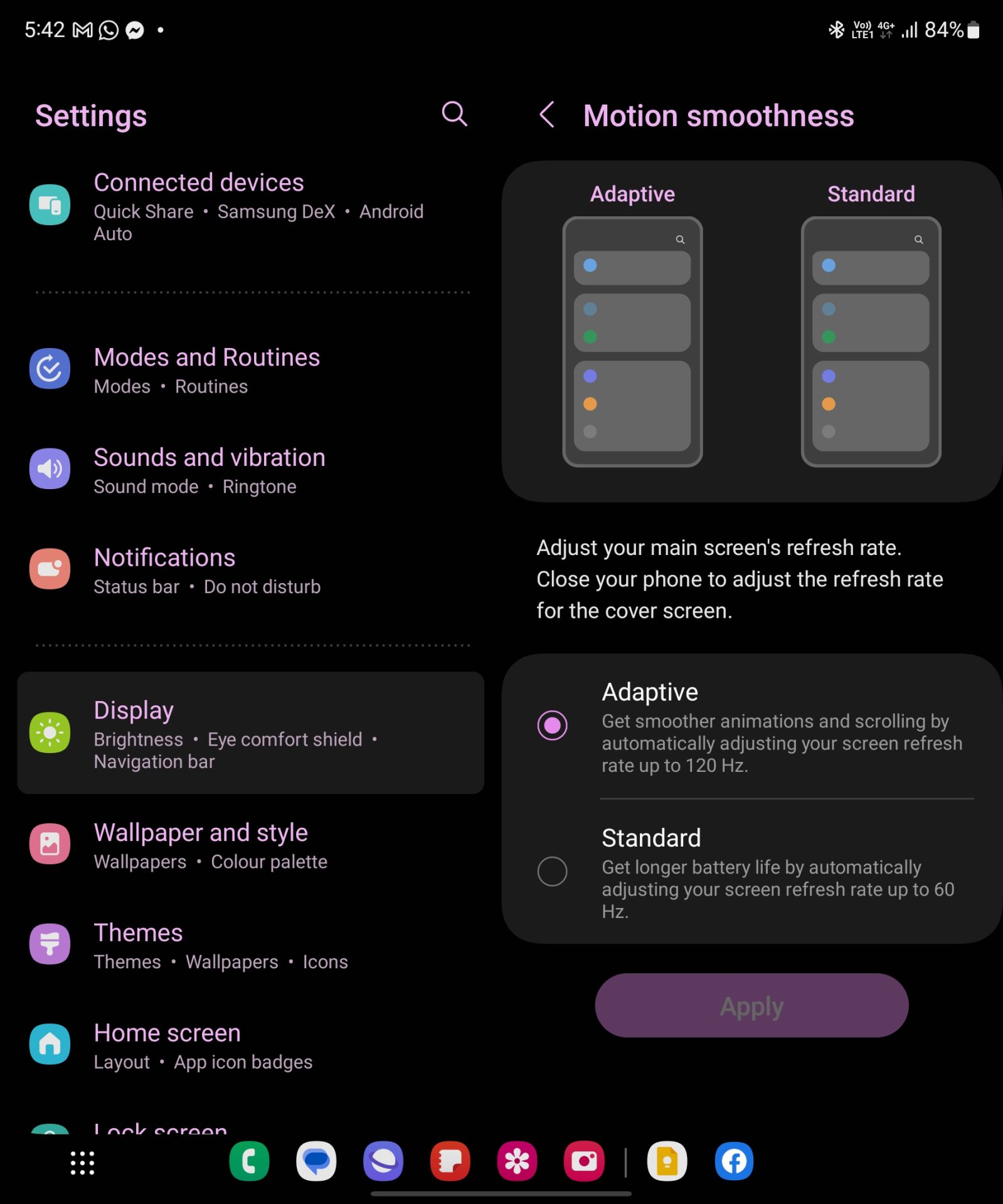 You can manage your refresh rates based on 2 smoothness options, Adaptive and Standard. Standard sticks strictly to 60Hz but would also have a range between 24Hz-60Hz (which would be the cap), while Adapative is able to dynamicall switch between 10Hz-120Hz based on what's happening in the screen. Videos will follow according to its filmed framerate, so if you're watching a 24-30FPS cinematic, the display will follow suit, all the way up to super smooth 120FPS videos.
Display quality has always been Samsung's strengths so that level of confidence should remain here. The unfolded screen is jawdroppingly gorgeous, producing consistent vibrancy all across the board with plenty of definition and clarity for even the fussiest of people. This experience however is not a jump from the Fold4 so if you were hoping to get a better display experience on the Fold5 as a Fold4 owner, you'd just be jumping back to the same boat. But if you're new to foldables such as the Fold5, then yeah, they're great displays.
"Foldable Tailored One UI, Chart Topping Experience On With Improved Battery Life"
Productivity and Multitasking
At this point, the Z Fold5 packs the most powerful chipset in the market, a custom Snapdragon 8 Gen 2 For Galaxy. We've done lots of pieces on how different it is from other Snapdragon 8 Gen 2's in the market, and you can jump on here to have a little read on it. Combined with 12GB of RAM and fast UFS 4.0 storage, nothing is a challenge for the Z Fold5.
One UI 5.1.1 is a tailored version of One UI, only for foldables, and since it's the final version of One UI 5 for foldables, One UI 6 will be around the corner, and we'll be covering that in the future. For now, there's still plenty to enjoy on this final version. The one thing that Z Fold users throughtout generations worship is its multitasking capabilities and how it translates onto a wide screen.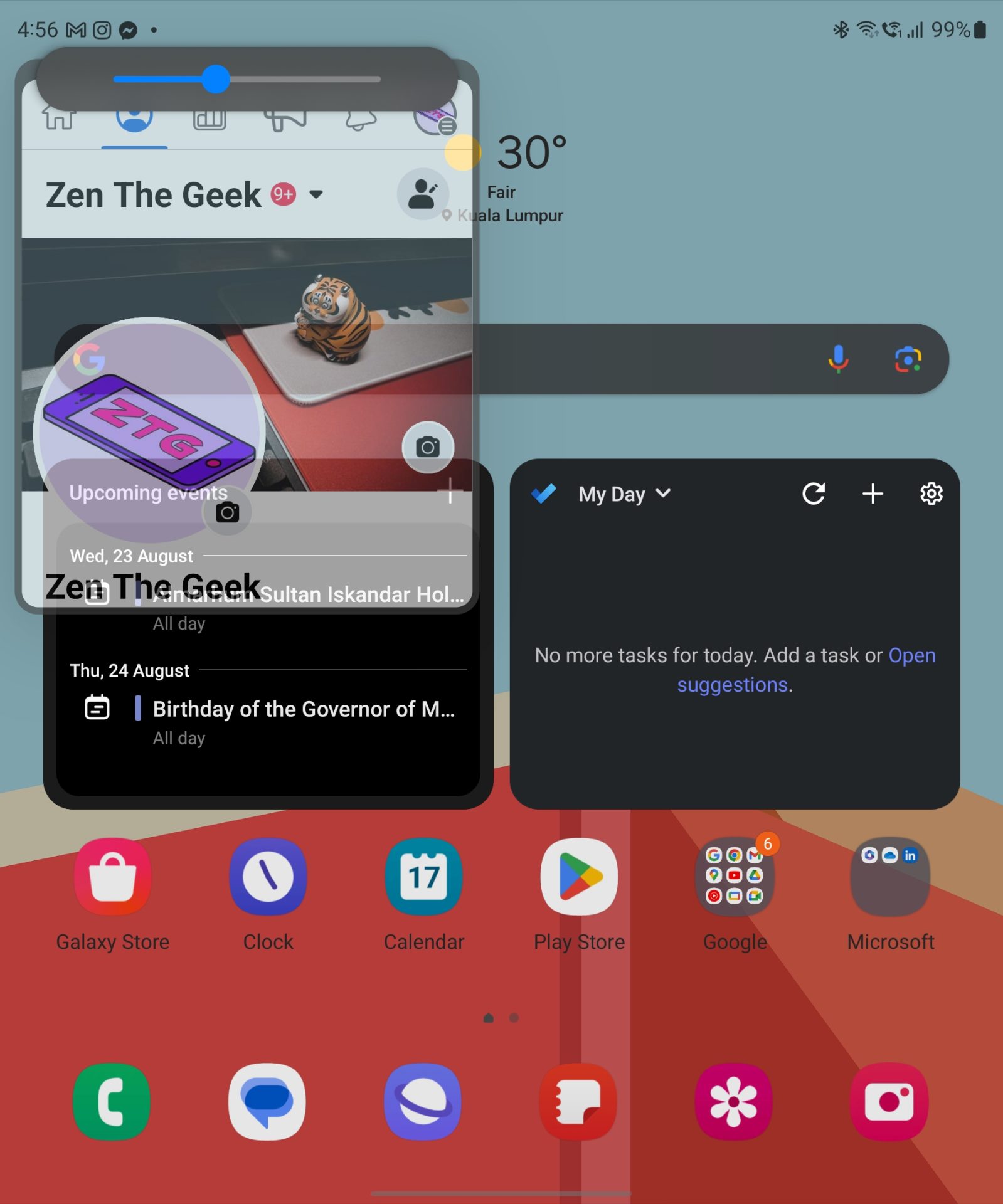 Multi-screen : You can have up to 4 different apps in an instance, with the 4th will be a pop-up overlay (which you can see transparency for) on top of the 3.
This is the penultimate part of the use of the Galaxy Fold5, giving you an immediate view of everything you want to see without moving between apps. If you prefer to keep it simple at 2 apps, you can just split them in the middle, complete with the option of changing its default orientation (left to right) to top and bottom. At current only Samsung does this and it's a great option to have.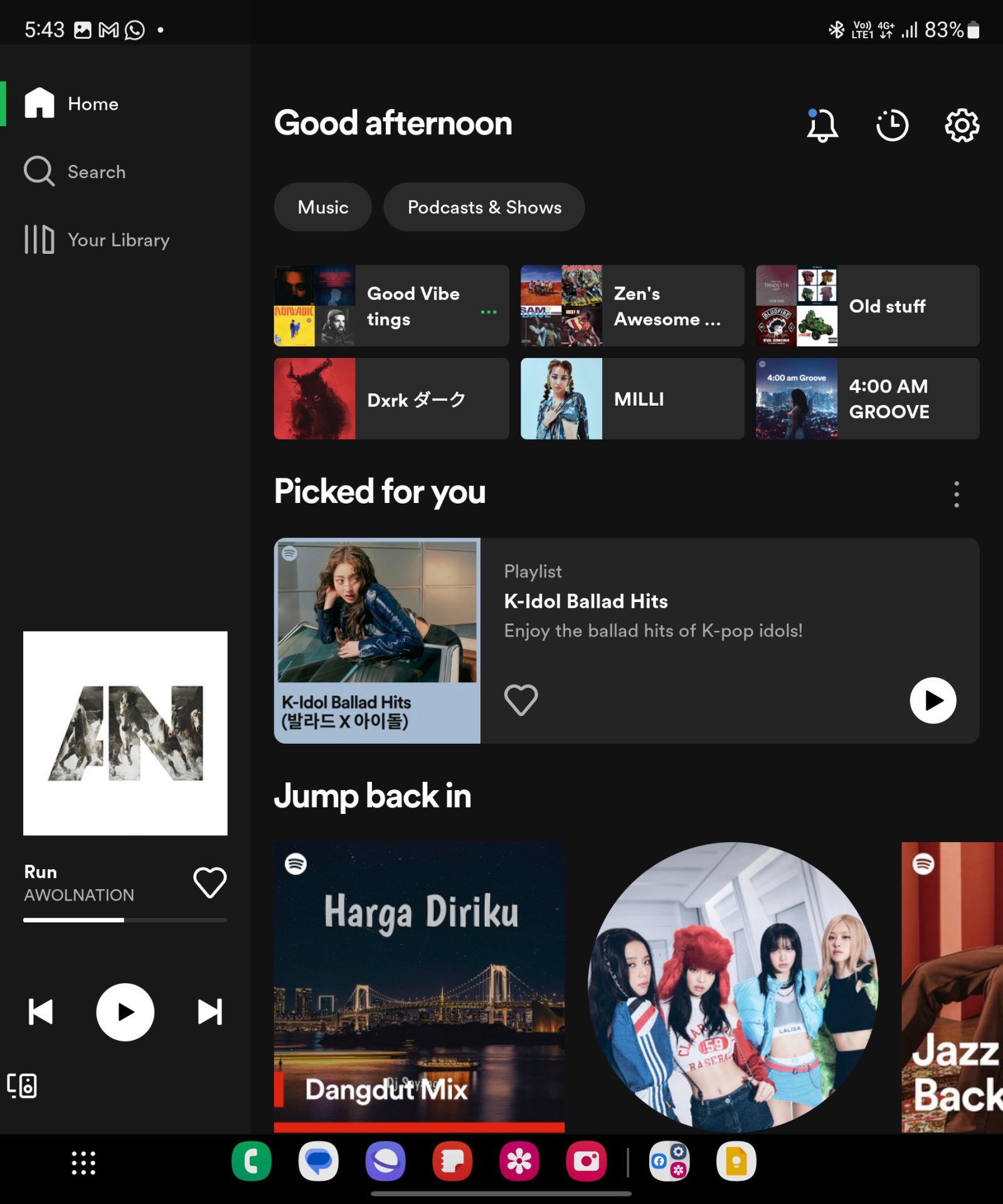 The Taskbar : This has also been improved. It's a dock with icons that appear when you're not at your home screen. It displays some apps that you can customize to what you prefer to use, on top of recently used apps that seperated by a bar. It displays up to 4 recently used apps, and you can literally drag them from the taskbar onto the screen via multi-window mode.
As usual, you can still set up App Pair, which allows you to set a macro that opens 2 apps simultaneously into multi-window mode for immediate view.
Gaming
Gaming is indeed fun, on both the cover and inner displays. The immediate benefit here is the freedom of choice. You want to game but still save on battery? play on the cover screen. You want to go all out with a wide view in your hands? inner screen you go.
A critical feature brought over from the S23 Ultra is the 'Pause USB Power Delivery' feature, more commonly known as bypass charging. When you connect a compatible PD charger that's above 25W, the charger will directly supply power to the Z Fold5 and keep battery charging to a minimum. This minimizes heat build up when you're doing heavy tasks like editing videos, watching movies or playing games on your phone, and it prolongs your battery health too since you're not essentially charging and playing simultaneously.
That being said, you should take advantage of your 7.6″ unfolded screen for gaming. It's expansive, it's immersive and it's really smooth. Compatible 120Hz games ran as intended, reaching up to 120 FPS on those selected titles.
I've started playing a demanding battle royale called Farlight 84, and by using Samsung's own PerfZ, the game utilized nearly 98% of GPU throughtout the session. Settings were set to Ultra graphics and refresh rate, and the Galaxy Z Fold5 managed to keep a 30 minute session consistent between 108 – 120 FPS while staying below 45 degrees celsius. That's not hot in particular, but it is very warm, but then again, I am stressing the phone with maximum graphics and highest refresh rate. It took nearly an hour to see the Z Fold5 throttle down to 70-90 FPS through repeated matches. In truth, I don't think people would buy the Z Fold5 just for dedicated gaming, but I see professionals who actually play casual games from time to time get a phone like this for work and play.
Other games include Mobile Legends and Diablo Immortal, but I only managed to get 60 FPS maximum, which was fine anyway, since it would fare better in terms of temperatures. Those titles never got past 42 degrees and were free of throttling for slightly over an hour.
Battery Life
The Z Fold5 packs the same 4400 mAh dual-battery as the previous 2 folds, and even with a more battery efficient chip, battery life is still remains the same, due to advancements in hardware and software comparatively. That being said, you'll easily get a day's worth of battery life, with definitely some change left for the next day.
As a yardstick, an entire busy work day had me going home with about 30-ish% which is quite okay. I didn't charge it overnight to test charging speeds the next morning.
It takes 1 hour and 20 minutes to fully charge up the Z Fold5, which makes it one of the slowest in the market, since Honor and Tecno have just gotten their foldables into Malaysia, and they charge about nearly twice as fast, which would be under an hour.
Same Cameras, Computational Improvement.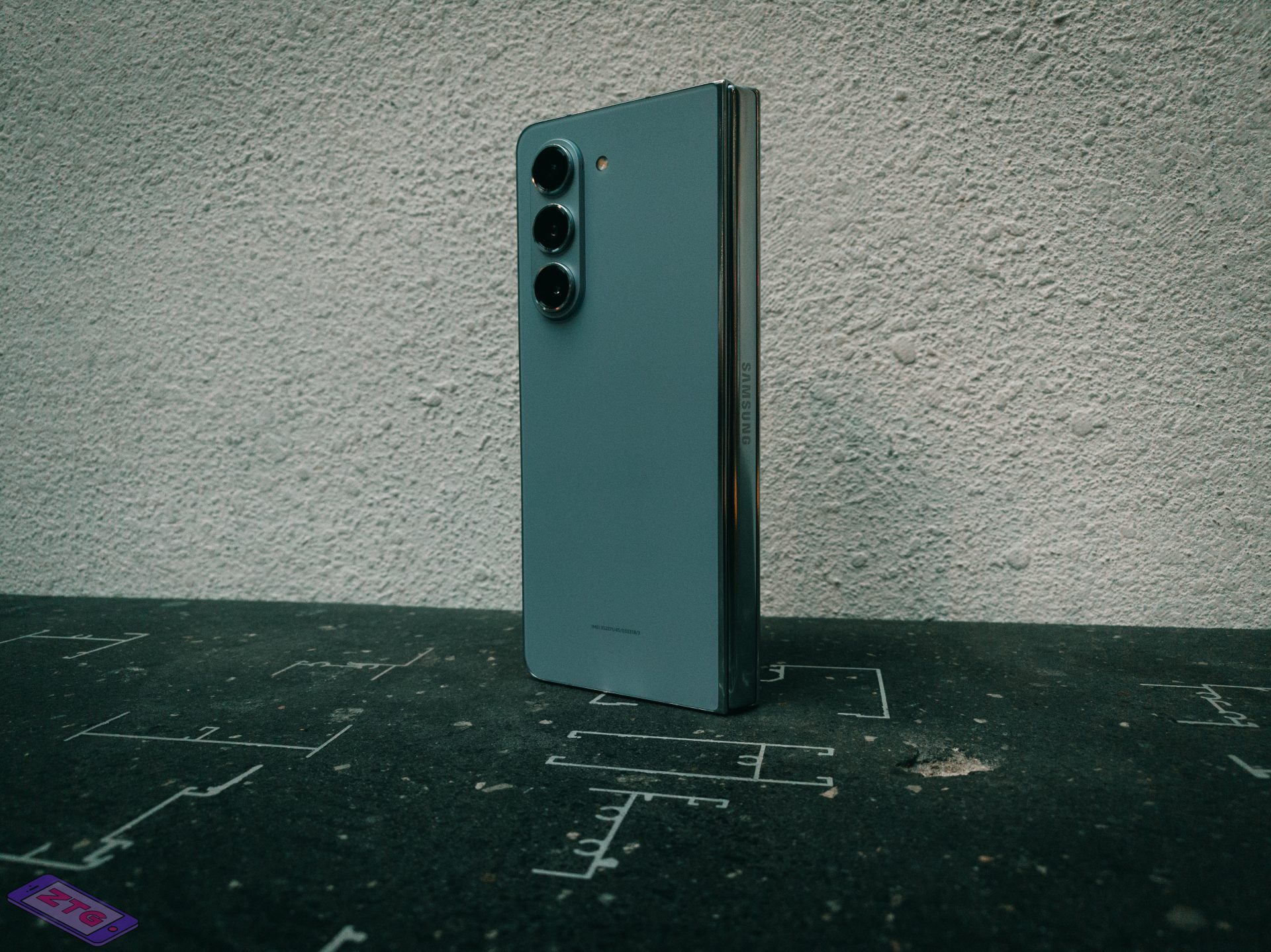 The Galaxy Z Fold5 employs the same triple camera system as the Z Fold4. First thing on the menu would be a 50MP Samsung GN3 sensor in f/1.8, a Samsung S5K3K1 10MP 3x telephoto shooter, and finally a Sony IMX 258 12MP ultrawide.
Again, Flex Mode comes into play here, so making videos or taking wide selfies would be all too easy.
Camera System isn't half bad.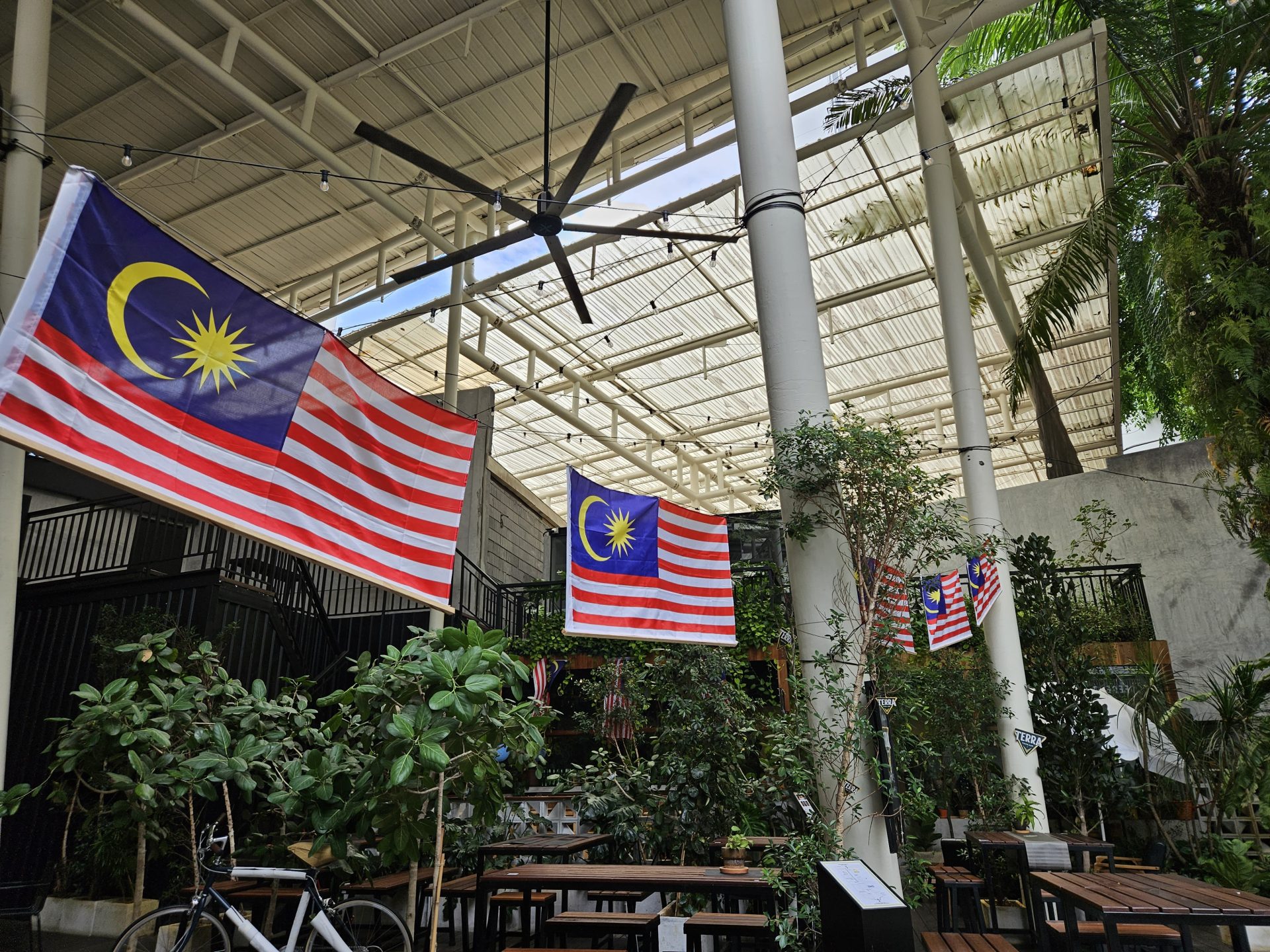 The main 50MP Wide sensor adds a slight boost in saturation, a very typical Samsung approach. General detail is well defined, while complexities like foliage and textures are also given a boost in sharpness but it's not overdone this time around.
After all, the improvements in camera for the Z Fold5 lie in the AI side of things in the chipset. The Z Fold5's designation may not be 'dedicated camera phone', but it does take good photos nonetheless.
The 12MP ultrawide offers natural colors and a reasonable level of sharpness that is up to the Galaxy par. Contrast is more on the high side and dynamic range is constantly put to work. If lighting is too bright then results might get blown out but that's really rare to see. It's definitely not the best ultrawide Samsung's ever produced, but it does its job, with its primary strength in distortion correction which is still one of the best I've observed.
The 12MP telephoto sensor retains a good level of detail up to a 5x zoom. Obviously we still see a lot of noise in the surrounding corners but it's fine because usually at this point most phones tend to fail in focus and sharpness especially when zoom's at play.
For the Z Fold5, you can enjoy some space zoom, but the improvements from the AI side here are very marginal. It can salvage more detail than ever, but you'll still end up with really noisy shots with most textures looking painted on.
---
"A Ballad of Samsung-esque Selfies"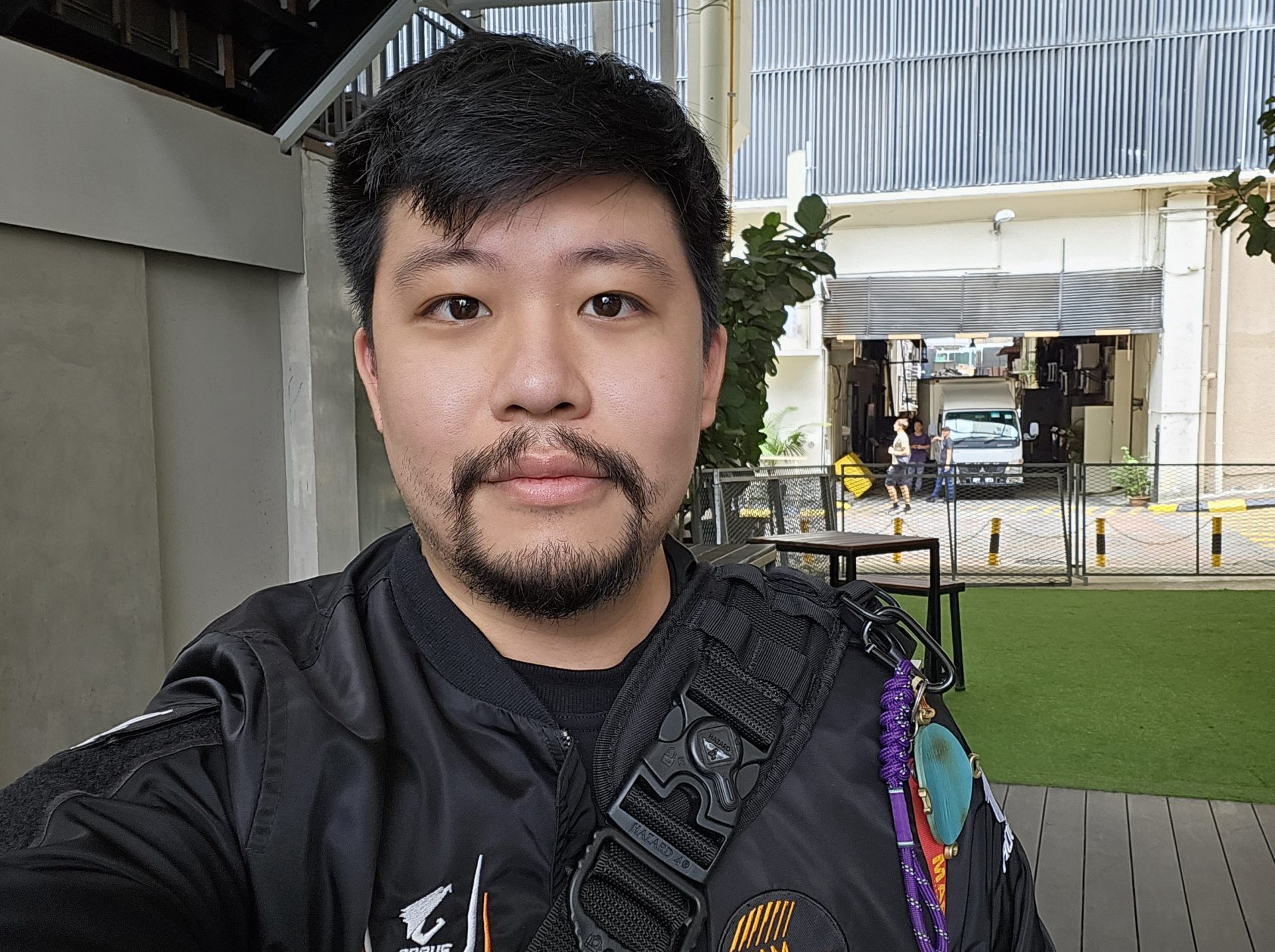 Selfies have been a part of Samsung's forte for the longest time, and this 10MP shooter is no exception to that fact. There's really just the one sensor on the cover screen, and you're giving 1x and 0.6x options for wider selfies. I would assume that wide angle would be a crop-zoom from the wide angle, and I may be right. The thing is, you can see the difference in colors between the two, looking as though it's been shot by 2 different sensors. This is nitpicking and not a problem, but it was just surprising. I prefer the more flattering detail from the ultrawide regardless.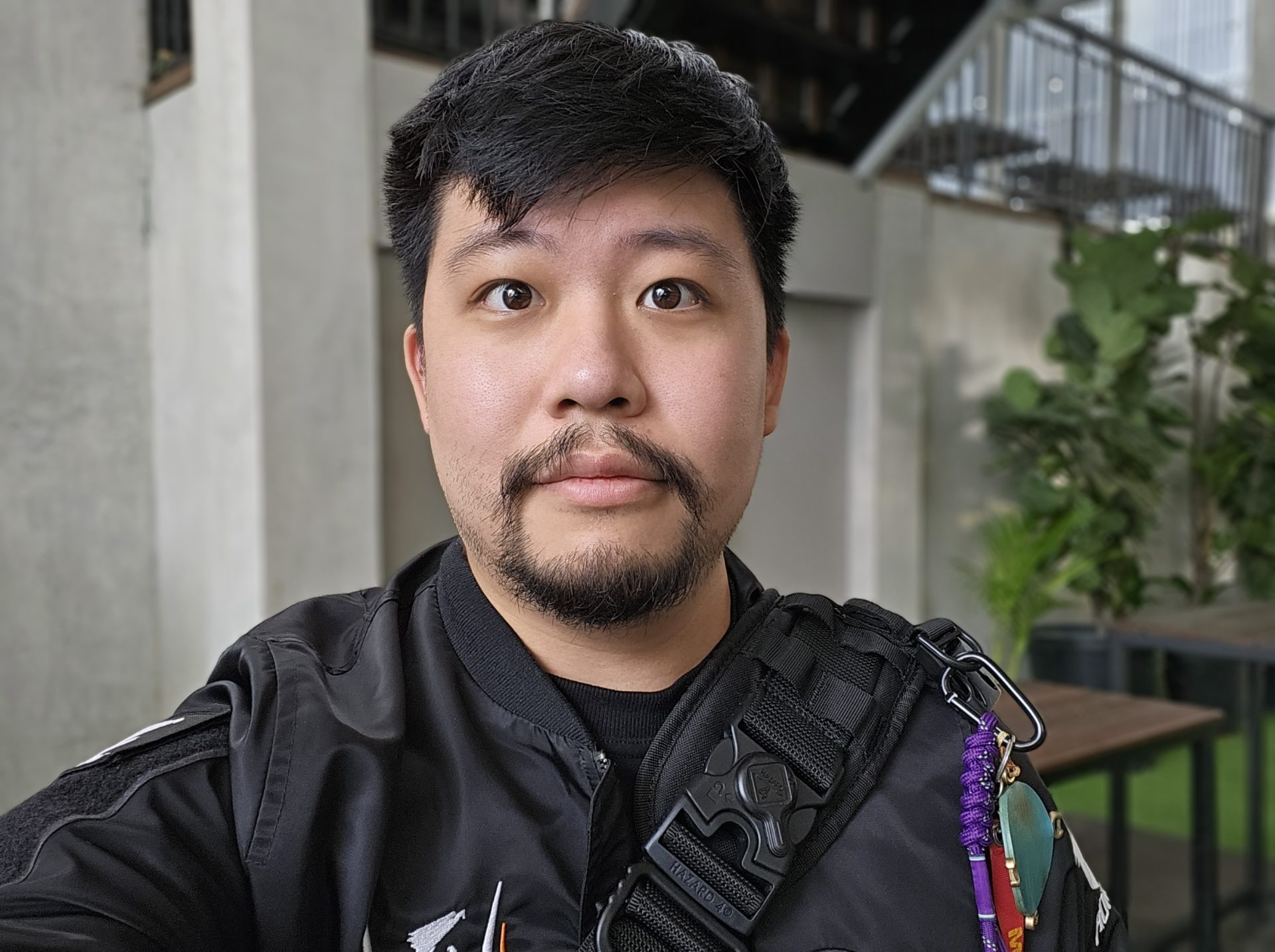 Portraits get the same treatment, but at least the amount of detail is excellent, bokeh subtle (and adjustable), and subject seperation great. You're able to also choose between 2 focal lengths just like a regular selfie.
---
Triumphs As A Foldable Once More, But Not A Viable Upgrade From Z Fold4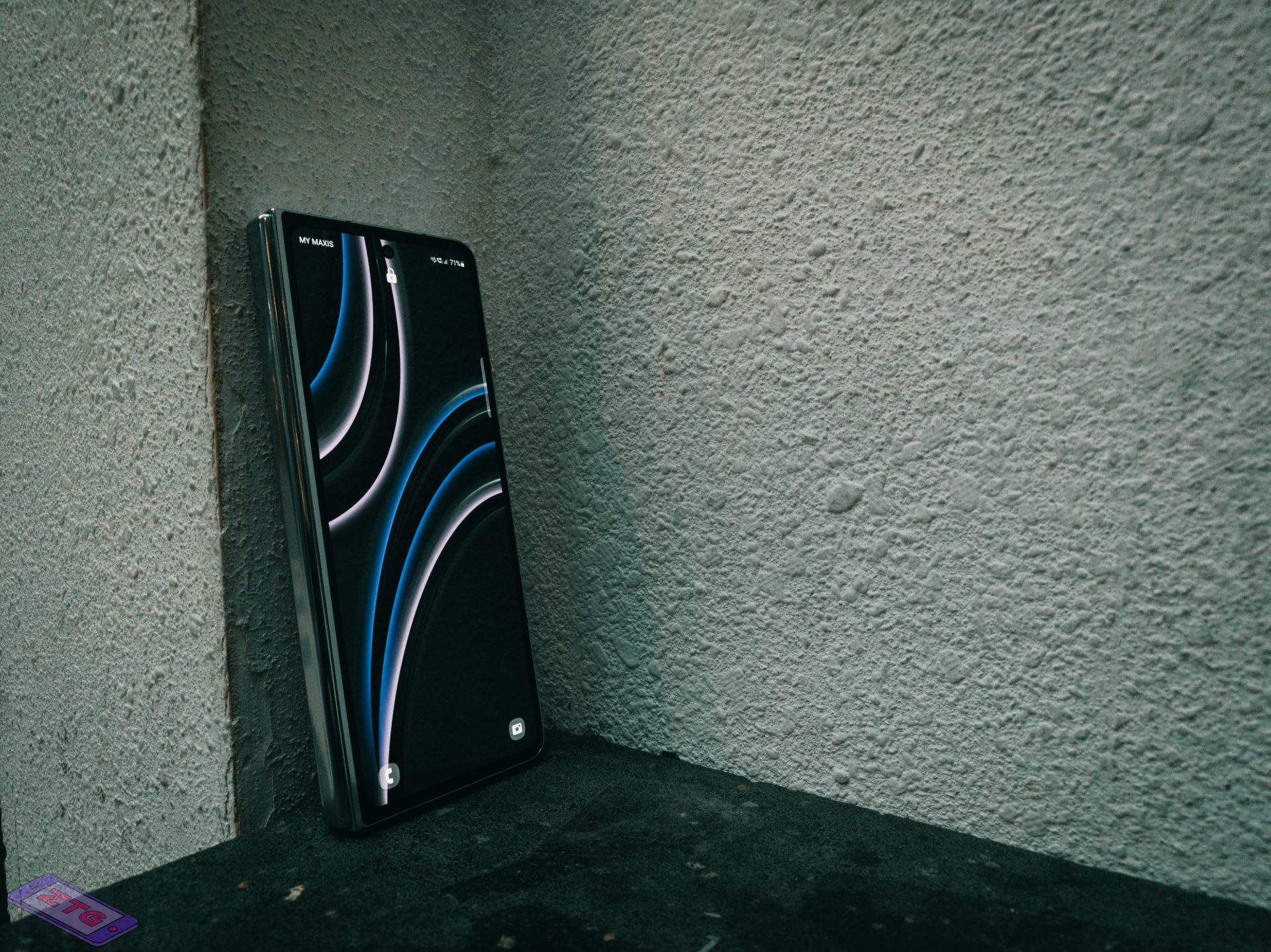 The Galaxy Z Fold5, especially in Malaysia, should be the only high-end foldable you should get if you've been wanting to try. It simply trumps the available foldable competition in terms of software, hardware and build quality. You'd appreciate the speedy UFS 4.0, the USB 3.2 which can display your phone out to a monitor as well as DeX mode, which is a constant work in progress if you ask me.
One thing's for certain, Z Fold4 users are still enjoying their 1 year old foldable, and I'd tell em not to make the jump for this one, whereas for those coming from the Z Folds 1,2 and 3, it's a massive leap that you won't regret.
Samsung's decision on refining over redefining was a sound decision, it needed to get the smaller things right before the big stuff, such as eventually removing the crease and probably speeding up charging.
Take the Gold Award, Samsung. It's a well deserved win for you guys !