ASUS ZenBook 14 OLED (12th Gen)
mainstream but for creators
At a starting price of 4,399, this mainstream Zenbook demands quite a lot of money for a laptop without a dedicated GPU. However, this is one of the cheapest ways getting into OLED and if you are color critical this laptop will stay relevant far longer than IPS competitors. Performance for light gaming and media consumption is also great, with loud speakers and a near perfect I/O just shy of a full sized SD card reader.
To love
Darn good display
plentiful I/O ports
Super color accuracy and color gamut
Adequate editing performance
Amazing for photo and video editors as a whole
To Love'nt
Not the best cooling, very loud
Price Tag
---
| | SPECS |
| --- | --- |
| CPU | Intel® Core™ i5-1240P / ™ i7-1260P |
| GPU | Intel® Iris® Xe graphics |
| RAM | 8/ 16GB 4800MHz LPDDR5 (onboard) |
| Storage | up to 1TB PCIe NVMe SSD Gen 4 |
| Display | 14″ OLED 16:10 90Hz Display, 100% DCI-P3 |
| Weight | 1.39 kg |
| Price | i5 RM 4399 / i7 RM 5599 |
Finally looking the part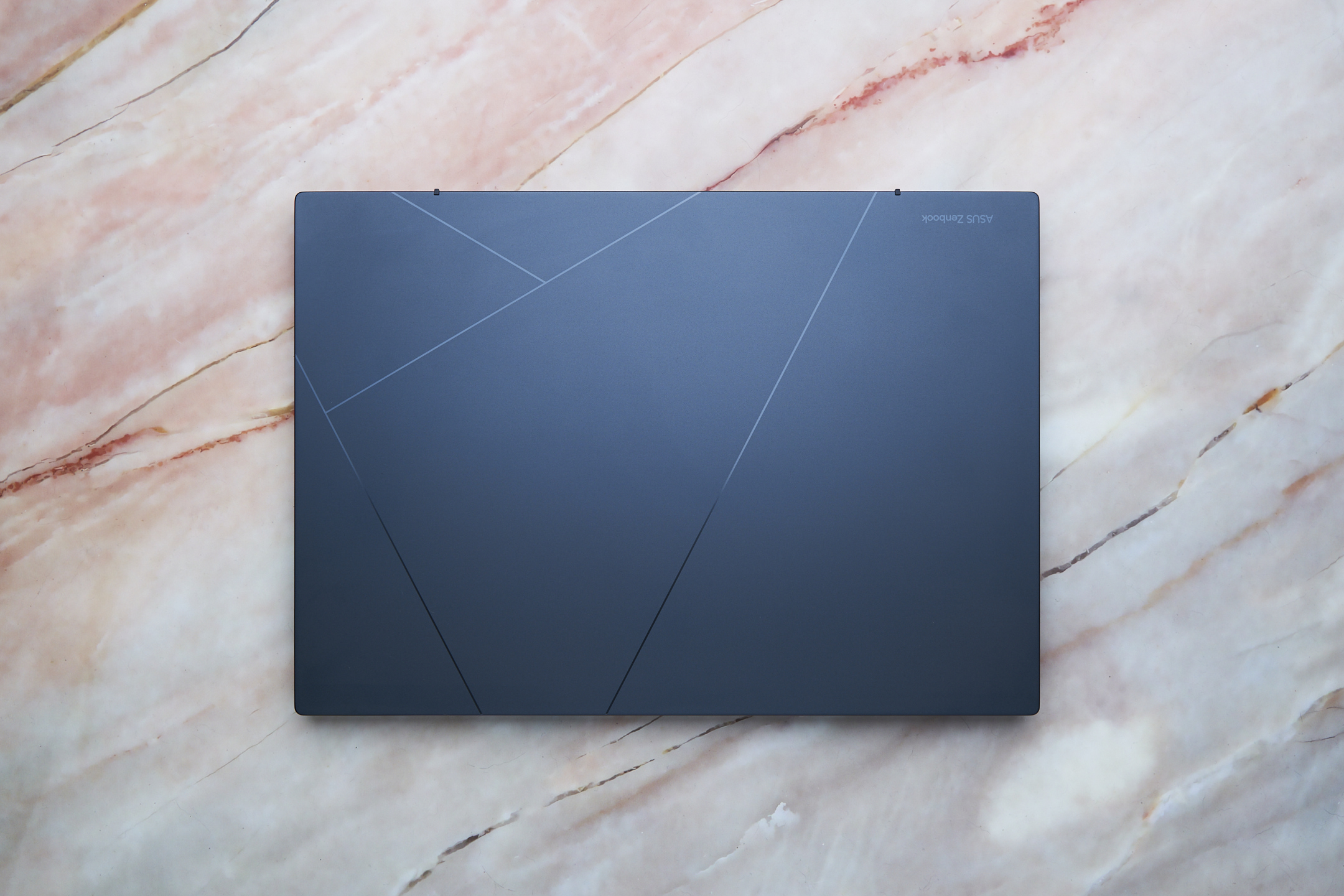 From the back, this year's Zenbook 14 OLED looks much better than the previous (11th) generation of Zenbooks. Compared to last year's coffee-bean student grind laptop aesthetics, this year it looks much more like an ultrabook, the kind companies would overpay for and assign to their high-ranking employees.
Opening up the lid, the laptop looks pretty familiar, big ol trackpad with a 16:10 taller aspect ratio display that creators like me will naturally gravitate to. I expected this to be a 16:9 but when I opened it up I immediately knew this was creator centric. The bezels are pretty standard for 2022, not thick but not super thin either, and it's made out of matte plastic. Webcam and microphone live up top, pretty optimal.
Speakers are also very loud and emphasize the lower frequencies of sound. I had a great time watching videos and movies on this laptop. The laptop also tilts up a bit when u open the hinge to give a more comfortable typing angle. A flat keyboard is not good for your arms.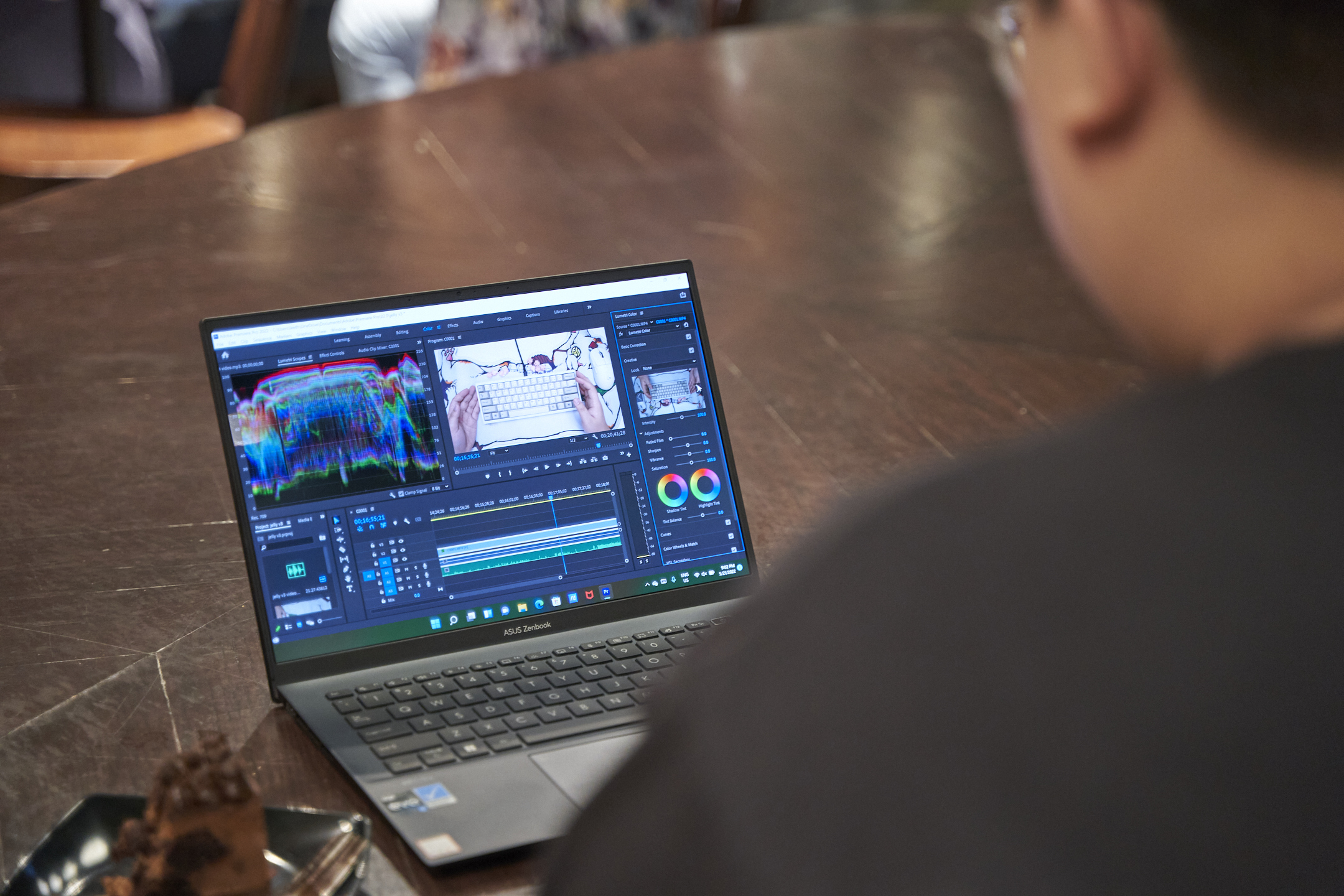 True photography and videography editing display
The display tho. This is my first time using a laptop with an OLED display and at first, glance it felt familiar yet refreshing. The blacks are as deep signature OLED deep black (black pixels are actually OFF). The laptop promises 100% DCI-P3 and just from familiarity I don't doubt it one bit. Digging into the Windows color management settings I even found a unique screen calibration profile .icc file, so big ups to Asus here, this is a true photography and videography editing display. It even runs at 90Hz, so you can get a little better gaming experience out of it.
The keyboard array is pretty Zenbook-like, for the 14″ size it fits the regular keyboard with fn combos on the function row, and the power button doubles as a Windows Hello fingerprint reader, neat!
The trackpad is large with gestures that are easy to use and it also has the typical Numpad mode if u press the top right symbol. You do have to press it pretty hard to turn it on though. Accountants can rejoice.
The Creator's low-key choice
For photographers, videographers, and anybody doing color essential work, I highly recommend this laptop, but for real for reals this time, even more so than other laptops.
The display is just too darn good, it's got 100% DCI-P3 (99.xx% but still), a unit-specific factory calibration ICC profile, and it's OLED, meaning the contrast ratio is incredibly high and you can master your darker parts much better than an IPS display. Brighter parts, not so much as the display isn't HDR 1000 as it only promises 500 nits peak brightness. This is a display you can take up to challenge casual HDR mastering, and the next best thing to it is a cinema reference level monitor like the Apple ProDisplay XDR already. Kinda crazy when you look at the big picture here.
Hardware performance-wise, it's no Asus ROG gaming laptop, as this runs on Intel Iris Xe, which is not a dedicated Nvidia or AMD gaming GPU. So sorry to 3D rendering or designer work, this ain't it. We learned last year that Iris Xe is not joke though, my previous blue-blooded intel 4th Gen i7 and GTX 1060 cried trying to edit 4K, yet Intel's latest integrated graphics flew through my 4K video editing workflow in Premiere Pro. It handled all my video editing work like champ (albeit while being a very loud jet engine).
Can it game? Esports titles like Valorant ran okay, floating around the 60-90fps in a 5v5 unrated match, but the fun stops there as more GPU bound games like Battlefield 2042, V and GTA V is unplayable with Irix Xe.
Workable Battery Life for its Class
The battery life on this laptop was pretty average for me, it's not a crazy tanking laptop endures quite a while if you just do casual spreadsheet and social media browsing. It lasted me about 5-6 hours on a single charge and juiced back up in a little over an hour over the 65W charging brick using Type-C PD (it better be type-c at this price).
---
I/O Ports are almost perfect
Ports on this laptop are great, it's got two full-fledged Thunderbolt 4 ports, capable of DisplayPort Alt Mode and PD, one full-sized 3.2 Gen 2 Type-A port, a full sized HDMI 2.0b, a headphones jack and a MicroSD card reader (bummer)
I know this isn't marketed as a creator's dream but please, give people full-sized, SD card slots. You can work backwards with an adapter when there's a full-sized SD slot but putting in a micro just forces people to buy dongles. If you want to transfer stuff from your phone's micro sd you can just plug it in USB anyway. Poor design choice here but Asus has to differentiate this from their ProArt series.
Full-sized HDMI though, great for anyone who need to present slides or video conference on the big screen.
Main Ports

2x USB-C 3.2 Gen 2 (ThunderBolt 4) DisplayPort Alt Mode + USB-PD full range (5~20V)

1x USB 3.2 Gen 2 Type A

1x HDMI 2.0b

1x Audio Combo Jack

1x MicroSD card reader
---
So why would you buy one?
With the price of RM 4,399 – 5,599 it does demand quite a lot of money, but if you are semi-serious about being color critical, this Zenbook 14 is one of the only ways into entering portable OLED display territory.
I firmly believe that OLED will be the next key feature in creator laptops, and we will see everyone following suit in the next few years, redefining the standards of a top-notch display. This laptop will stay relevant longer than the IPS competitors it has today, and for that, it is a great purchase.
That aside, the CPU does spreadsheet, documenting, and light gaming fine, the I/O is great, the speakers are loud, and the whole package weighs very little at 1.39KG. Office workers and students should have a great time with this laptop.
---