ROG ALLY
While the space is only beginning to be competitive, the ROG Ally has had a successful launch in Malaysia. It promises a competent, mobile gaming experience on the Windows platform. With many quality of life updates to the BIOS now in place, does the ROG Ally have what it takes to change how we look at playing games on the go?
Good
Solid build quality
Customizable TDP
Smooth FreeSync Premium
Upgradeable Storage
Good Entry Price
Easy learning curve
Ungood
Armory Crate needs work
Soldered RAM
Controller buttons feels cheap
High dependency on charger
---
Specs
---
CPU
AMD Ryzen Z1 Extreme
(5.1GHz Boost, 24MB Cache)
Memory
16GB 6500MHz LPDDR5 RAM – Soldered
512GB NVMe PCIe 4.0 M.2 2230 – Upgradeable
Display
7″ FHD 120Hz IPS (FreeSync Premium)
500 nits Peak Brightness
GPU
AMD Radeon 780M
(RDNA3, up to 2.7GHz boost clock)
Connectivity
Wi-Fi 6E(802.11ax) (Triple band) 2*2
Bluetooth 5.2
I/O
1x 3.5mm Combo Audio Jack
1x ROG XG Mobile Interface and USB Type-C combo port (with USB 3.2 Gen2, support DisplayPort™ 1.4)
1x UHS-II microSD card reader (supports SD, SDXC and SDHC)
Battery
Twin-cell, 40 Whr Battery
Type-C 65W Charging
TDP: 9-30W
Weight
608g
Retail Price
RM 3299
Design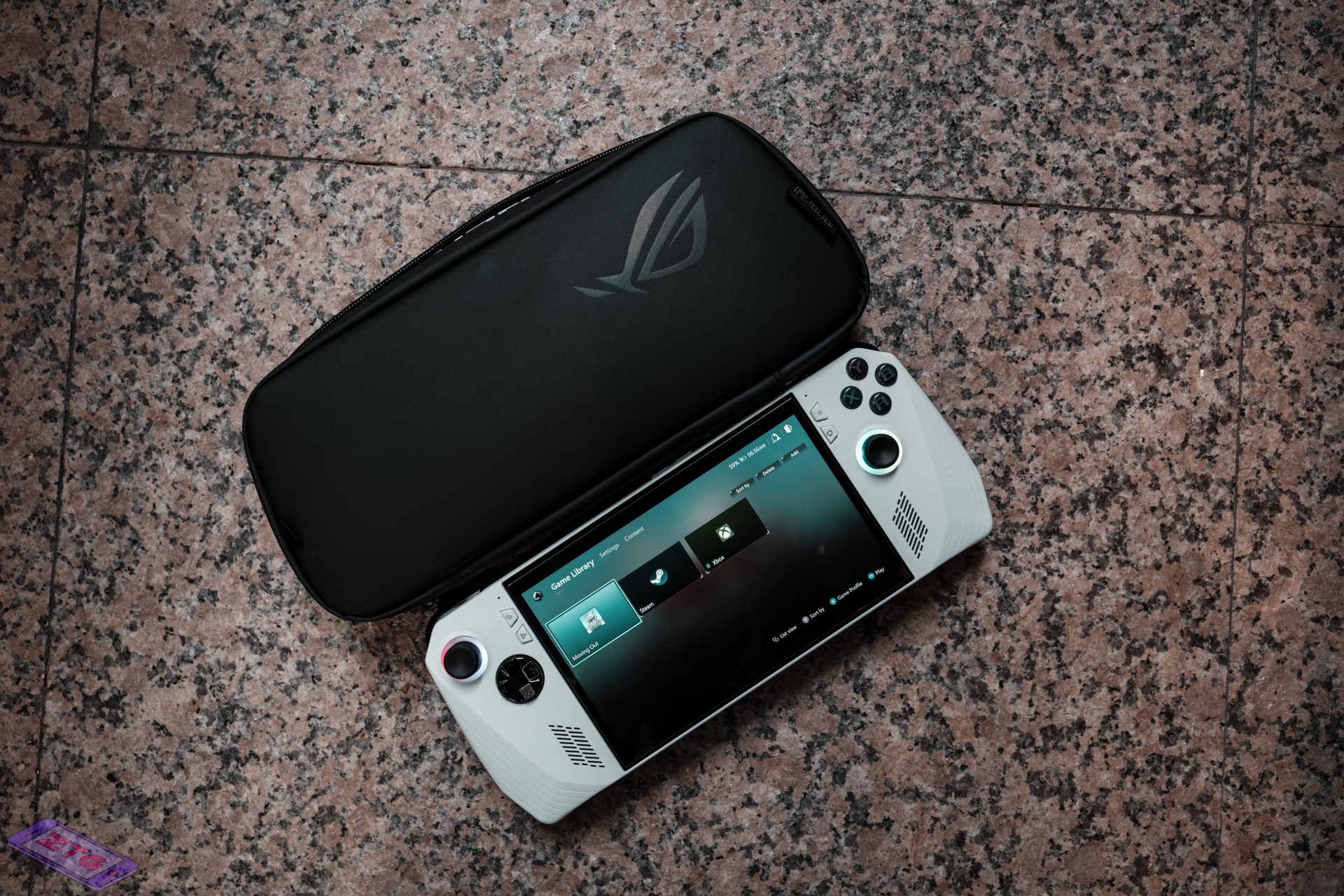 Solid, Plastic Housing
Clean White Design with AuraSync RGB
Plastic buttons with hall effect analog trigger (triggers, not sticks) and 6-Axis IMU
The ROG Ally is a sight to behold. You're holding a 600 gram handheld PC that's 11-inches wide, and if you're coming from :
Steam Deck : The Ally is going to feel sizably smaller, lighter and more ergonomic as far as where palms rest is concerned
Nintendo Switch : The Ally is going to feel MASSIVE, a lot heavier and downright more comfortable in terms of ergonomics and button feel
The DNA to making a handheld PC doesn't deviate far. You simply get a case that can house a gaming controller in between a screen, add some ports, buttons everywhere and that's it. As simple as it goes, ASUS managed to make the ROG Ally pretty unique in design, giving it that elite gaming identity as the brand strives to be. The body is a solid, white, all-plastic housing that comes in two pieces (top and bottom), held together by 6 screws.
The front for the most part has a matte finish that extends to the 4 control buttons that are next to the screen. The rest of the buttons such as the D-Pad, triggers and action buttons are glossy plastic, giving it a nice contrast between finishes. The grips where your palms will rest have a dual finish, front and back. The front has a mild wavy design which is more of a design flair.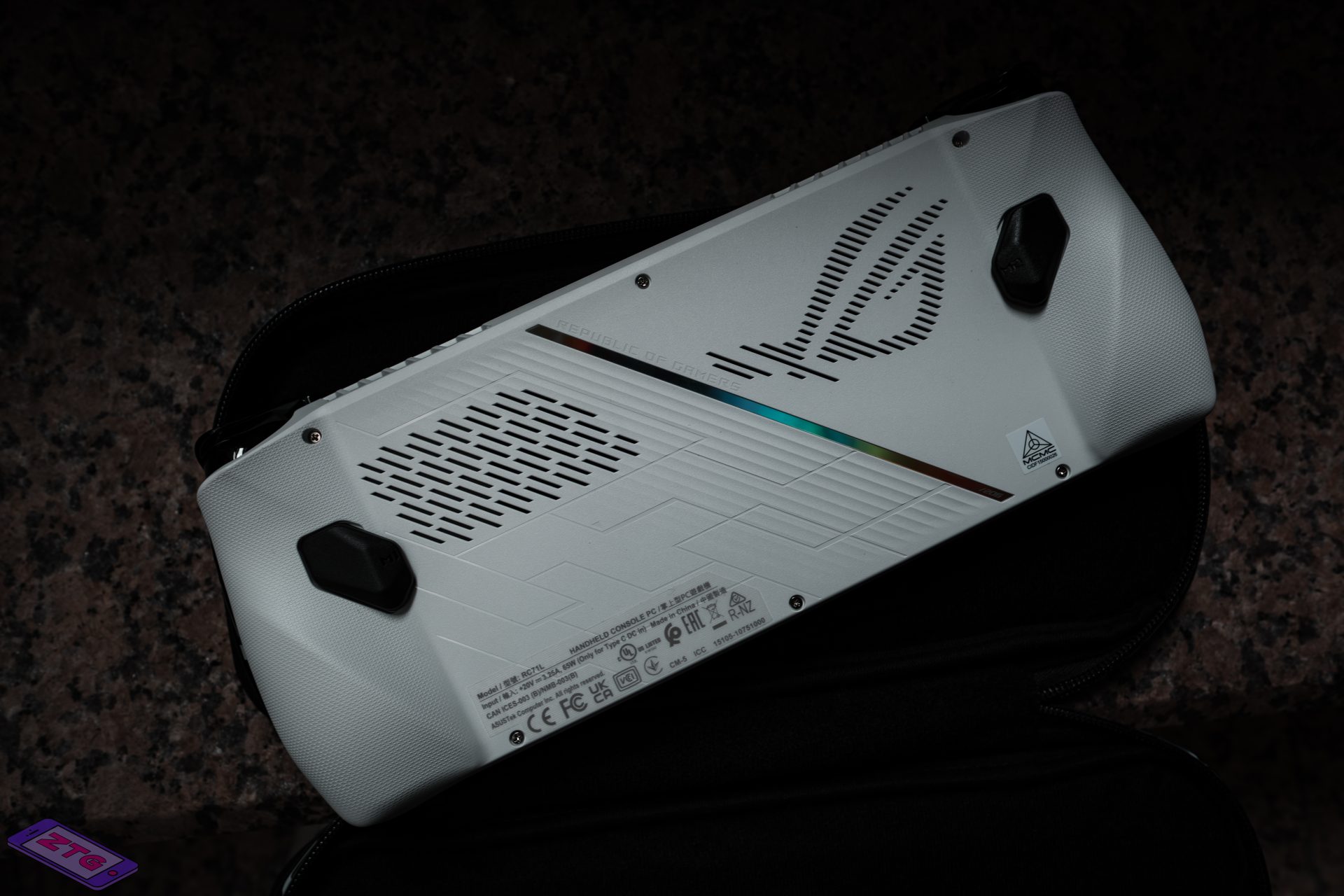 The back has a lot going on. It mainly follows the front with a matte finish while the grip area is more coarse and grainy, which provides a better grip and hold. I can confirm that it definitely functions that way and it helps keep my grip of the Ally more solid and this is important, since you would be holding this for prolonged periods of time and your palms might sweat out and lose grip.
I personally like the little prismatic slit next to the ROG logo cutout which reflects light as though it had RGB.
---
What's It Like To Use?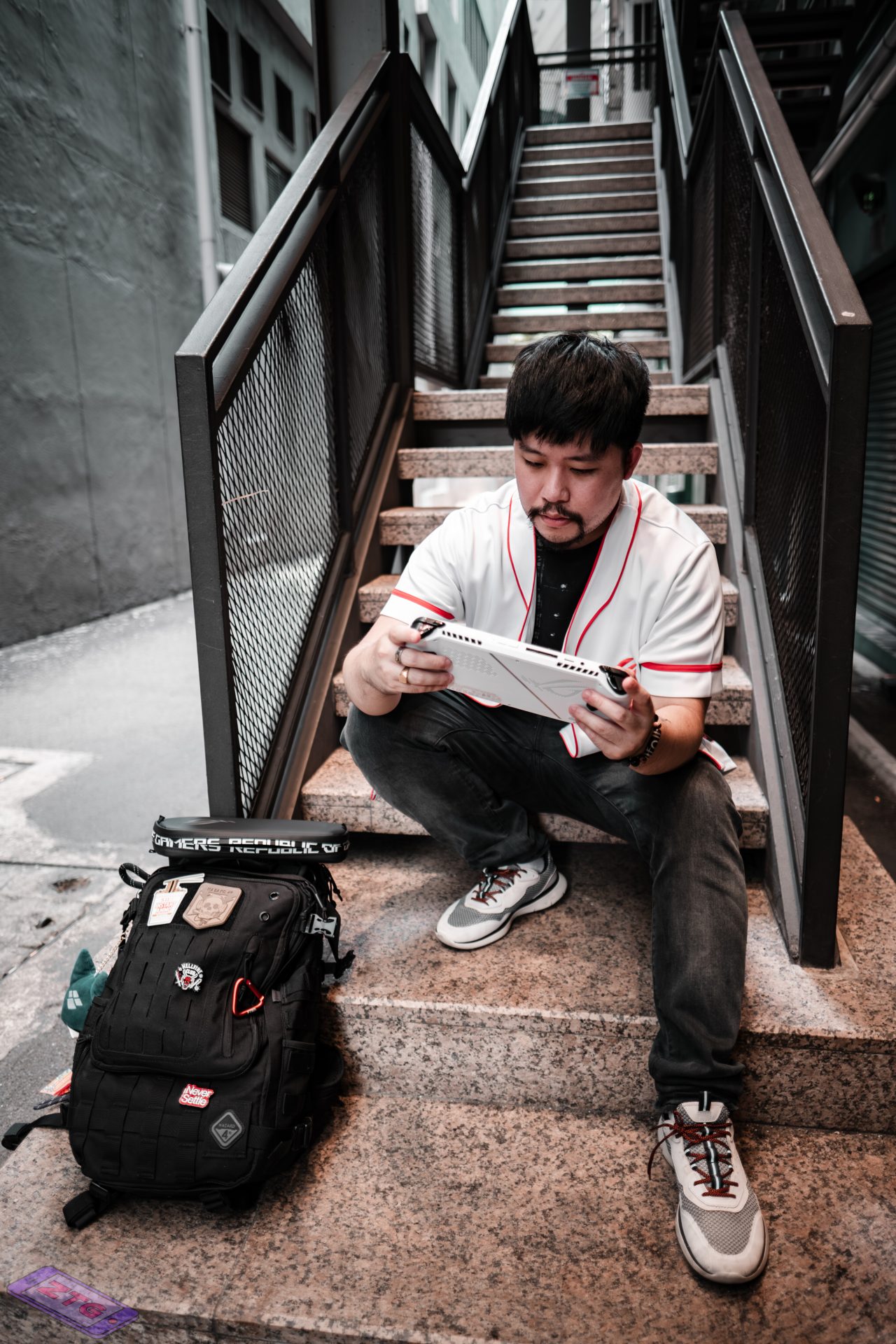 AMD Ryzen Z1 Extreme
16GB RAM & 512GB internal storage
7″ FHD 120Hz IPS (FreeSync Premium)
40Whr Battery
Armory Crate SE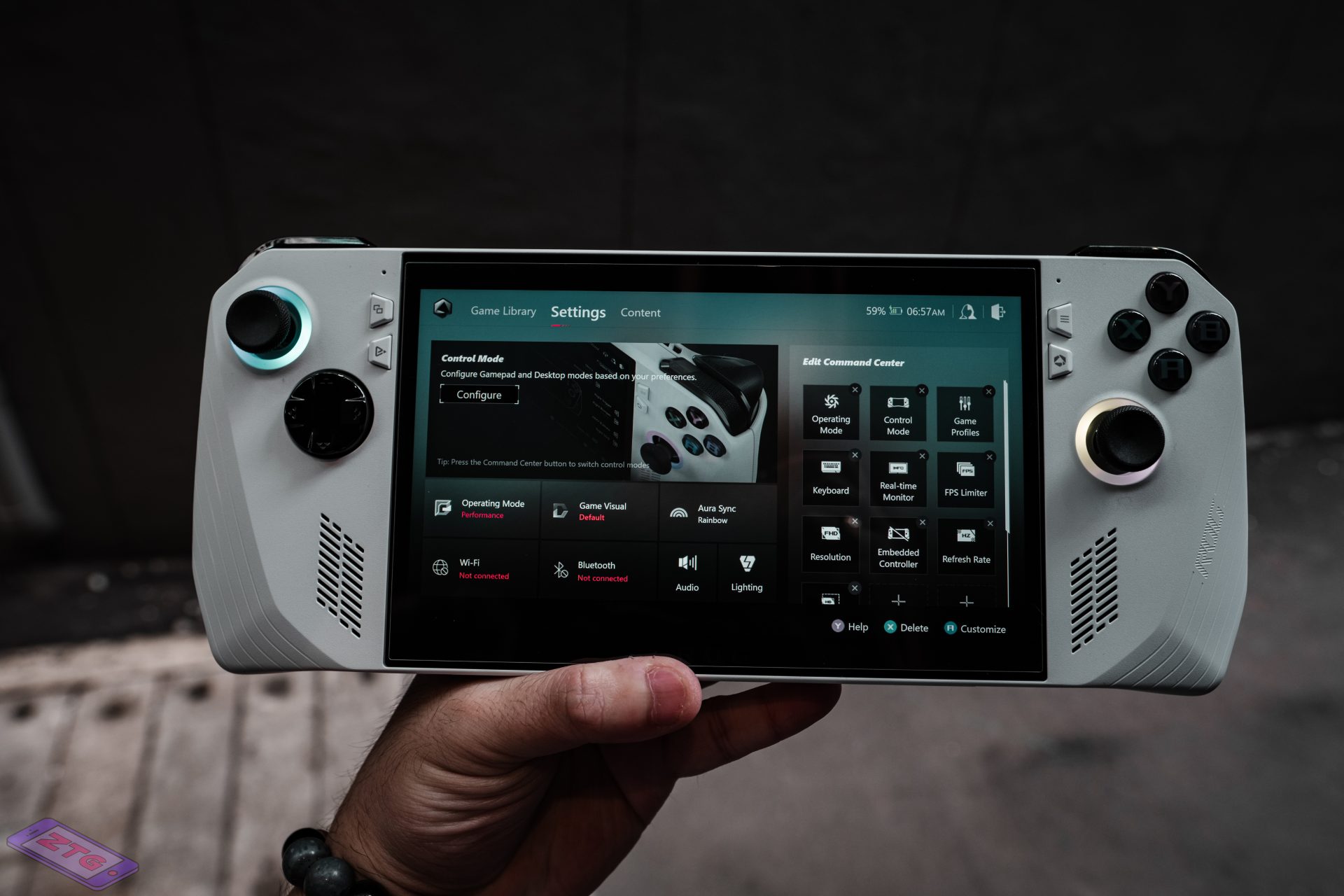 I would regard Armory Crate SE to be the core app to use on the ROG Ally, providing a gamer-centric dashboard where you'll be able to :
View all your installed games and login to various services like Steam, Xbox, Battlenet
Confirgure Gamepad and Desktop modes based on your preferences
Check on your system usage, adjust GPU settings and choose operating modes
Set up GameVisual, Lighting, Aura Sync and Audio
Update software versions and view your screenshots and recordings in a gallery.
Your game library is your starting point, and you'll be able to launch all installed games here. You'll need to sign in to your preferred gaming platform beforehand though, and then only you can download your library in to play. You can navigate and control Armory Crate using either the gamepad or touchscreen directly.
Speaking of game library, I'm sure you'd be filling that SSD up in no time. While 512GB is actually a lot of space, the problem is the fact that PC games these days are pretty big in size. While indie titles can get up to 10GB, AAA titles like Diablo IV takes about 90GB, while Forza Horizon 5 takes nearly 140GB which is nearly 1/3 of your total available space.
To counter this, ROG had made the SSD removable and upgradeable. The ROG Ally uses 2230 M.2 NVMe drives, which come in 1TB or 2TB sizes. You can follow this guide by ROG HERE to upgrade your Ally's SSD. It's super easy and the best part is, you can reinstall Windows using Cloud Recovery from the ROG BIOS! There's also a microSD card reader right next to the mobile XG port, but I only recommend that for file transfers as the placement of that card reader is right next to the fan outlet which makes it hotter. Even if the card slot is placed elsewhere, it's still not practical to load and run games off your microSD as you'll just be limited in transfer speeds.
The RAM however, is soldered onto the PCB so there's no way to upgrade the RAM. Either way, 16GB is plenty though you will be sharing some of that with the graphics unit. We'll be doing a seperate piece on that in our ROG Ally Performance Tips Article.
Desktop / Gamepad Mode
One of the more useful features of the ROG Ally would be the flexibility of how you'll be able to navigate through the system. You can choose Auto mode from the Command Center to automatically detect whether you want to use touch or button input to navigate and that's smart. You can also customize buttons via key mapping, along with vibration strength, dead zones and outer threshold for EACH stick for ultimate customization and control. This makes a lot of sense since it's the only controller you'll have on you, so why not be able to customize it to my liking right? This gives the Ally the flexibility to behave like either a handheld PC or console, depending on how long you want to stay within Armory Crate to do everything.
Gaming
Of course we have to talk about gaming! The Ally headlined with a new AMD Ryzen Z1 Extreme chip and it was able to deliver quite a decent gaming experience so long as you spend enough time optimizing GPU settings, fan curves as well as your in game settings. You're able to toggle between 720p/1080p options from Command Centre, as well as the following performance modes that are based on wattage :
Windows : 15W, enough to run Windows operations smoothly
Silent : 10W, enough to run Windows while reducing fan curve for lesser noise
Performance : 15W with higher fan curve to play simple 2D games smoothly
Turbo : 25W, highest power draw with fan curve to bring maximum reasonable performance without charger.
Manual : Up to 25W unplugged, 30W plugged, able to let you adjust fan curves, create custom profiles and even SPL, SPPT and FPPT wattages.
For those unsure of what those 3 things do, here's a quick explanation :
SPL : Sustained Power Limit, adding more Watts tells the CPU how much power it can consume consistently, especially when it's under load. Only way for it to lower on its own is when it reaches its temperature target and it needs to go lower to prevent overheating.
SPPT : Slow Package Power Tracking Limit. Adding more Watts here tells the CPU just how much boost power it has for tasks that last a long time, such as gaming
FPPT : Fast Package Power Tracking Limit. Adding more Watts here tells the CPU just how much boost power it has for fast and quick tasks, including making sure actions on Windows will be smooth.
Benchmarks
| | | | | |
| --- | --- | --- | --- | --- |
| Medium Settings, 1080P | Diablo IV | Forza Horizon 5 | Fortnite | Devil May Cry 5 |
| 30W Turbo (plugged) | 67 FPS | 63 FPS | 60 FPS | 55 FPS |
| 25W Turbo | 65 FPS | 60 FPS | 55 FPS | 45 FPS |
| 15W Performance | 55 FPS | 55 FPS | 45 FPS | 30 FPS |
Benchmarking games on the ROG Ally is very important, as it really gives you a better insight on just how much power you need based on your current lifestyle. If you're always on the go, it's better to stick to 15W to get at least an honest hour's battery life. The Ally is definitely able to service AAA titles with decent FPS that's expected of a handheld. 2D and indie titles really shine on the ROG Ally, and it's also where you'll find that you can actually get that sweet 120 FPS gameplay, and sometimes without needing to go full throttle 25W. Heck, games like Dead Cells and Overcooked were able to play in 75 FPS average even on 15W, and under those parameters you can definitely still get nearly 2 hours of gaming on the go!
The display is actually pretty nice for what it is, with the panel providing up to 92% of sRGB coverage, which is enough for gaming and even some video/photo editing (but not professional). You will find the display to be on par with any gaming laptop of the same caliber, being smooth at 120Hz. I mean, an AMD chipset with graphics WITH FreeSync Premium? It'll be as optimized as it'll ever be. There's no ghosting to be seen, even when I was playing games way above its performance threshold like Starship Troopers : Extermination. My faith was well placed here, proving that ROG, a brand that makes gaming laptops AND phones, can pick a competent panel for their handheld Windows gaming PC.
Controls
If you've played games with a game controller before, you'll feel right at home here. The ROG Ally is mapped out exactly like an Xbox controller, from your usual ABXY buttons, D-pad and 2 thumbsticks. They're nice and clickly, but definitely can't beat an actual dedicated controller. Each of the thumbsticks have their own RGB lighting that you can customize / turn off in Armory Crate SE. It's a nice flair to have, and it does play along with ROG's penchant for RGB-ifying all their products. The lights aren't as basic as just setting lights to colors and pattern though. You can even set it to respond to music and sound, which does add some level of immersion when you're playing on the Ally. This does consume power, which is a precious currency for the ROG Ally so I only recommend it when you're plugged in to the charger or a powerbank.
The thumbsticks are good and comfy, with most thumbs being able to sink into their indents for a firmer hold. Again, you can customize your dead zone for the thumbsticks so you can make this controller your own. It was fine for me on default so I didn't do any tweaking though I can imagine the fighting game folks would have a field-day with the customization.
Conclusively, i think the controller and buttons are just basic and does the job well. I'd love to see ROG implement mechanical switches for the buttons and hall sensing thumbsticks for better long term use.
Shortcuts and Macros
At the back of the ROG Ally, there are 2 paddle-keys, one on each side. You can customize them to any kind of shortcut, be it your games, apps and even some Windows-related shortcuts. At default, these macro keys perform the following :
Macro + D-pad up: Show virtual keyboard
Macro + D-pad down: Open Task Manager
Macro + D-pad left: Show Desktop
Macro + D-pad right: Task Viewer
Macro + A: Take a screenshot
Macro + B: Show Windows Notification Center
Macro + X: Projection mode
Macro + Y: Begin Recording
These shortcuts simply improve the ROG Ally's quality of life, as you can customize things according to your liking, on top of making navigation across a small 7-inch screen a lot easier.
---
Battery Life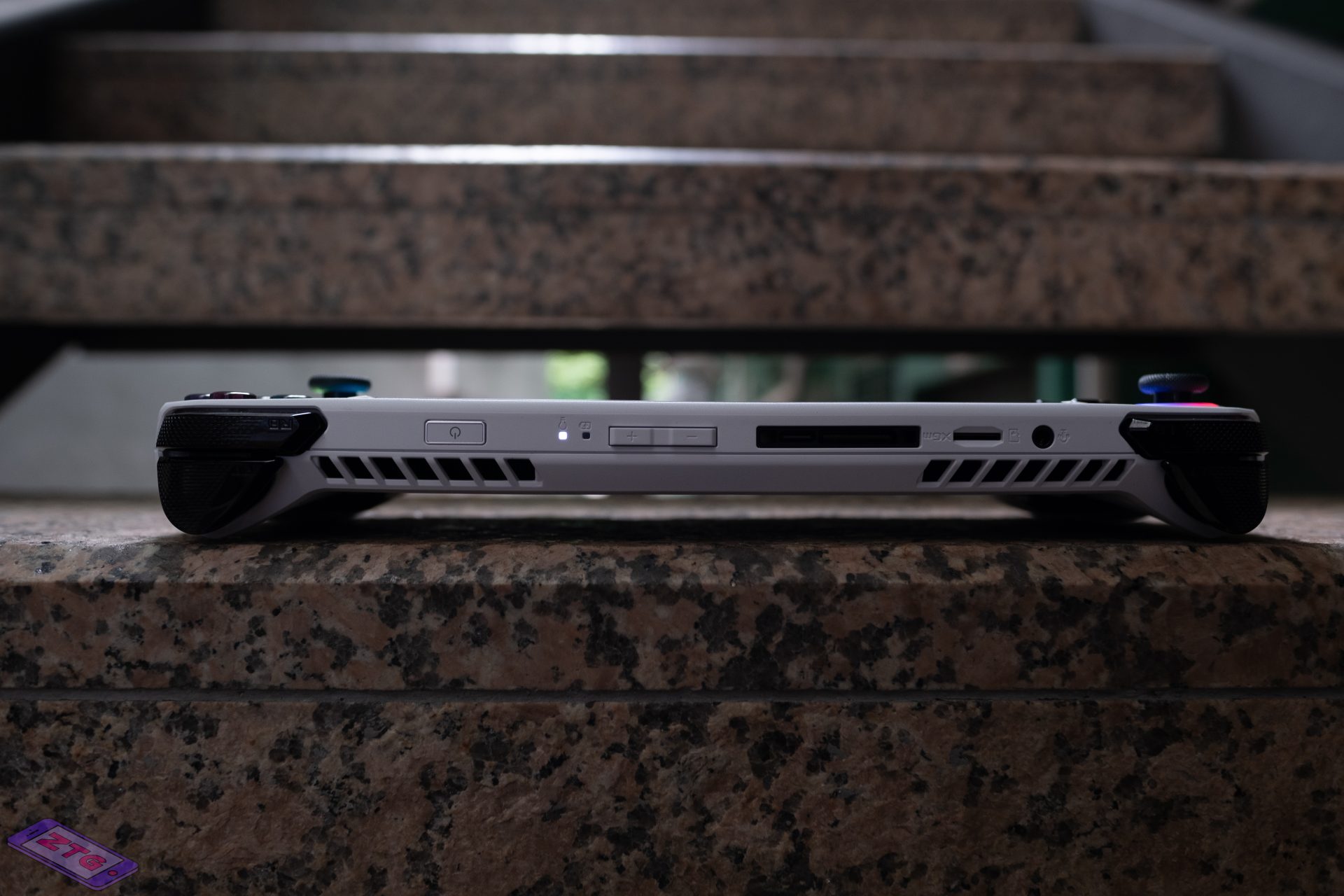 65W USB-C Charger Included In The Box
40 WHr battery (2 cells)
9W-30W TDP
This is where most reviewers would start lifting up their pitch forks. It's widely known that the ROG Ally doesn't last very long when it comes to gaming, and I feel that's simply the nature of it. I can't stress enough, that how long the ROG Ally can last REALLY depends on what you're doing with it.
If you're using this purely as a laptop and just working on Microsoft Office or just using the browser, expect about 3-4 hours tops on 10W silent, and 2-3 hours on 15W performance.
Gaming on 15W would last you 1 and 1/2 hours tops, whereas going beyond that such as 25W would leave the Ally thirsty for a charge within 45 minutes. To charge it back up again, Asus provides a 65W USB-C charger that's literally from their ZenBook/ Vivobook line. It's fine and small, but really not as portable as a direct charger with a detachable USB-C (which will work fine by the way).
A full charge from flat takes about an hour and 45 minutes, and if you do end up plugging in and playing, the ROG Ally does have USB passthrough to draw power directly from the charger without charging the battery, which is an essential function for gaming on this level.
You can also maximize battery longevity using the MyAsus app, where you can prevent the battery from charging beyond 80%. All I can say is, you gotta treat the ROG Ally like a gaming laptop. A gaming laptop that can fit into a sling bag.
When you want to play at maximum fidelity, plug it in.
---
The Verdict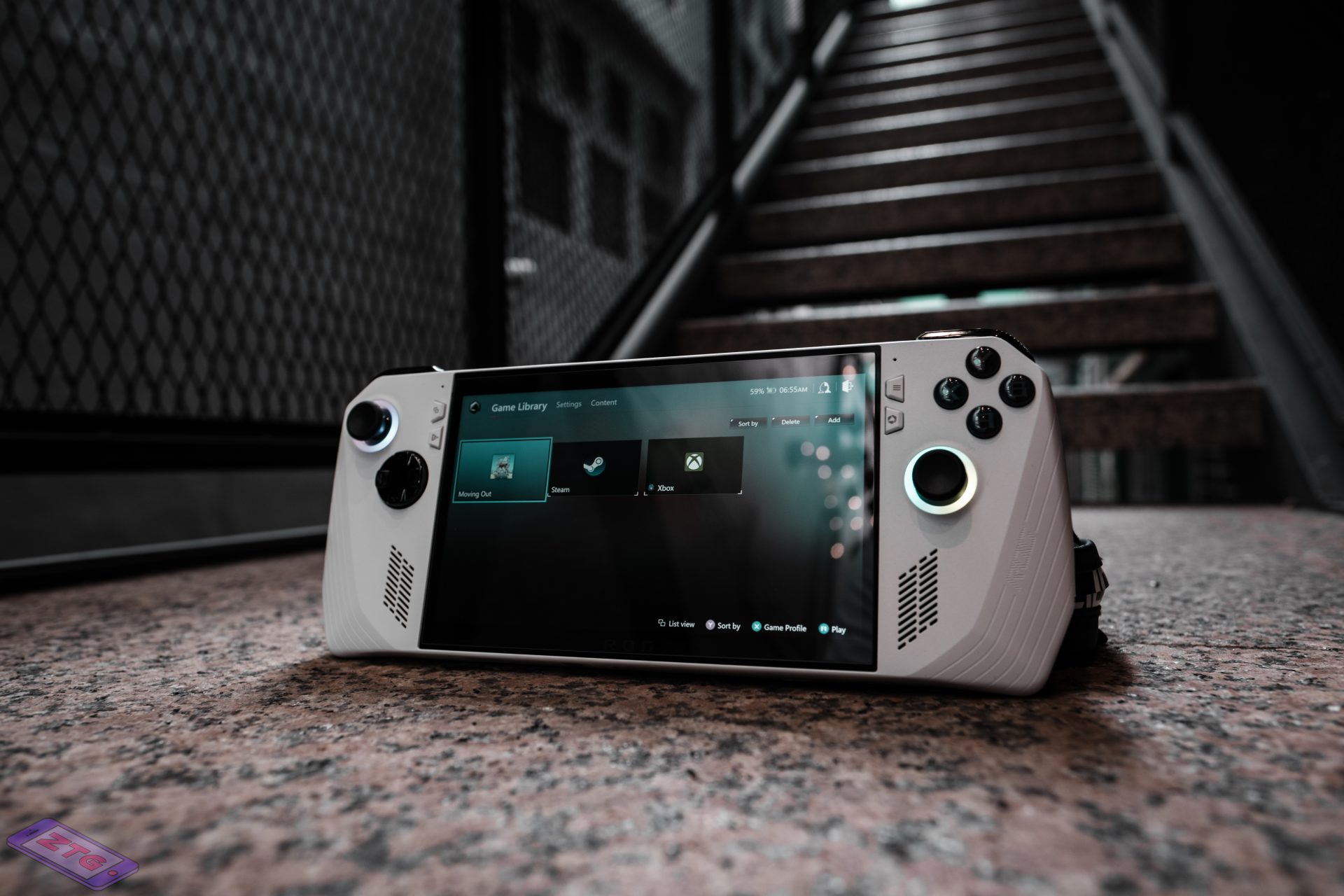 ROG knows exactly what they're doing and they did it well…for their first try. Though they're not pioneers in creating Windows-based gaming handhelds, they're the first to really push commercial availability all over the world, while competitors like the Steam Deck, Ayaneo and GPD have only come to Malaysia via grey importing without any warranty.
It's a handheld that gives you the flexiblity of power, giving you the option to choose how much FPS you want, even up to a level of how much graphics memory you can allocate from your RAM. You'll definitely need a certain level of knowledge for tinkering these settings, but I can assure you it's not a chore nor a drag to learn in the long run.
At RM 3299, it's a gaming laptop that fits into your sling bag. The footprint it has compared to an actual gaming laptop is so vast that any gamer worth their salt can let go of the (for now) unrealistic idea of high graphics and high FPS in one package, in which, any ROG laptop will be more than willing to oblige but at 2-3x the price of an Ally.
I personally love the fact that I can enjoy all my indie games, as well as hop onto Diablo IV at any time, any where, just in time for the World Boss to spawn.
How Can They Improve?
Well, with how things are on the Ally as a starting point, it's already good, and I can understand why certain things are they way they are, such as :
Why RAM can't be upgraded : That'll require a bigger, thicker PCB with DIMM slots, so you might end up with a mammoth sized handheld. It'll take awhile for the engineering and design to be done right to prevent this from happening
Why can't there be bigger capacity batteries? : Again, It's all about maintaining a certain size. Also, it's encouraged to experience the Ally's full power by plugging in and playing, so a bigger battery won't necessarily benefit us all. Plus, you might have to further lower down wattage which will eat into performance. There's no point going bigger if it's going to be just an extra 1 hour. A justifiable upgrade would be for at least 2-4 hours more, which can be done but only in the next generation where the tech has been given enough time to materialize.
What If I wanted better graphics? : There's the Asus proprietary Mobile XG station that comes with up to an RTX 4090 but that costs RM 10000. It's an expensive solution but you'll get what you want out of it. It would be better if ROG could create their own barebones XG Station where you can buy your own graphics card and slot that in.