ASUS ProARt studiobook 16 OLed
Starts from RM 9,999
The ASUS ProArt StudioBook 16 OLED is made for pro-level creators. It's equipped with enough hardware to tackle even the most dauntingly intensive 3D tasks on the get-go with some headroom to go even further. It has the right upgrade paths for users to upgrade at their own pace on top of a particularly useful Dial that needs a little bit of improvement to be the ONLY creator laptop to competently integrate one onto a laptop for professional use.
To love
Gorgeous display
Abundant I/O ports
Overkill Performance
High color coverage, Ultra HD
Rolling Dial is actually useful
To Love'nt
Keyboard might fade fast
Not the best cooling
Only for heavy deployment
Price Tag
---
| | SPECS |
| --- | --- |
| CPU | AMD Ryzen 9 5900X with Radeon Graphics |
| GPU | NVIDIA GeForce RTX 3070 with 8GB GDDR6 VRAM |
| RAM | 64GB DDR4 3200MHz (2x SO-DIMM slots) |
| Storage | 1TB PCIe NVMe SSD Gen 4 (RAID 0 up to 4TB) |
| Display | 16-inch OLED 16:10 4K UHD Anti-glare Display |
| Weight | 1.8 kg including 3 cell 42Whr battery |
| Price | RM 3499 (as of November 2021) |
A Design Language I Can Get Behind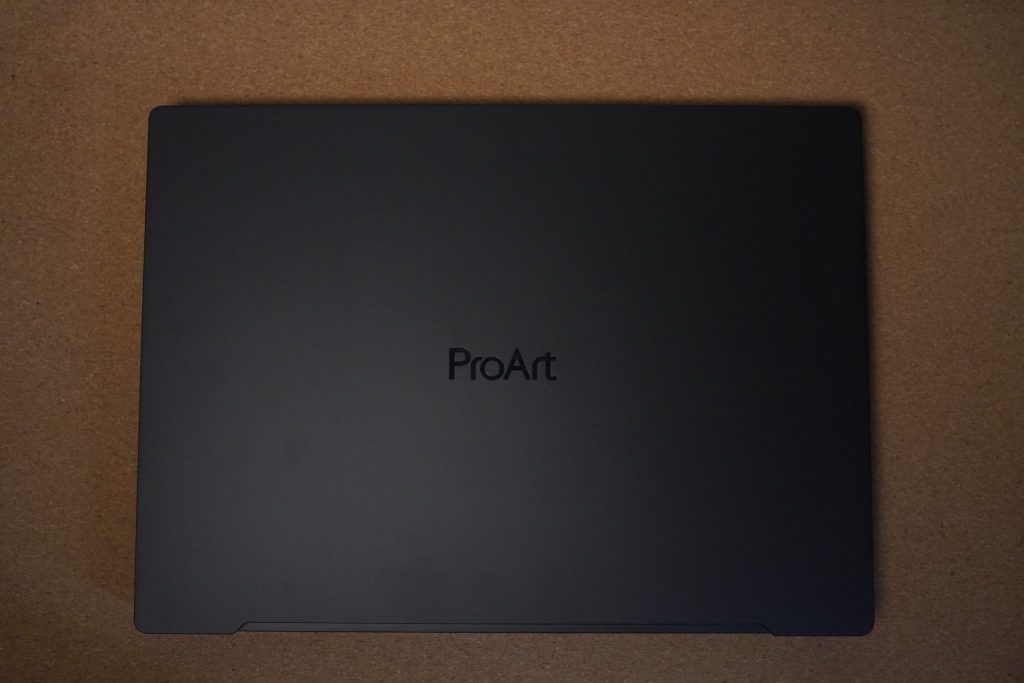 The ProArt Studiobook 16 OLED looks absolutely classy and unassuming at first glance. It's actually quite a boxy looking laptop that's one of the thinner ones in its class in the market. The finish is more or less a greyish black that's matte and cold to the touch. The back panel just simply has the words "ProARt" cut onto it. That's pretty, seriously.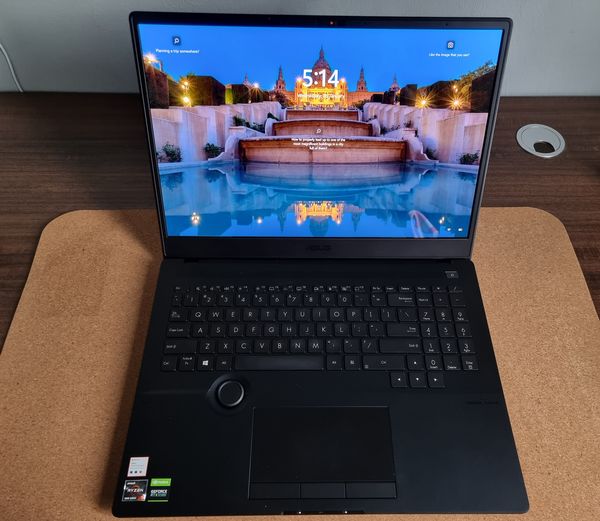 Popping open the lid (which can't be done with one hand), you'll see the screen and keyboard. Bezels are semi-thick all round, with the panel having a matte finish. The camera is just above the panel, safely tucked away into the bezel. The frame is relatively thick to a fault, attached to a deck that doesn't flex one bit.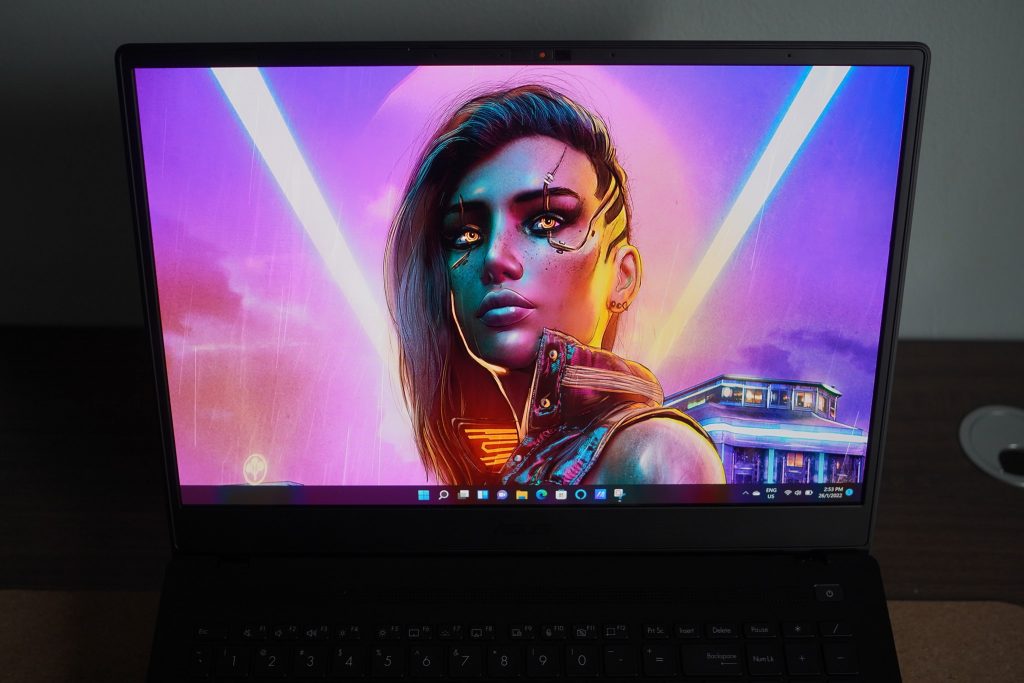 What a massive screen it was when I first saw it. It's a beautiful UHD OLED screen with a 16:10 aspect ratio, so it's just a little taller that the mainstream 16:9, perfect for someone like me who likes to see as much information as possible without scrolling. This immediate application is perfect for writers and video editors who want to have as much display real estate as possible to see all their tracks and assets.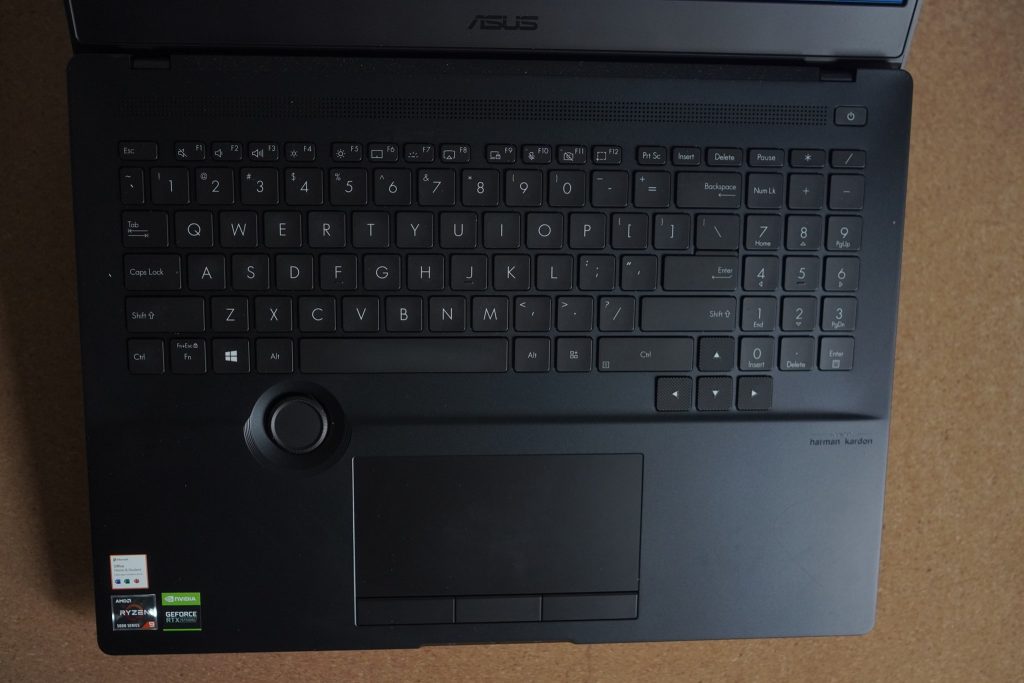 Due to such a generous size, you'll be treated to a large, well spaced out keyboard that's full sized and comfy to type on. Right above the touchpad is the ASUS Dial which is pretty much its signature piece that sets it apart from literally everyone else. No one did this but them and that's for damn sure.
The touchpad is smooth and easy to use. You'll most likely pair your laptop with a mouse so there are no red flags here during my tenure with this device.
A Creator's Ultimate Solution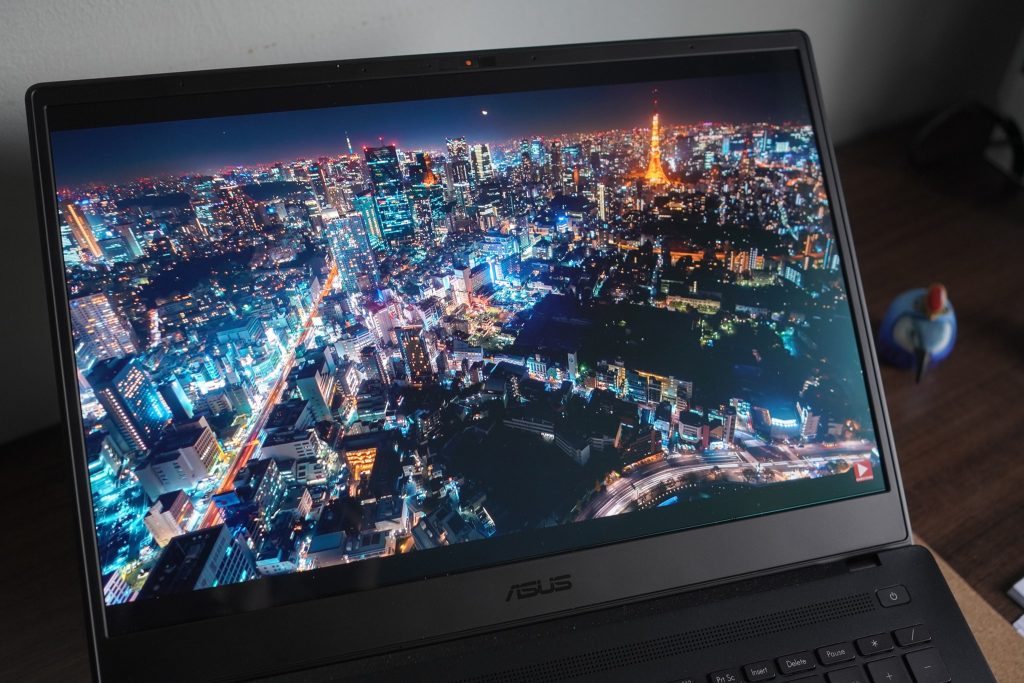 For designers and photographers, this is definitely a great master-level choice. This laptop is qualified for professional creative work, not only for its size but also color coverage and even Pantone validation. You'll be getting a near-perfect 100% sRGB rating as well as the full 100% for the DCI-P3 gamut on top of the OLED panel. True blacks? Vivid Colors? Check and check.
I managed to blast through my work rather quickly with the ProArt StudioBook 16 OLED, especially when I was outside (good thing I have backpacks of every conceivable size to fit this tank). With such a strong spec sheet with plenty of RAM and speedy storage, editing my 4K videos was a near instantaneous affair, with the hardware loading my projects up in a snap and there was almost no delay when it came to making my cuts and making complex adjustments.
The ASUS Dial Works Well But Needs Updates
The main selling point (besides the specs and its capabilities that is) is the ASUS Dial, a rotatable flat-round dial that can even be pressed down for action. It's build out of innovation, to provide professionals a finer, controlled approach when it came to making adjustments on their work apps such as Adobe Premiere Pro, After Effects, AUTOCAD, Maya and so on.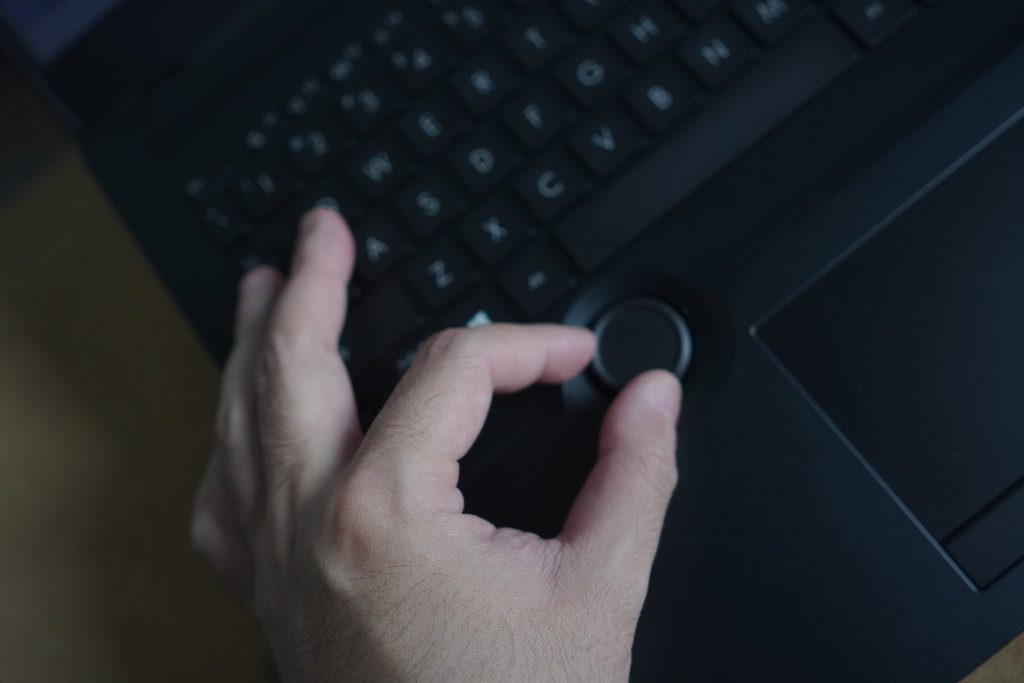 In order to use it that way, you'll be relying on the ASUS ProArt Utility app that can help you customize what sort of action you're trying to perform with the Dial.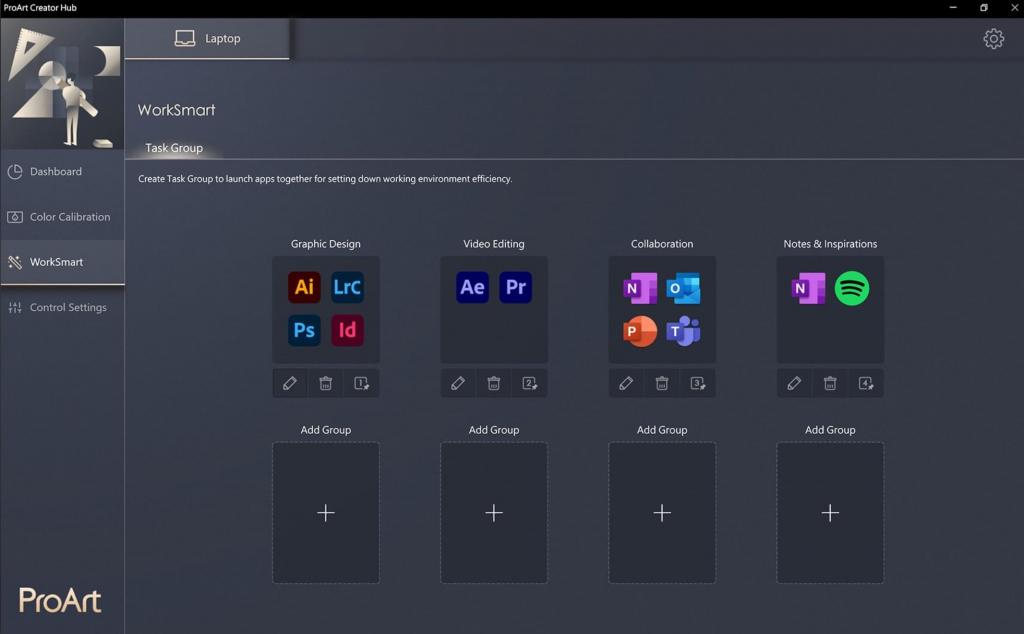 Apart from professional apps, what about general use like scrolling through webpages, documents and files? Well, it can be done, but with some extra steps that I would consider annoying. You see, you have to treat this dial like a game controller analogue stick. You'll need to press on the wheel and select Vertical Scrolling and then only you're able to do so. This isn't permanent by the way, meaning that you'll have to constantly perform that step again as soon as you're out of the browsing window and want to do something else. I'm certain this can be solved via a quick update, to be given the ability to set default actions when performing certain tasks.
Workable Battery Life for its Class
For this class of laptop, I would say that the battery life was actually good, outputting slightly over 4 hours on a single charge. The battery pack may be massive at 90Whr's, but bear in mind that it's powering a powerful chipset, graphics card and a UHD screen. The provided charger is a 240W barrel charger, capable of topping up the battery in about 2-3 hours. It's already a big laptop, so you're going to need a big bag. The charger is average-sized so your assumed big bag should have plenty of space to accommodate the charging brick.
---
Creator Friendly I/O Ports
With that much cash on the line the ProArt Studiobook better have an I/O port selection that wouldn't require me to carry around an extra dongle I hope. True enough, that is the case here.
Both USB Type-C ports are 3.2 gen 2 which promises speedy transfers, thanks to Thunderbolt 4 capabilities as well. The SD card reader is insane (up to 990 mb/s in ideal conditions), taking only double digit seconds to transfer a few gigs of high-res photos out of my camera without a hitch. The USB Type-C and HDMI 2.1 provides a multitude of extra display options, should you find yourself being at home and needing to use a bigger monitor to get work done.
In this case, the ProARt Studiobook I'm using is definitely very creator friendly, complete with enough bells and whistles for you to abandon your dongle, which is a proud thing to do.
Main Ports
2x USB-A 3.2 Gen 2

2x USB-C 3.2 Gen 2 (ThunderBolt 4)

1x RJ45 LAN Port

1x HDMI 2.1

1x Audio Combo Jack

1x SD Express 7.0 Card Reader
Can it be upgraded / modified?
The upgrade paths here are wide, particularly towards both RAM and storage. The ASUS ProArt StudioBook 16 OLED can have their m.2 NVme replaced easily, since there are 2 SSD slots. The RAM is upgradeable too, with 2x SO-DIMM slots that are currently occupied with 2 pieces of 32GB DDR4 (3200 Mhz) memory. The first SSD slot is already occupied, immediately providing 1TB at your disposal. From here I recommend adding 1 more terabyte for good measure.
It's as easy as unscrewing the few screws at the bottom panel and opening it up. I'm quite happy to learn that it took no effort to remove the bottom panel, as even if you're not upgrading, it's good to clean it every few months from dust or any other gunk that might slip through.
---
So why would you buy one?
Because of its price and what it has to offer, the ASUS ProArt StudioBook 16 is really for a top-tier designer of all disciplines. It's a very reliable workhorse that's for heavy deployment, but not heavy or thick enough to say that it's not portable.
Expect just 4 hours of intense use on a single charge, but this is a better problem to have compared to having weaker specs for work. Bringing a charger along wherever should be second nature to you already. For performance, display and the dial, the ASUS ProArt StudioBook 16 OLED scores GOLD in our books.
---