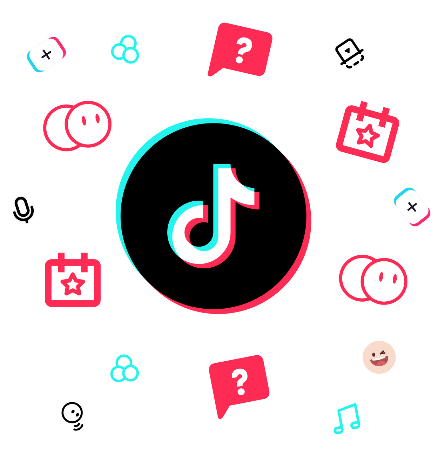 In case you didn't know, TikTok actually has a live streaming function ! Watch musicians perform live and Q&A sessions with notable people are now all easier with TikTok, as they have further expanded the live features.

LIVE Events
Recently launched in select markets, LIVE Events is a new tool that lets creators schedule, manage and
promote LIVE videos. While viewers can easily discover, register, get notifications and receive a
reminder when the LIVE is about to start, LIVE Events is a great way for creators and fans to easily
connect ahead of an upcoming LIVE stream.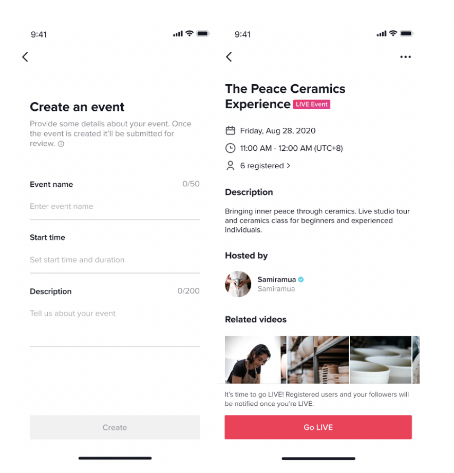 Picture-in-Picture
Instead of missing out on the stream when you switch apps, the video now pops up in picture-in-picture mode, much like netflix or youtube premium!

Go LIVE Together
Go LIVE Together gives people the ability to easily go LIVE through Go LIVE Together. This means more chances for funny iconic interactions, twice as many behind the scenes reveals, and more ways to connect with top creators.
LIVE Q&A
With LIVE Q&A hosts are able to easily engage with and respond to viewer's questions in realtime. The LIVE Q&A suite of tools helps hosts more easily select, showcase, and answer questions from fans while LIVE. This leads to more entertaining experiences and deeper connections for everyone tuned in to the stream.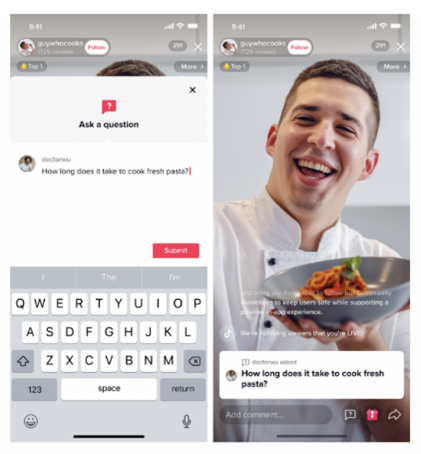 Top LIVEs
Discovery is at the heart of the TikTok experience. Rolling out soon, people will be able to more easily find and tune into LIVE videos conveniently from the For You and Following pages. Some of the top LIVE categories include Chat (Q&A), Gaming, Talents, Fashion, and Daily Life, and with updated access points to the LIVE page.
Help for Hosts
To help hosts focus on entertaining and engaging the community, they can now, ahead of a livestream, assign a person they trust to help them manage their streams by tapping Settings on the right side of the livestream launch screen. During the LIVE, both the host and the person helping can mute and block users to help keep the stream welcoming and civil (very nice).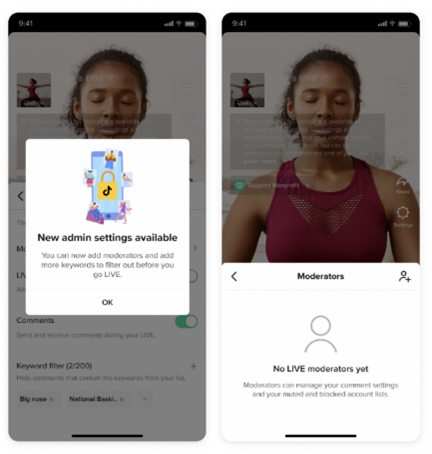 Keyword Filters
As LIVE provides creators the opportunity to share more of themselves with the TikTok community, our goal is to help people feel comfortable doing so, which means taking a hard stance against bullying or hateful comments. TikTok is mindful that some comments or words may seem innocuous to some but are hurtful to others. To protect against this, in the settings tab of the LIVE launch screen, hosts can turn off comments or add up to 200 terms into the keyword filter to limit those comments in the chat. Words can be added to the list throughout the livestream by hosts and the person helping them.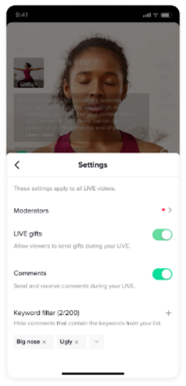 Consider Before You Comment
Viewers will now be prompted to reconsider the impact of their words before posting a potentially unkind or harmful comment.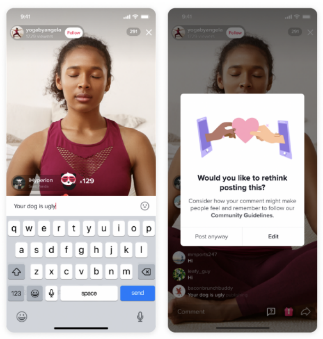 Community and Age Protection
TikTok will also introduce a way for hosts and the person helping manage their LIVE to temporarily mute viewers or delete unkind or harmful comments as TikTok strives to maintain a supportive and authentic community environment. This is also why TikTok will have additional safeguards and policies for LIVE, including requiring account users to be 16 years old watch LIVE and 18 years old to host a livestream. TikTok also prohibit gift-baiting (the solicitation of gifts or engagement) as well as fraudulent behavior or scams.
If TikTok identifies an account that impersonates or misleads our community about their identity, TikTok will remove the account from our platform.
Nice job tiktok, they're really creating a polished and thorough live streaming experience here especially with the moderation functions and protection for minors.