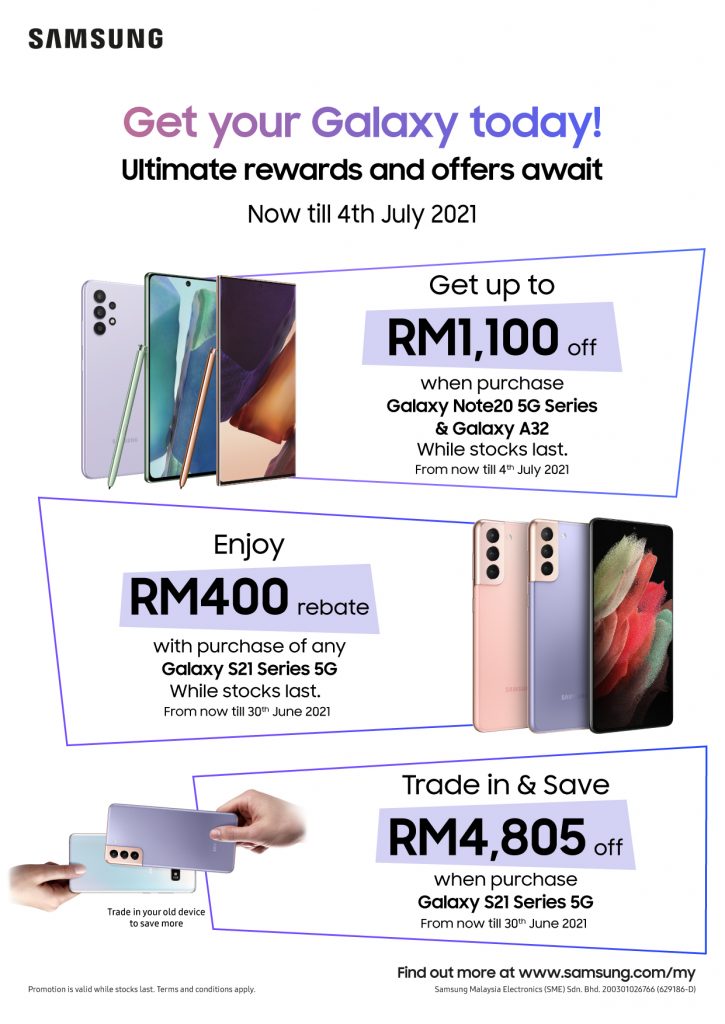 If you're looking to buy a phone with flagship level performance with great cameras then now would be a great time as Samsung has been running some pretty aggressive deals on selected smartphone models.
Any of the Samsung Galaxy S21 series 5G models come with an instant RM400 rebate when you buy it from the Samsung eStore! (4th June-30th June 2021)
2. Get up to RM1,100 off when you purchase the Galaxy Note20 5G and Galaxy A32 LTE ! These might not be the newest but they definitely still pack a serious punch! (4th June-30th June 2021)
3. You can also trade in their existing smartphone from now to 30 June for up to RM4,805 off (based on selected models and brands) for a brand-new Galaxy S21 Series 5G.
Galaxy Note 20 Ultra 5G 256GB RM5,199 -> RM4,099
Galaxy Note 20 5G 256GB RM 4,299 -> RM3,199
Galaxy A32 LTE 128GB RM1,099 -> RM999
Where to find these promotions?
Click here for the Samsung Galaxy S21 Series 5G Promotion
Click ere for the Samsung Galaxy Note20 Series and Galaxy A32 LTE Promotion