It's 2021 and the tech giants of the world are getting ready to showcase their latest and greatest hardware. Jumping right into the game, GIGABYTE reveals their new Z590 Motherboards, touting up to 20-phase/100Amps digital power design with optimal thermal dissipation and support 11th Gen Intel ®Core™ processors.
Focusing on improving heat dissipation, GIGABYTE's Z590 AORUS motherboards adopt up to 10 layers PCB, on their high-end models, for better heat dissipation. Moreover, the use of Daisy Chain memory routing with an anti-interference design to stabilize memory overclocking and overall memory performance. On selected models there will be feature-rich I/O's with an integrated I/O shield as well as the newest Thermal Guard II design, Smart Fan 6 amongst other things.
PCIe 4.0 time!
With PCIe 4.0 support, users take advantage of high bandwidth, ultra-high transfer speeds, and improved CPU performance on this Intel platform. GIGABYTE Z590 AORUS motherboards use PCIe 4.0 grade PCBs, PCIe slots, M.2 slots, and controllers featuring speeds up to 7000 MB/s. Z590 AORUS motherboards can equip up to 3 PCIe 4.0 M.2 slots with direct connection to the CPU for the
highest bandwidth possible. RAID configurations are possible as well, providing an access rate of 20000 MB/s and beyond.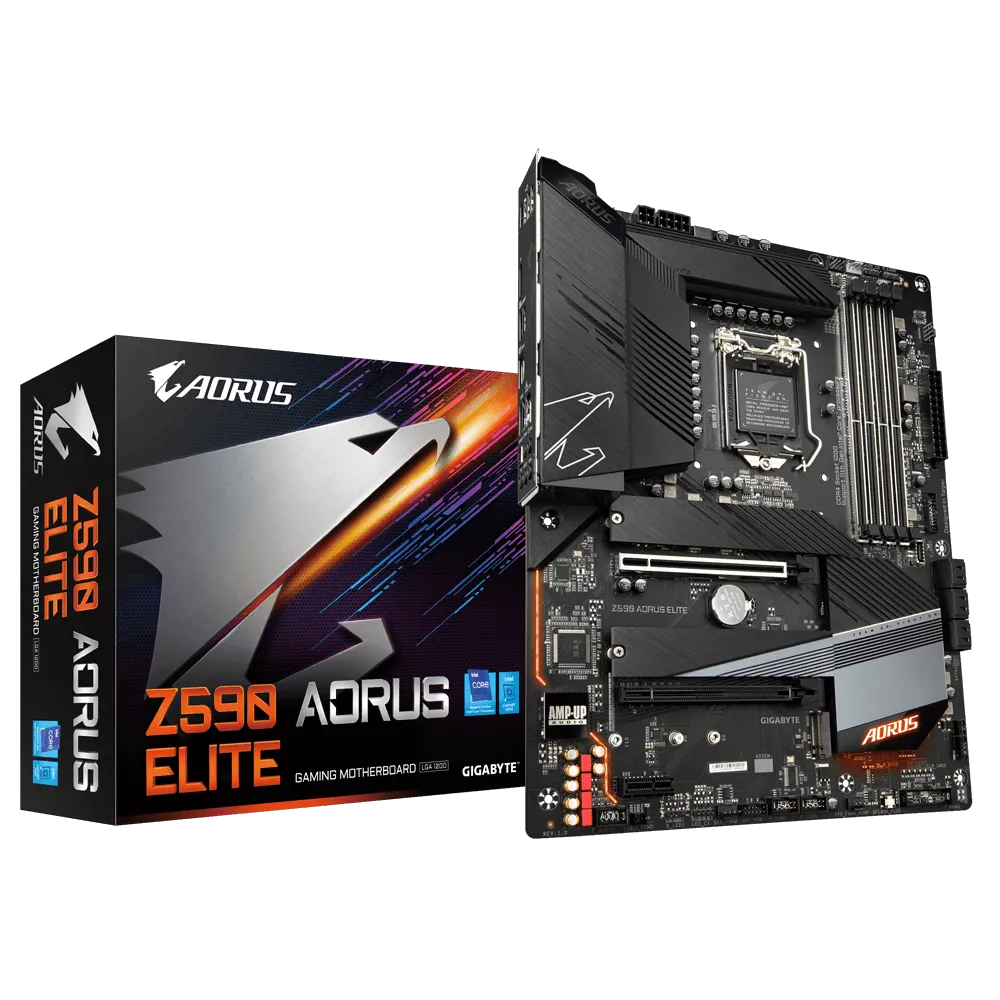 GIGABYTE's patent, Thermal Guard II, is a double-sided heat dissipation solution that provides cooling to the PCIe 4.0 M.2 SSD modules directly to prevent thermal throttling overall. In short, an improved version of Thermal Guard as featured on their earlier models.
Fins-Array II features a redesigned stacked fin heatsink which enlarges the surface area up to 3 times
larger compared to traditional heatsinks with newly reshaped fins that claims to allow for superior heat
dissipation. Direct-Touch Heat pipe II design features a larger, 8mm direct touch heat pipe with shortened
distance and increased contact area between the heat pipe and heatsink to speed up heat transfer from the
VRM to the heatsink, lowering the temperatures significantly.
GIGABYTE Z590 motherboards also implement \ new generation LAIRD 7.5W/mK thermal pad which
offers 4x the heat dissipation compared to traditional thermal pads. The metal backplate adds extra sturdiness and rigidity to the motherboard while its nanocarbon coating quickly dissipates heat away from the
backside components and the PCB. Reactive Armor is featured on selected GIGABYTE Z590 motherboards. The multiple skived fins and grooved surface provide two times larger dissipation area than traditional design
that improves dramatically the heat convention and conduction by allowing more airflow pass through the heatsink.
User customization is where the GIGABYTE Z590 motherboards thrive. The redesigned Smart Fan 6, the multiple temperature sensors, Hybrid fan design, noise detection, and increased fan control points from 5 to 7 and more give users the absolute system control and customization.. Users can now switch quickly between Slope mode and Stair mode by their demands. Slope mode is the traditional linear fan speed curve, and Stair mode is a newly introduced mode to maintain the same fan speed within a specified interval which can avoid the annoying noise from the sudden speed-up or down of the fan RPM. EZ Tuning features the friendly adjustment and advanced manual setting mode, which enabling users to control the system temperature setting for the optimal balance among silent, cool, and high performance.
When it comes to audio, GIGABYTE is always on top of the game. The top of GIGABYTE Z590 lineup utilizes a high SNR audio engine and pairs it with the WIMA FKP2 studio-grade audio capacitors to deliver studio-grade and high-fidelity audio. The GIGABYTE exclusive audio design integrates ESS SABRE DAC as well as DTS:X® Ultra to deliver high fidelity audio for the most immersive sound experience whether it's for gaming or watching movies/listening to music. The flagship Z590 AORUS XTREME motherboard introduces the ESSential USB DAC, a USB Type C interface with built-in ESS SABRE HiFi ES9280C PRO.
Moreover, GIGABYTE Z590 AORUS motherboards support technologies such as LED lighting and Q-Flash Plus which allow users to flash a BIOS file without installing a CPU, RAM, GPU, and other peripherals. GIGABYTE BIOS has been completely revamped with a new graphical interface that displays key information such as clock speeds, memory, storage devices, fan statuses/settings, and other important hardware information in a more intuitive and user friendly manner.
Expect these boards to hit Malaysian shores real soon!