ASUS Zenbook 14X OLED SPACE EDITION
When better needs to be best
At a starting price of RM 5599, this Space Edition prides itself with an epic design and medium-weight spec sheet. A touch capable OLED screen takes care of all things visual and color sensitive, while the 12th-gen chipset eats up daily tasks and stays on top. What stays down however, is the battery life. Such is the price we pay for portable power.
To love
Top Shelf Display
Speedy Media Performance
Superior color accuracy and coverage
Jaw-dropping design
To Love'nt
Very Loud during intensity
MicroSD card slot
Power hungry chipset
---
| | SPECS |
| --- | --- |
| CPU | Intel® Core™ i5-12400H / ™ i7-12700H (review unit) |
| GPU | Intel® Iris® Xe graphics |
| RAM | 16GB 4800MHz LPDDR5 (onboard) |
| Storage | up to 1TB PCIe NVMe SSD Gen 4 |
| Display | 14″ OLED 16:10 90Hz Display, 100% DCI-P3 |
| Weight | 1.39 kg |
| Price | i5 RM 5,599 / i7 RM 6,499 |
Niche Design That Can Be Sought After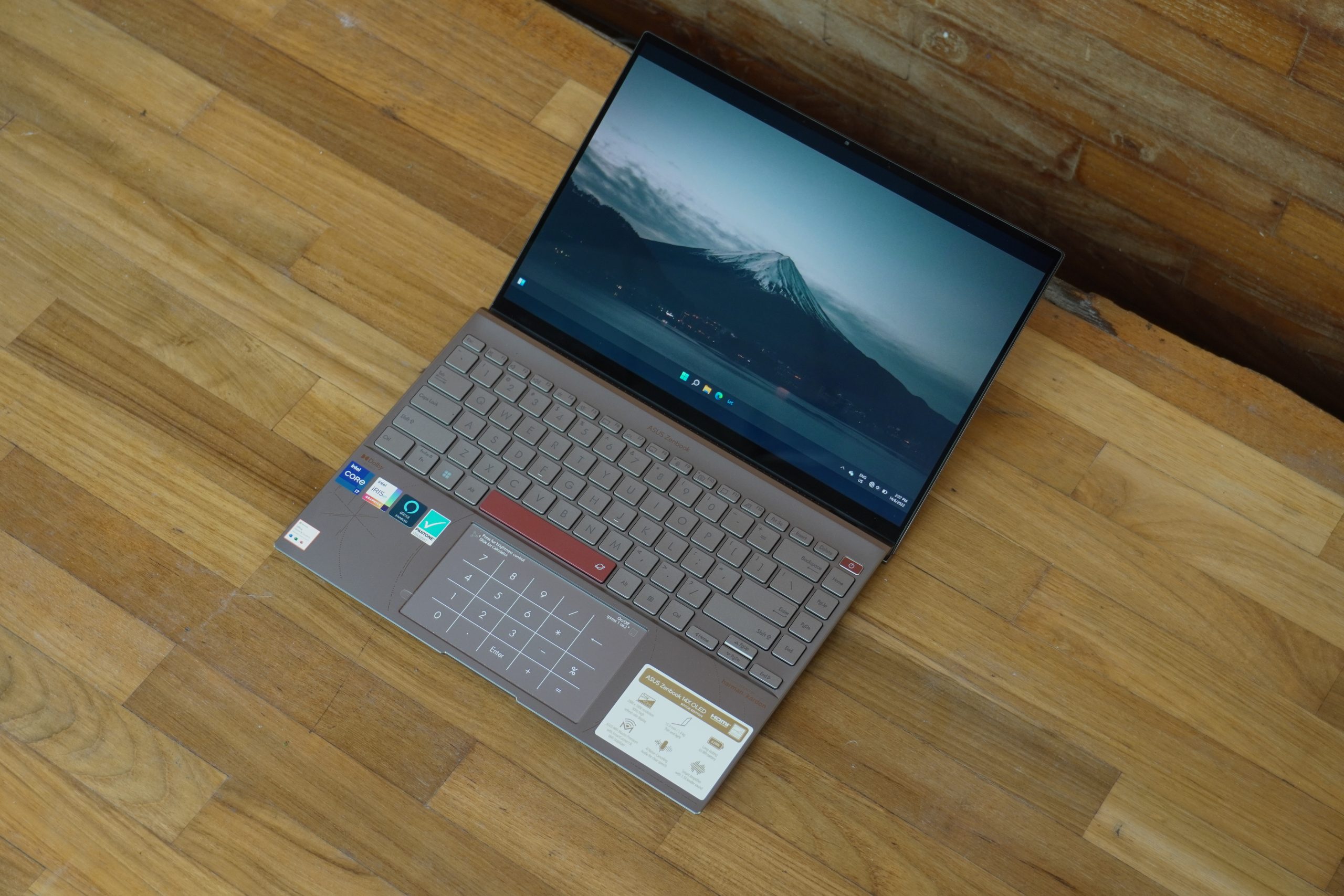 Space Age Design
Excellent Keyboard
Workable Number Of I/O Ports
C'mon, everybody should be loving space themed designs now, it's an undying trend! The Zenbook 14X OLED Space Edition comes in a unique "Zero G Titanium" Grey, in which I would tell you now that that translates to : "If rose gold and grey had a baby".
Completely Space-themed, the ZenBook 14X OLED Space Edition's design alone sells the laptop. The inspiration that made this laptop reality is simple:
1997, In Our Galaxy.
Asus sent the first laptop to space, the P6300. It reached the Russian Mir Space Station, where astronauts utilized it for daily operations for 600+ days in space. This laptop literally commemorates that achievement, and we can see it being implemented in the design language.
See? What did I tell you? Packaging, Packaging, Packaging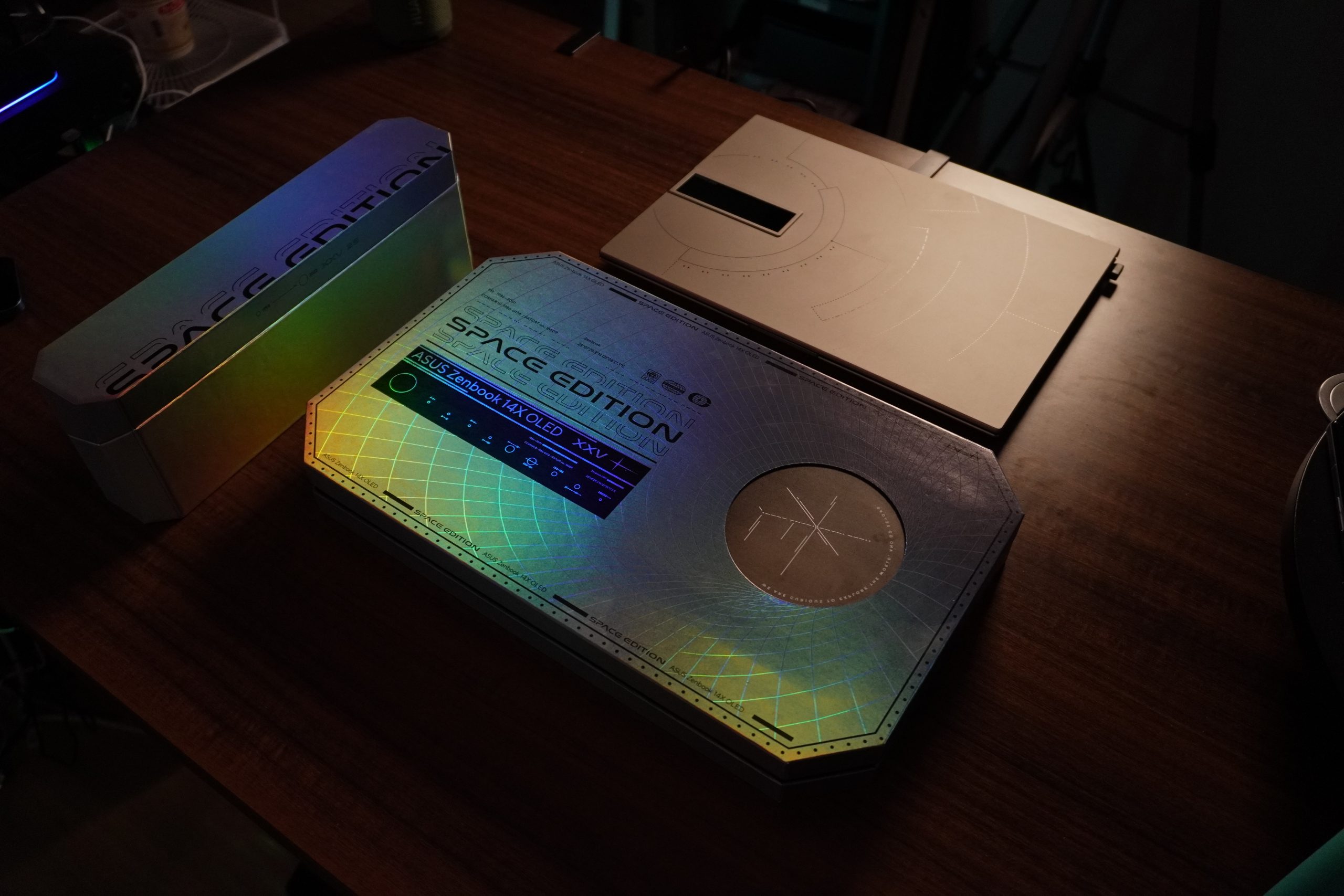 The Asus ZenBook 14X OLED Space Edition is a real big bang when it came to the packaging. The laptop's box is fully holo-themed, reflecting the color spectrum from every possible angle. Finally, a box that I will NEVER throw out. The aesthetic is downright trendy, with Space Edition written all over the place with awesome logo-work.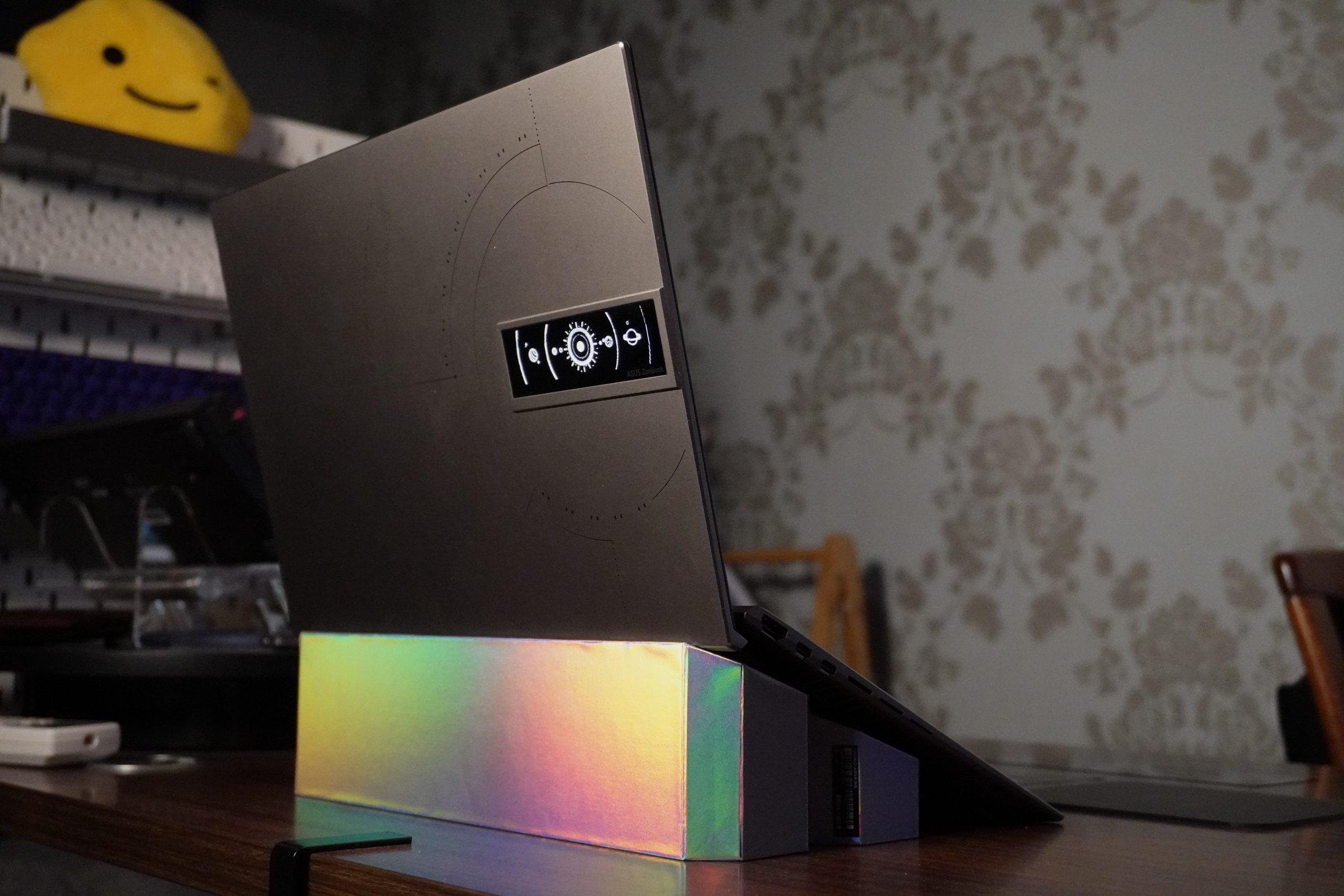 The charging brick's box gets the same visual treatment too, and if you open it up, you get to use it as a laptop stand to boost your angling and typing comfort.
There's some great stickers and prints in the package, describing the rich history space has to the world. It's also great to see an included laptop sleeve, made of recycled materials with a shiny, space-suit grey finish!
Never have we experienced such a complete, visually pleasing spectacle of an unboxing of a product!
Let's Take It From The Top Baby.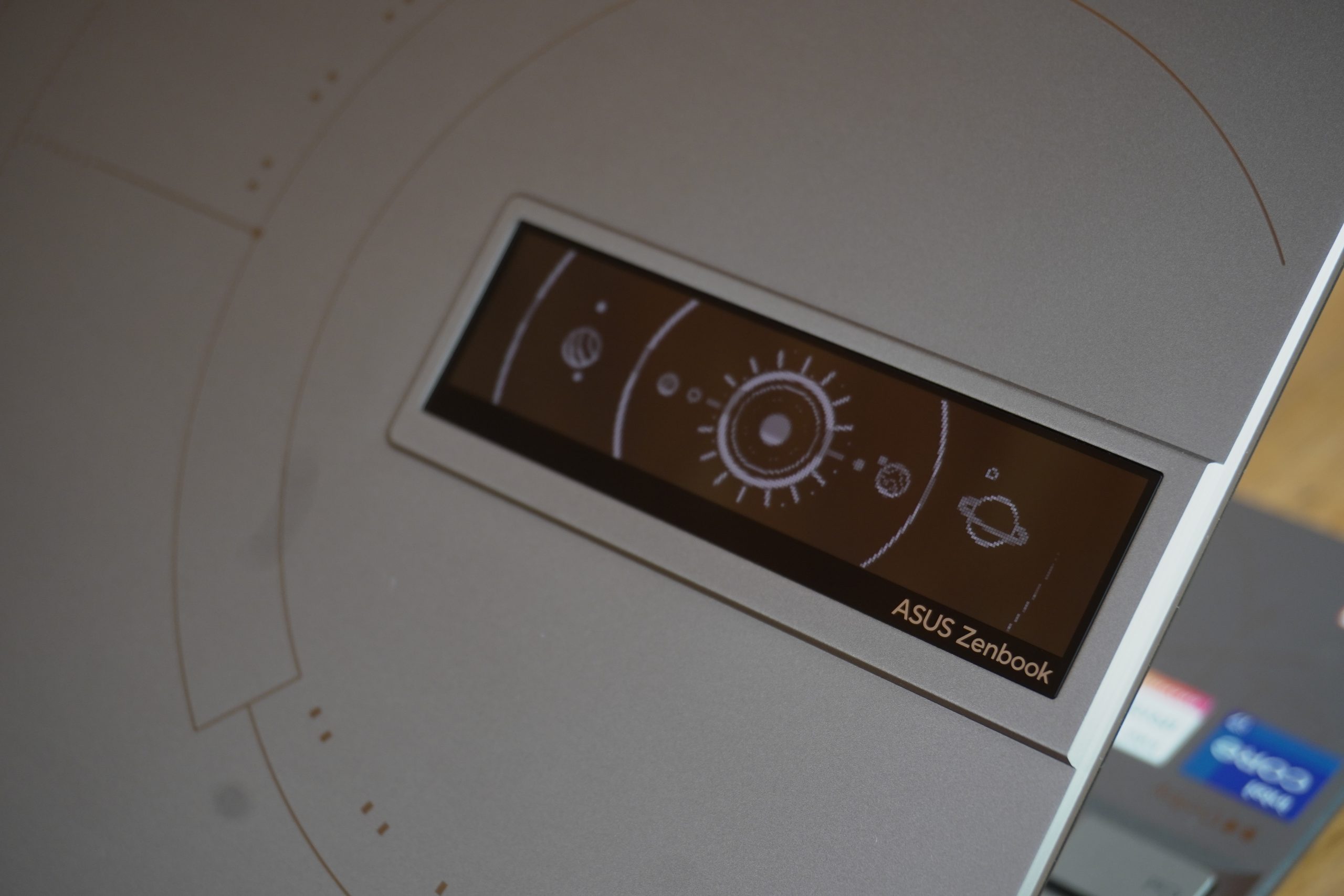 The Top of the lid has been laser-etched with lines and circles that represent space station capsule (following the shape), which collides in the middle where a beautiful 3.5″ ZenVision OLED display sits and plays a preloaded set of space animations that you can also customize.
From some digging, we even found that there's morse code etched-in as part of the design.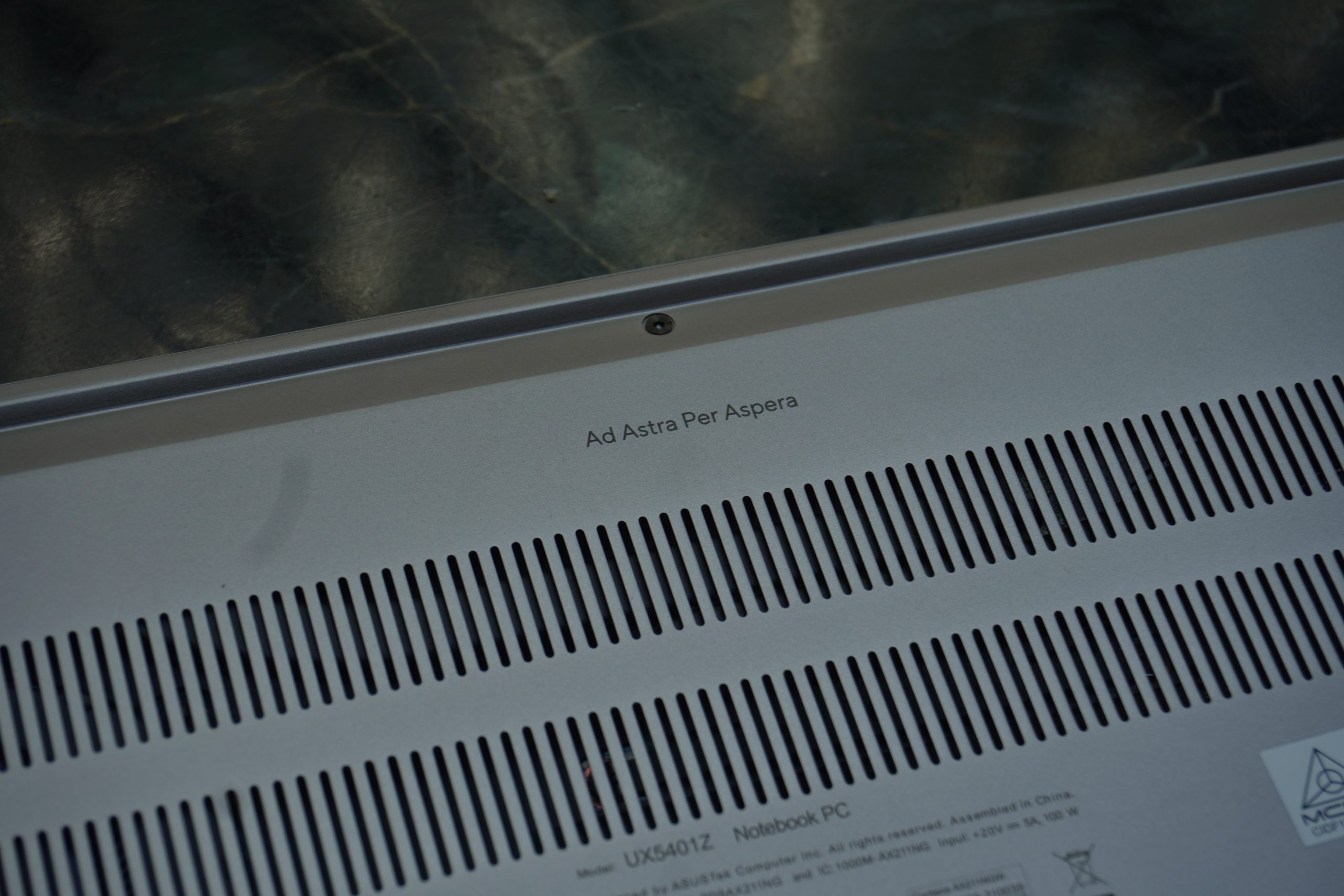 It says : ad astra per aspera (through hardships, the stars).
---
Opening the lid
Pop that lid up and you sell a gorgeous chiclet keyboard complete with orange accents on the space bar and power button (cute little Saturn!)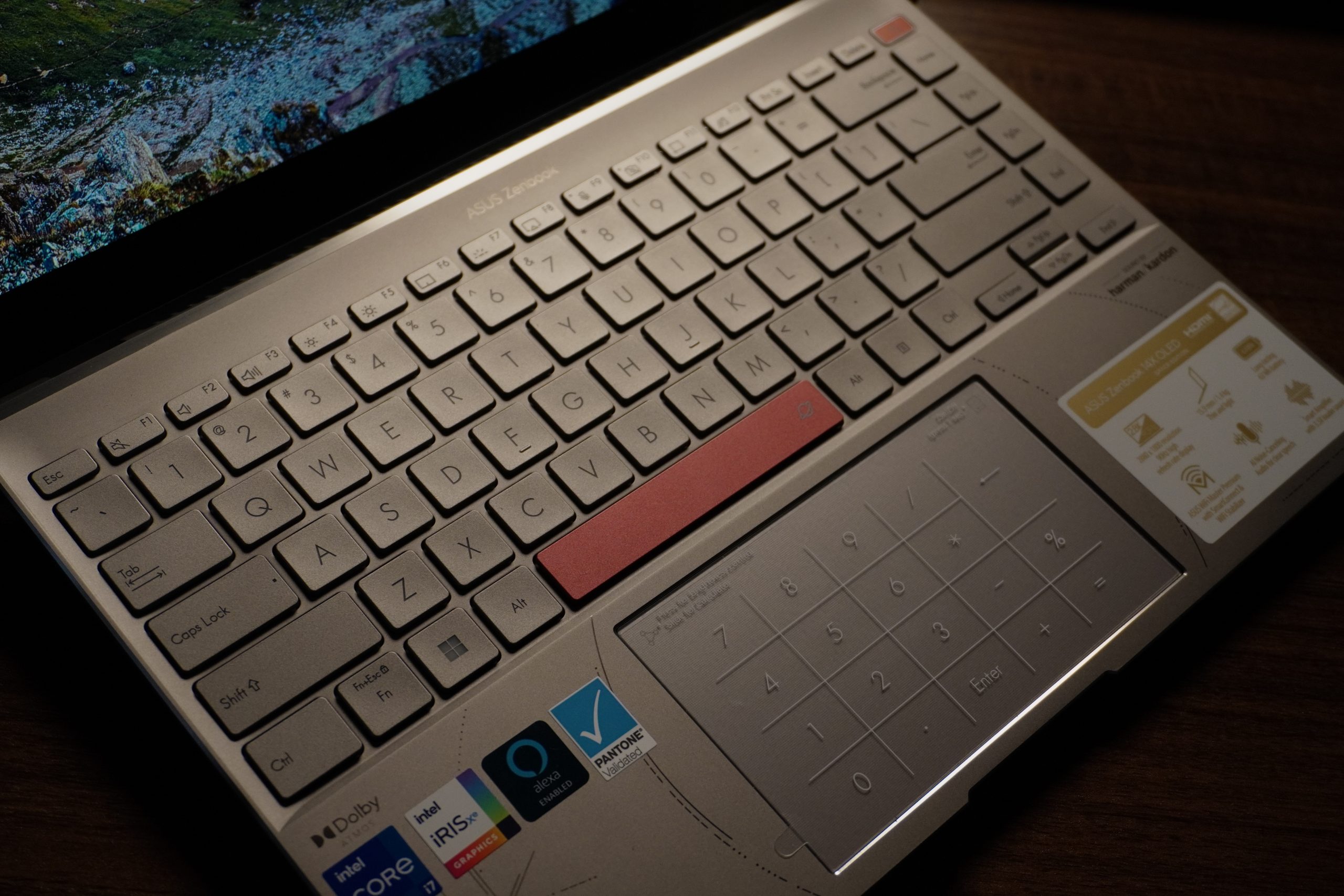 The keyboard layout is exactly the same as the 14X OLED's, which I would describe as "squashed but roomy". All keys seem to feel well placed for a 14 incher, and clicks satisfyingly with some semblance of tactile feedback. Travel feels like it's in-between short and long, and keystrokes do need a slightly heavier-than-usual level of pressure so it can get a little tiring typing after awhile. The keycaps are matte, and it seemed to be very resilient to early shining. The device has been my daily driver and nothing is safe from my quick and heavy typing. I am impressed at this little detail, as Asus did pay a little bit more attention to keycap quality. The space bar is the most tapped key and (for now) there seems to be no signs of shining just yet!
The power button doubles as a Windows Hello fingerprint reader, a step everyone's making so there's nothing left out.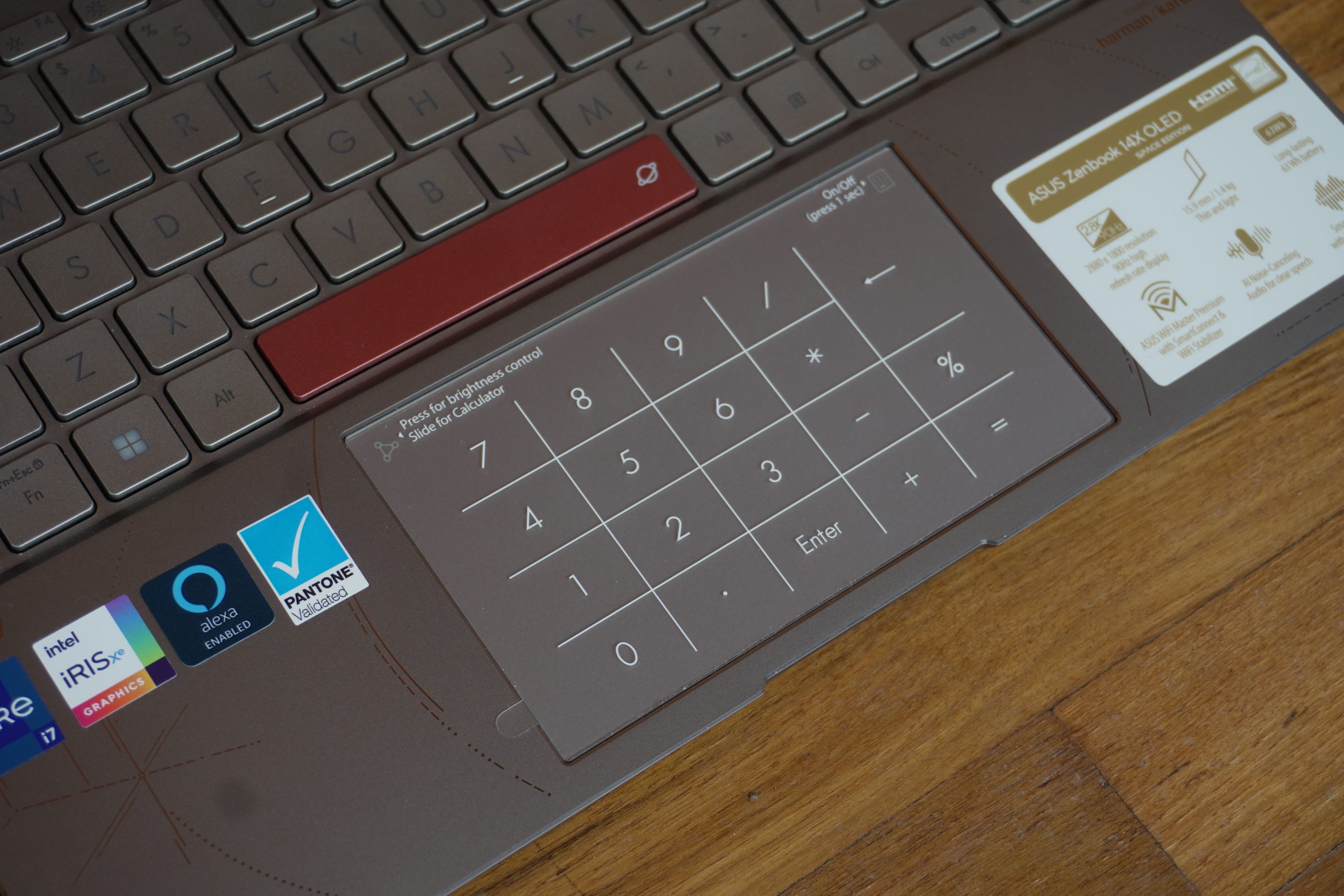 Following the ZenBook recipe, the Space Edition comes with a trackpad that's also a calculator, and on the top left you can use it as a slider to open the calculator app and a simple tap would allow to alter its brightness.
Speakers are also very loud and emphasize the lower frequencies of sound. I had a great time watching videos and movies on this laptop. The laptop also tilts up a bit when u open the hinge to give a more comfortable typing angle. A flat keyboard is not good for your arms.
Top Shelf Display Once Again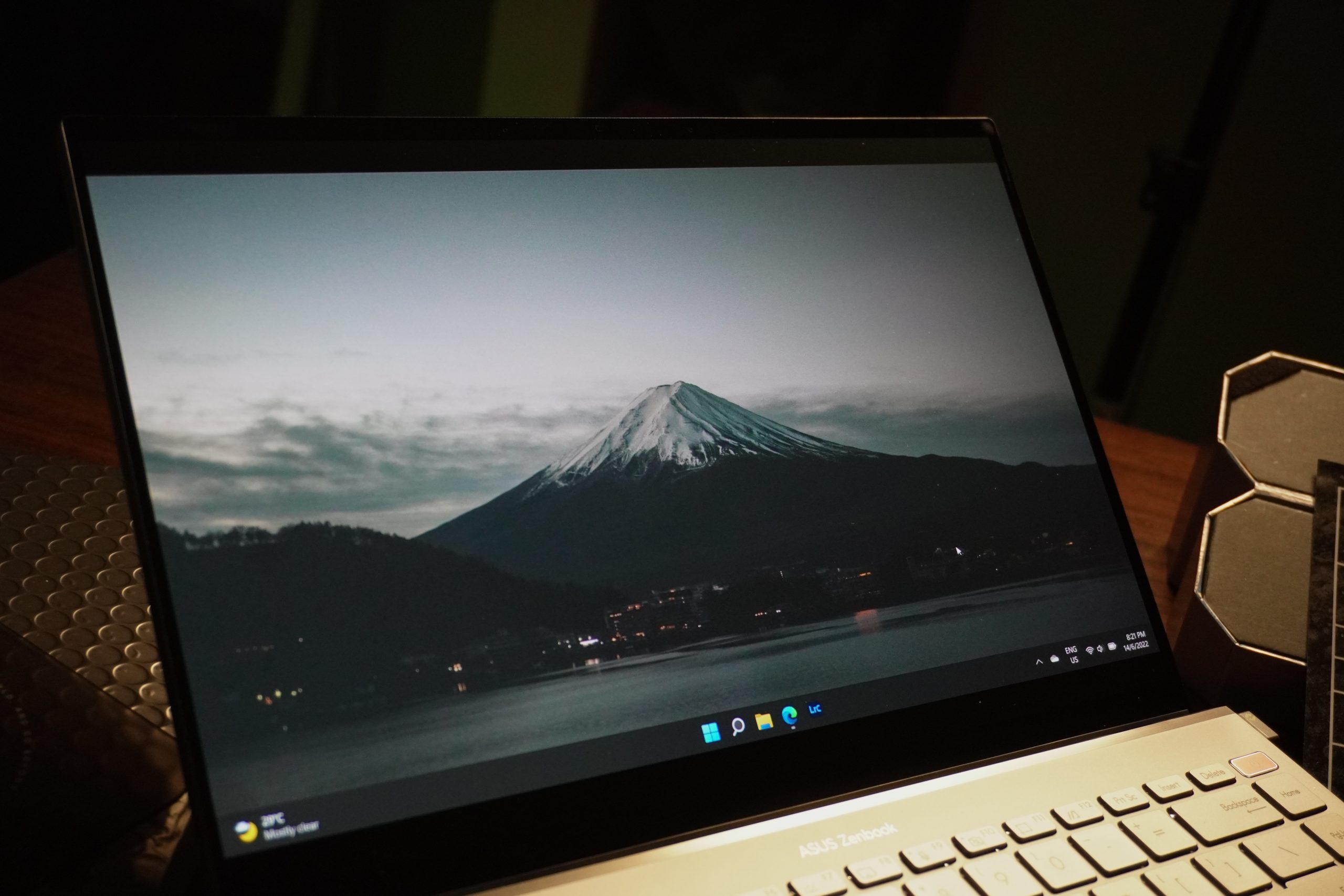 After going through OLED after OLED with ASUS, I have come to a point of no return. I can't not use an OLED display for my work anymore and this is testament to it. There's no other value-focused option out there that offers a display that can represent different ranges of blacks and color the way ASUS can. The consistency continues with a delivered promise of a 100% DCI-P3 color space coverage that you can spot in the display settings under a proprietary .icc profile. We can pretty much see that the DisplayHDR 500 True Black certification is well-earned!
Smoothness is part of the game too, with up to 90Hz of refresh rate, even on native 2880×1800 in resolution. That's a combo that just spells extreme battery drain, and we will touch more on that a little later.
In Love With The ZenVision Gimmick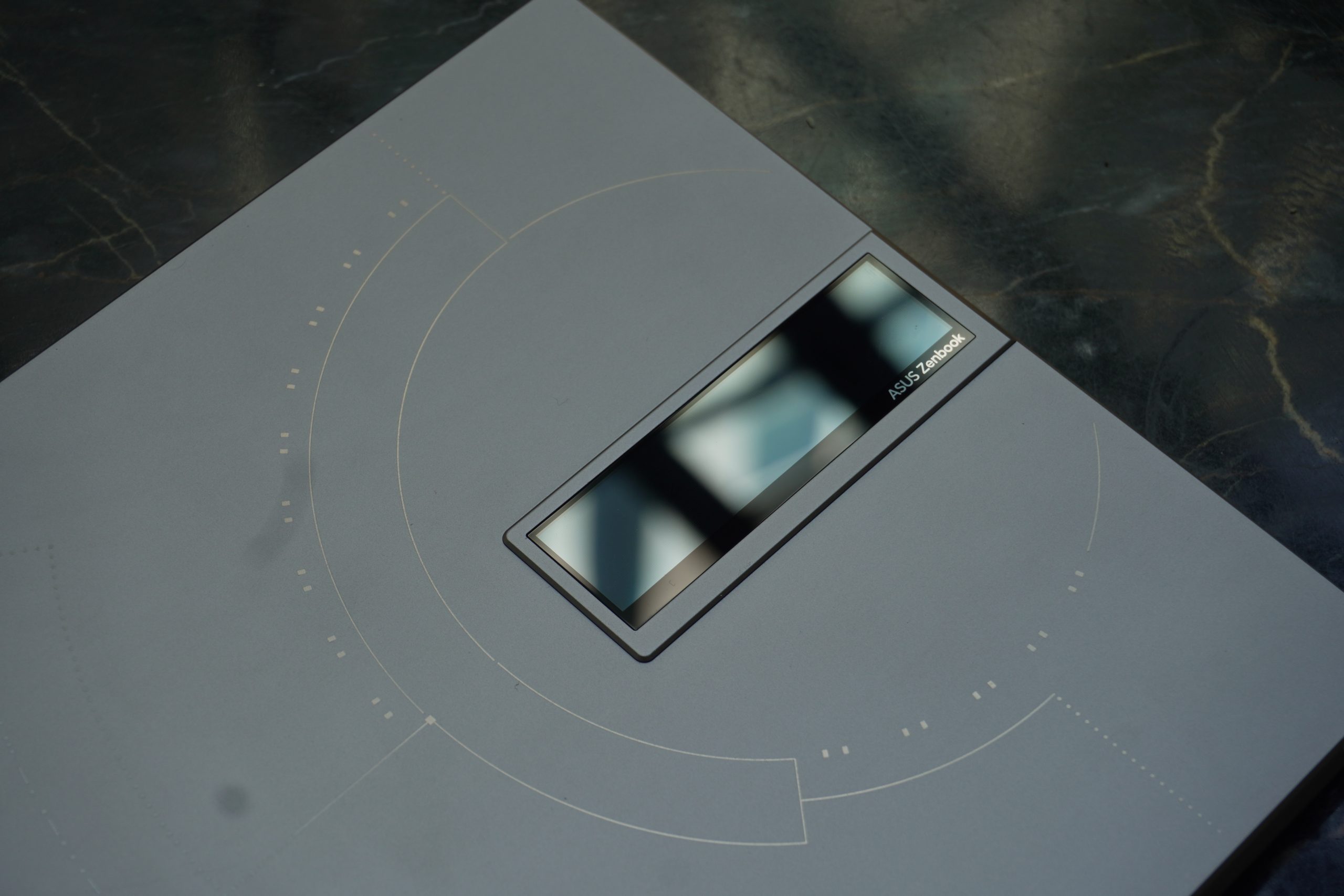 Think of it as a flair piece that Asus is trying to use to set itself apart. This 3.5″ OLED display by default previews unique animations that revolves around space and the Space Edition branding. From floating astronauts, to the constellations and planets, it's a visual spectacle that you can constantly enjoy and talk about to people without getting dry.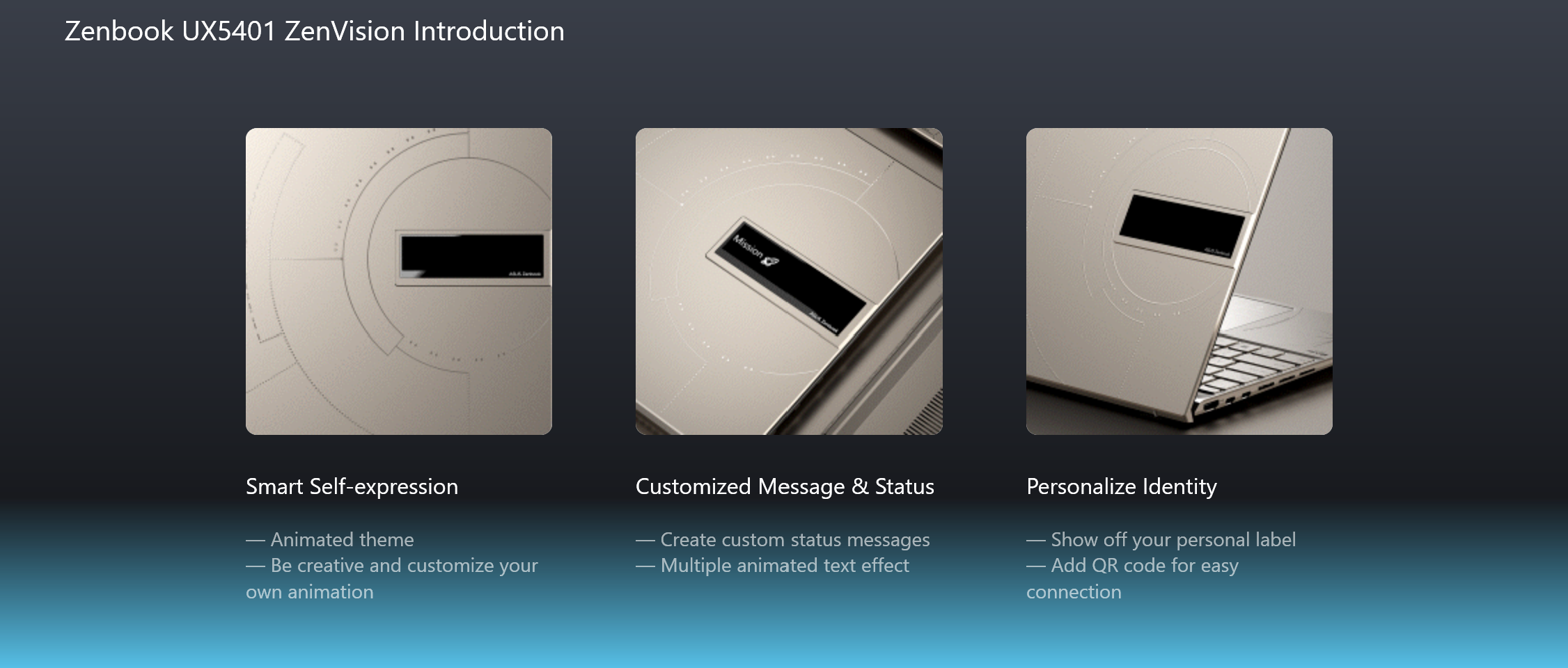 If it does get dry, you can hop on to the MyAsus app and customize that OLED to your liking, including being able to choose what you want to display out complete with animations.

From here, I found it useful to display a QR code to my LinkTree, flash a moving text that I am not to be disturbed, or simply just place @zenthegeek there so people and fans would know where to look for me across any channel.

ZenVision needs to stay, and I wished that communities around the world could just huddle together in one space and share their designs for us to import and use.
Rocket-fueled Performance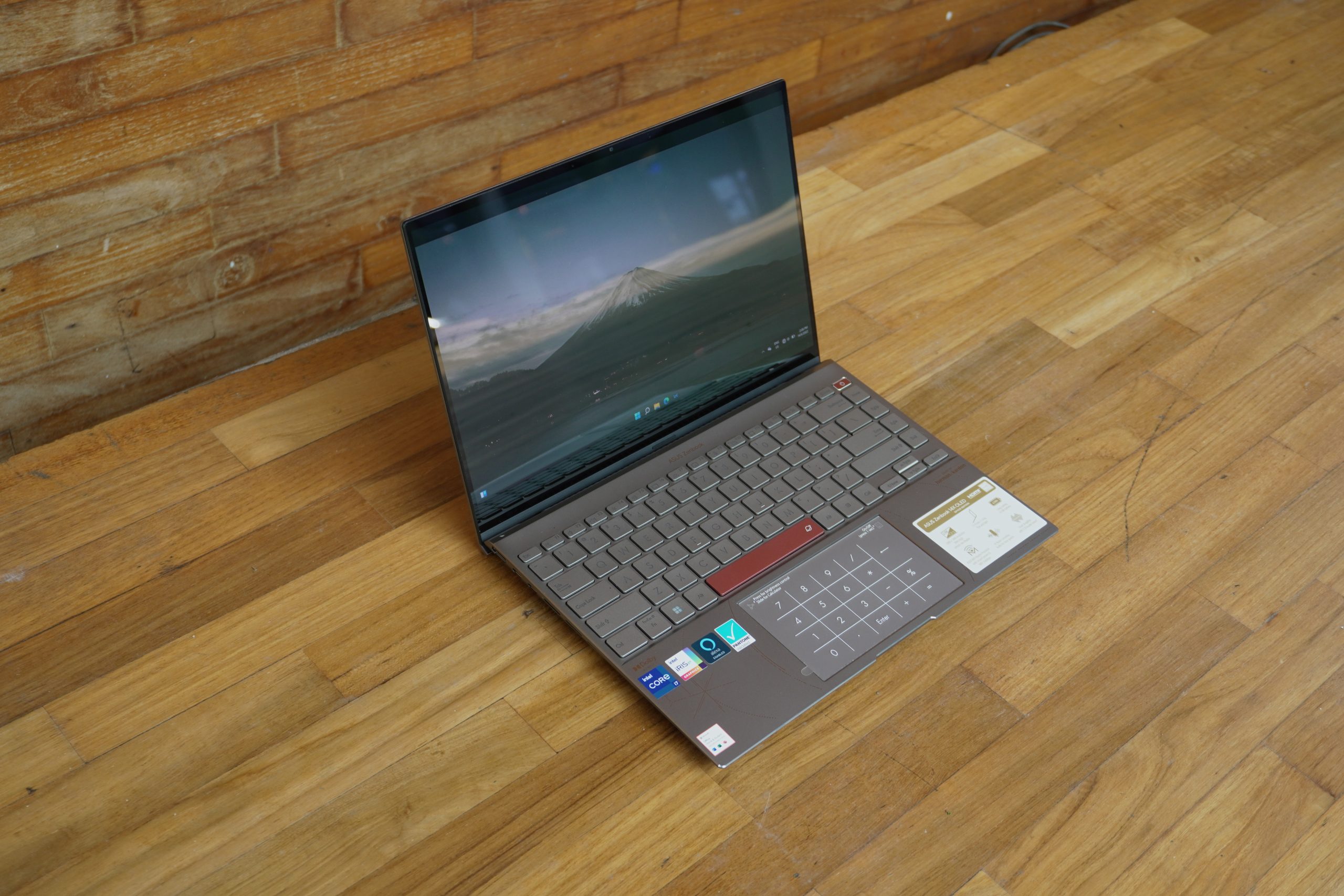 Hopping into the 12th Generation of Intel chips, the ZenBook 14X OLED Space Edition is a fast flyer when it came to getting work done. We bought the i7 variant, and together with it is 16GB of LPDDR5 memory and a big ol' 1TB M.2 PCIe SSD.
You're obviously a media creator or user of some sort if you're looking at this product, so you know that color work and media editing requires a lot of storage space, so 1TB is one hell of a good start. It made quick work of my Photoshop, Lightroom and Filmora Pro as if they were just casual browser apps.
For film-editing, I was pretty sure that it would out-do my 11th-gen laptop and it surely did. Timelines loaded fast, frames rendered quickly and most importantly it was all done in 4K on such a color-qualified screen. Expect to make fewer color-grading errors here. The Intel Iris Xe doesn't break a sweat for these kinds of tasks, but the fans do be spinning really loudly, much akin to a small jet taking off but hey, it's doing its best to perform and it needs to dish the heat generated anyway. If you're looking for a quiet operator for work tasks, this ain't it chief.
Can it game? Esports titles like Valorant ran okay, floating around the 60-90fps in a 5v5 unrated match, and Fortnite on medium runs about 40-60FPS on 1080p. The fun stops there though, as more GPU bound games like Battlefield 2042, V and GTA V is unplayable with Iris Xe.
Poor Battery Life In Favor Of Better Chipset
Here comes the pain. We kinda expected this anyway. Even with a relatively big 63 Whr battery pack, the ZenBook 14X OLED Space Edition is a laptop that definitely needs to be packed in your bag with the charger. From a day of editing RAW files, watching YouTube clips and article on the go, the laptop only managed to last nearly 5 hours, and that's with everything enabled, max resolution, refresh rate and ZenVision enabled.
We scored a better 6-7 hours by scaling the resolution to 1920×1080 with 90Hz still, with ZenVision displaying just normal, static text and QR code.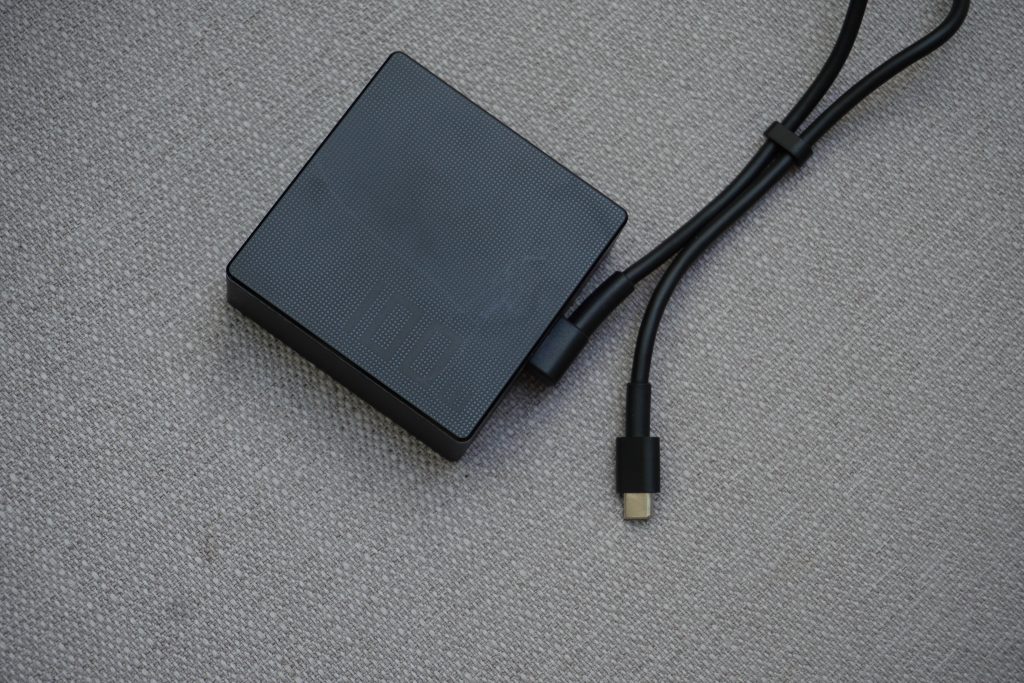 Charging is convenient and fast with its included 100W USB-C charger. It takes a little over an hour, and you can also use a compatible PD powerbank ( (5V-20V).
---
I/O Ports are almost perfect
Ports on this laptop are great, it's got two full-fledged Thunderbolt 4 ports, capable of DisplayPort Alt Mode and PD, one full-sized 3.2 Gen 2 Type-A port, a full sized HDMI 2.0b, a headphone jack and a MicroSD card reader. It's a healthy balance of modern, and then it goes all the way backwards with the MicroSD slot. Anyways, the laptop's already so thin so it's probably a space thing (pun intended)
Main Ports

2x USB-C 3.2 Gen 2 (ThunderBolt 4) DisplayPort Alt Mode + USB-PD full range (5~20V)

1x USB 3.2 Gen 2 Type A

1x HDMI 2.0b

1x Audio Combo Jack

1x MicroSD card reader
---
So why would you buy one?
14-inch OLED touchscreen, Pantone-validated under 1.5KG with a space-age design language. It's a little beast that eats up most demanding tasks except for gaming. This is for serious content creators who demands the most stylish performer that money can buy.
Media professionals, you need to take advantage of this very qualified display and form factor if you're constantly in the field. Don't forget to bring your charger, because you'll be the type of user who is looking for power in a small, aesthetic package that you're willing to forgot battery life for.
---